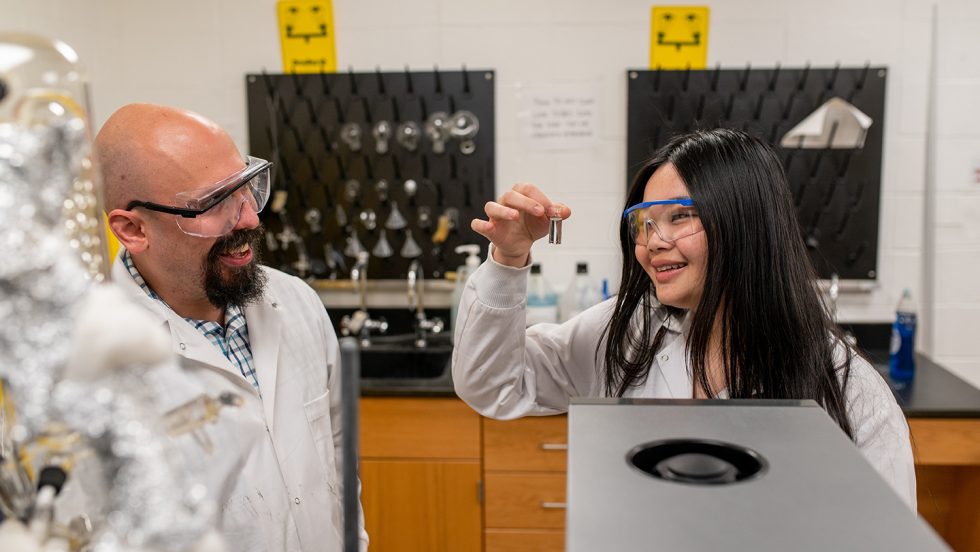 The McDonell Summer Fellows Program gives budding scientists opportunities, mentorship and a stipend so they can dive into research
In 2011, Horace G. McDonell Jr. '52, '02 (Hon.), a former physics major, an Adelphi trustee emeritus and retired chairman and CEO of Perkin Elmer, established the McDonell Summer Fellows Program. For the past 11 years, selected biology, chemistry and physics students each receive a $4,000 stipend and the opportunity to work closely with a faculty mentor to conduct experiments in one of our state-of-the-art research labs.
The sooner a student gets to do research, the sooner they intuitively understand the importance and the use of the content that they've learned in the lecture classrooms," said Associate Professor Eugenia Villa-Cuesta, PhD. She noted that through research, students take a more active role in the learning process and become better communicators and thinkers.
The 2022 Summer McDonell Fellows tell about their research projects and career goals, and some of their mentors comment on the importance of this program and undergraduate research.
Biology Fellows
Erika Lopez
Sophomore, biology major and part of the joint degree program with New York University College of Dentistry
Mentor: Eugenia Villa-Cuesta, PhD, associate professor of biology
Project: "Introgressed Drosophila simulans mtDNA into Drosophila melanogaster gls mutants"
Career goal: Pediatric dentist
"This summer I am crossing different strains of Drosophila in order to create mutant flies with different mitochondrial and nuclear DNA. I have always been very interested in genetics and how our cells function in ways still unknown to us, so Dr. Villa-Cuesta's research in the mechanisms of aging that are affected by rapamycin appealed to me. Research is an enriching experience as it combines concepts learned in the classroom with hands-on experience and critical thinking."
Gursimran Singh
Sophomore, biology major (New York Institute of Technology College of Osteopathic Medicine medical joint degree program)
Mentor: Eugenia Villa-Cuesta, PhD, associate professor of biology
Project: "Exploring the Role of Rapamycin on Metabolic Rate Using Glutaminase Mutant Strains of Drosophila melanogaster"
Career goal: Medical school to become a physician
"I spent the summer measuring the glutamate concentration of mutant D. melanogaster strains to determine if GLS is also a necessary enzyme to modulate metabolic rate in glutaminolysis. I've always been fascinated by cell biology and its relationship to the onset of mitochondrial diseases. The prognosis of mitochondrial damage is neurodegeneration and aging-related disorders. The prevention of these disorders comes from evaluating quantitative patterns of biomolecules that result from impaired function. By identifying these trends in the pathways, it will help with the development of both anticarcinogenic and antiaging treatment."
Miriam Yushavaiev
Junior, biology major
Mentor: Andrea Ward, PhD, interim associate provost for student success
Project: "The Effect of Different Inclines on the Locomotion of Young American Eels in Rock Substrate"
Career goal: Otolaryngologist or endocrinologist
"I am working on the continuation of a project involving testing the locomotion of elver-stage eels on different substrates and inclines to help better improve eel passes on Long Island. What drew me was how unique the research was and how the work that I did in the lab would impact real life ecosystems. Additionally, it allowed me to continue work with animal research which I had previously done."
Chemistry Fellows
Syeda Rizvi
Senior, biology major
Mentor: James Lockhart, PhD, assistant professor of chemistry
Project: "Using computational chemistry to find the relative energies, vibrational frequencies, rotational constants and correct imaginary frequencies (of transition states) for reactants,
intermediates, transition states and products of molecules participating in the chain oxidation reaction of OH radicals with various volatile organic compounds"
"I was drawn to this work initially because I wanted to explore the nature of work in other scientific fields besides biology. I thought it would be a good idea to use this opportunity as a college student to broaden the scope of my knowledge in the sciences and diversify my skill set. Also, I really like chemistry, especially through visualization through computational applications like Avogadro. From working alongside my mentors, I have learned the art of being patient and being persistent until I see promising results. We are enroute to a publication, hopefully by the end of this year. This is so exciting, considering this is a relatively new research group that started about a year ago."
Su Wint War
Senior, biochemistry major
Mentor: Daniel Silverio, PhD, assistant professor of chemistry
Project: "Synthesis of α-Aryl Nitriles Starting From Metalated Nitriles"
Career goal: Physician
"I have always been interested in the application of organic synthesis to develop pharmaceutical drugs, so being able to make compounds drew me to this work. Research is a rewarding experience. You get to apply the knowledge you learned in class in the lab and improve your critical thinking and lab skills."
Physics Fellows
Kyle Cash
Junior, physics major
Mentor: Kevin Liang, PhD, assistant professor of physics
Project: "Developing an algorithm for arc length-weighted anti-aliasing propagation of beams with 1D Fourier spectra." It utilizes Fourier transforms to help us simulate light using MATLAB.
Career goal: As of now, to better understand Fourier transforms, better familiarize myself with MATLAB and get research experience.
"A Fourier transform is very powerful as it converts space or time into frequency, and everything has a frequency. I hope to gain a better understanding of this mathematical transform that I believe will help better my problem-solving skills and help aid my physics and engineering career. Research has helped me further my education, skill set and how to apply my knowledge outside of school."
Matthew Gootman
Junior, double major in physics and mathematics
Mentor: Kevin Liang, PhD, assistant professor of physics
Project: "Developing an algorithm for arc length-weighted anti-aliasing propagation of beams with 1D Fourier spectra"
"I love physics and an opportunity to conduct physics research is a dream come true!"
Zahin Ritee
Junior, physics major
Mentor: Kevin Liang, PhD, assistant professor of physics
Project: "Developing an algorithm for arc length-weighted anti-aliasing propagation of beams with 1D Fourier spectra"
"My professors, who have always been super helpful to me, inspired me and I applied. I have been very excited about optical science ever since our departmental tour to University of Rochester. I also found Professor Liang and Professor Bentley's work very interesting, so I thought of giving it a try. This has been a great opportunity for me! I have learned a lot and I am truly grateful to Adelphi, my physics department and my professors."