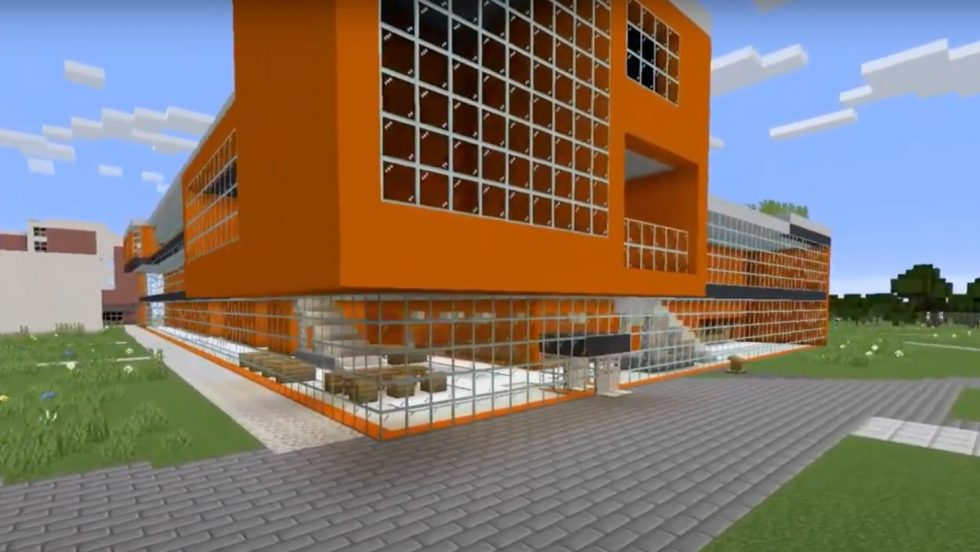 When the COVID-19 pandemic forced hundreds of colleges and universities to shutter their campuses, a group of Adelphi students came up with an idea: They'd build a digital replica of the Garden City campus in the popular game Minecraft so they could have a virtual college experience.
The project began in the summer of 2020. A year later, the map is nearly complete, thanks to the work of several students in the Bridges to Adelphi program, which serves the University's neurodiverse students.
"We wanted to develop some kind of platform for students to feel connected to the Adelphi campus and the community even when they weren't there," said Diana Damilatis '10, MA '12, MA '14, director of the Bridges program. "We built the map with an eye to helping students already at school and students who were incoming and had never been on campus."
Minecraft is one of the most popular video games of all time. On the platform, you can create virtual models of real-life spaces that you can then move an avatar through. It's like virtual Lego-block building.
You can allow other players to enter the virtual space as well, making it a place where you have online meetups via Minecraft's chat function.
A Virtual Campus Where Students Can Interact
Student builders under the supervision of adjunct computer science faculty member Joseph Koehler '18 initially used Google Maps street and satellite views to piece together the outside of the buildings. Students relied on photographs and their own memory for the interiors.
Then Koehler helped them get their hands on the school's floor plans from the administration to help them make their campus map more precise. "The students realized that they needed to double the size of all of the buildings that they had already created, because, turns out, there's a lot of stuff in these buildings," Koehler said.
They've spent the summer amending the map based on the floor plans, diving into the minute details of the campus architecture and spaces.
The Adelphi reconstruction will include the entire campus, everything from the Ruth S. Harley University Center to Swirburl Library to Earle Hall A and B.
"Originally, we had three students working on it, but the scope grew," Koehler said. "When people heard about what we were doing, they wanted to add more detail, so we got two more students to help us."
Adelphi hasn't thrown open its Minecraft campus to the public yet. When all students have access to it, Koehler envisions it as a place where students can socialize online or make artwork or monuments that they leave behind on the Minecraft version of Adelphi's campus. "It will be a living, breathing representation of the school that everyone can leave a mark on," he said.
Students Get Game Development and Social Skills
Minecraft has grown from being a video game to an educational tool. "It's just sort of become this amazing tool that we're able to use like a Swiss army knife," Koehler said. He's seen Minecraft used to teach everything from engineering to quantum computing.
Adelphi students making the campus map are getting "direct, hands-on game development experience," Koehler said. They're also learning softer skills, like working together and communicating. "They're working and learning in an environment where they won't be graded," Koehler said. "Since they don't fear messing up and getting an F, they can try new things and learn to their full potential."
Making the Minecraft campus map also kept the students connected with one another while they were stuck at home taking Zoom classes during the pandemic. "We are providing opportunities for our students to engage with one another," Damilatis said.
Damilatis said Adelphi is using grant money from the Bridges program to pay students and faculty to complete the map. The students work around 10 hours a week on the map. They expect to open it to the public in August, when students return to campus for the fall semester.
One of the students even picked up some consulting work. When a local Northwell Health hospital got wind of the campus project, it hired Steven Caminero, a rising senior majoring in computer science with a minor in video game design, to create a Minecraft map of a wing of their building, too.
Damilatis wants to make the Minecraft campus map an ongoing project. "Yeah, I would love to have this as a continuing development opportunity for all students, not just Bridges students in the computer science department," she said. "It can be a creative platform for students to socialize, learn and get hands-on experience in their field."