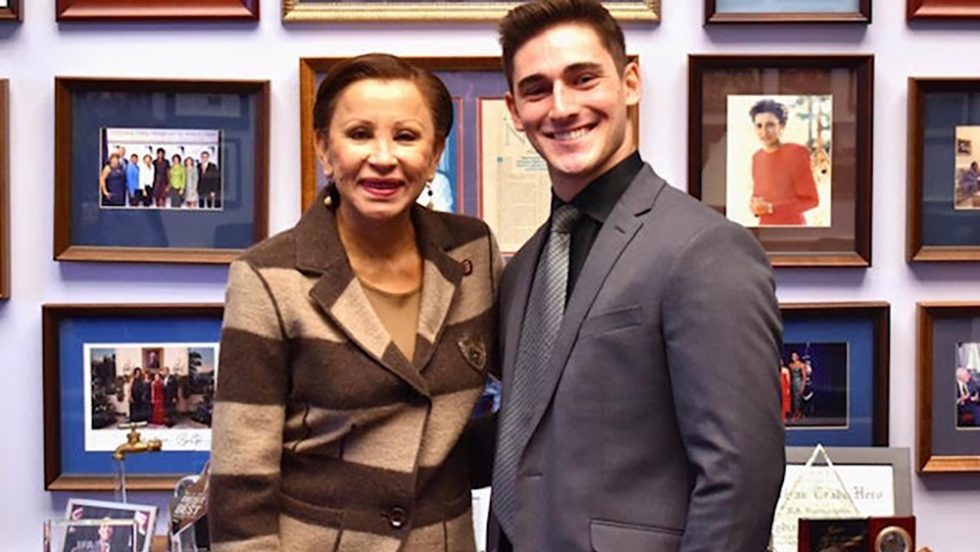 Adelphi seniors gain professional experience interning for congressional offices, interest groups and executive agencies in Washington DC.
This past fall, five seniors spent the semester in Washington DC, interning at congressional offices, interest groups and executive agencies, where they gained valuable professional experience in their respective fields.
They are the latest group of interns in an initiative that Adelphi's political science department has been offering for more than 30 years. Political Science Professor Regina Axelrod, PhD, "has been the faculty liaison for Adelphi's internship semester through The Washington Center," said Traci Levy, PhD, associate professor and department chair. "Dr. Axelrod has helped guide dozens and dozens of students through the application process, finding the right placement and connecting the research they conducted at Adelphi to their internship experience in DC."
Dr. Axelrod said interning in the nation's capital "is an unusual and exciting opportunity to experience firsthand how government works, which can be life changing."
The 2019 interns returned to New York with a wealth of experience and, for Louis Pasquale, the opportunity to continue his internship into the spring semester.
United States House Committee on Small Business, chaired by Congresswoman Nydia Velázquez
Louis Pasquale, political science major, worked as a policy research intern for the United States House Committee on Small Business, a standing committee of the United States House of Representatives chaired by Congresswoman Nydia Velázquez. The committee advocates for fair and true tax relief for small businesses.
During this internship Pasquale was exposed to relevant issues through intensive policy research, memo writing and attending several committee hearings. "I worked extensively with committee staff on a variety of small-business-issue areas," he said. "This has taught me the inner workings of the congressional committee while also providing me with firsthand experience by witnessing the legislative process. I'm very thankful for this life-changing experience and will forever be grateful to Congresswoman Velázquez and the committee for their continued guidance as well as the endless opportunities to grow and learn while contributing to the success of small businesses nationwide."
Pasquale will continue his work with the committee through a spring internship in the congresswoman's Brooklyn office. "I look forward to learning from Congresswoman Velázquez, a distinguished leader in this community, about the issues currently facing New York's 7th Congressional District and to actively work to address these problems."
The Madison Group
Gabrielle Lipsky, who is majoring in criminal justice, interned as a fall associate at The Madison Group. The firm focuses on successfully solving complex public policy issues for clients while finding creative ways to generate a significant return on investment for companies in need of government relations strategies. Lipsky's role was to ensure the firm was updating their clients with the newest and most thorough information on potential legislation.
When asked what she enjoyed most about interning at the firm, Lipsky said, "They are very willing to give me advice and offer me many opportunities to explore the various areas of interest within the current political arena. This type of exploration is important for your growth as a professional and also as a person. You will meet so many people with so many interesting ideas and come up with so many ideas based on what you experience."
Office of Inspector General for AbilityOne Commission
Gianni Panepinto, political science major, interned at the Office of Inspector General (OIG) for AbilityOne Commission, under the Assistant Inspector General for Investigations (AIGI). The AbilityOne OIG mission is to protect the program against fraud, waste and abuse. By assisting the AIGI with their investigative work and data gathering, Panepinto has contributed to this mission.
"Interning at the OIG has not only built my résumé but has also made me stand out from others," he said. "Students should consider interning because it could be very beneficial to their professional development. It allows students to step into the professional field and begin networking in their potential careers."
Whitmer & Worrall
English major Veronica Valerakis interned at Whitmer & Worrall, a firm that represents companies and institutions that seek to be the leaders of their respective industries. They have also worked on many prominent legislative issues over the past decade.
Through Valerakis's internship, her interest in government affairs has been heightened after seeing how underrepresented women are in Congress.
"I now have the confidence to play a more active role in government. It was also quite an experience to be in Washington during the impeachment hearings," said Valerakis.
Charles Group LLC
Political science major Caitlyn Kelleher interned at Charles Group, LLC, a public-spirited consulting firm of dedicated professionals who have high-level government experience and a particular expertise in congressional and federal processes. They achieve outcome-focused business and policy goals.
As an aside, Kelleher prefers the transportation system of Washington over New York City transit. "It's amazing. I never knew a subway could not only be generally on time but also have a simplistic system based on colors rather than a wide array of letters and numbers!"