Derner Institute faculty and alumni speak candidly about mental health at Adelphi's first TEDx event.
What is it like to have depression and treat others for it? Why is it so hard to have compassion for children with attention deficit hyperactivity disorder (ADHD) and what can we do about it? What would happen if we stopped labeling the African American women who are victims of intimate partner violence as angry black women? How can technology be used to foster compassion among kindergartners?
These questions were among the many asked and addressed by alumni and faculty of the Gordon F. Derner Institute of Advanced Psychological Studies at the first TEDxAdelphiUniversity. The event, which was organized by Adelphi's Center for Health Innovation and licensed by TED, featured nine Adelphi speakers—four with Derner affiliations—who, in typical TED fashion, gave short, provocative talks along the theme of "What if…"
About 100 people came to the Adelphi University Performing Arts Center on April 5, 2016, to hear the talks, which were broadcast live on the Internet. Videos of the speakers are posted on the TEDxAdelphiUniversity website.
What did the Derner faculty and alumni say?  
I know depression as a doctor and a patient.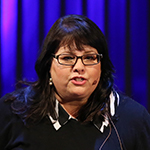 Deborah Serani, Psy.D., adjunct professor at Derner, spoke candidly about her personal experience with depression—as both a doctor and a patient. She acknowledged that the stigma of depression is alive and well and spoke frankly about the dual challenge of suffering from depression while trying to hide her pain.  As a doctor, she believes that personalized medicine offers new possibilities for treatment. She said that "depression is a serious but treatable illness." As a clinician, she believes that "there is hope." As a patient, she knows that "there is healing."
---
ADHD is a commonly misunderstood and difficult diagnosis.
Francine Conway, Ph.D. '99, professor and chair of Derner's undergraduate psychology program, knows this all too well from personal and professional experience—as the mother of a child with ADHD and a psychodynamic psychotherapist who treats children and families who are dealing with the condition. In her TEDx talk, she spoke about how difficult it could be for her and others to empathize with children with ADHD who seem to act out and to be callous about the consequences of their disruptive behavior. Likewise, she said, children with ADHD have an empathy deficit—for themselves and for others. Often, they can't understand others' feelings. They also judge themselves harshly when they realize that they are damaging close relationships or failing to live up to expectations. She encouraged listeners to cultivate empathy for the ADHD child. "Being deeply loved by someone gives us courage and loving someone deeply gives us strength," she concluded.
---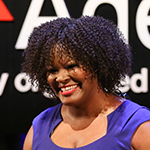 Kill the stereotypes and you will save African American women who suffer from intimate partner violence. 
Bernadine Y. Waller, M.A. '10, a graduate of Derner's Master of Arts in Mental Health Counseling Program and an adjunct professor and Ph.D. candidate in the Adelphi School of Social Work, spoke passionately about the biased views that hinder African American women who suffer intimate partner violence from getting the help they need. The societal pressure these victims feel to "have everything together all of the time" leads them to disguise their fear, depression and helplessness in angry words and actions, said Waller. Often, the police, pastors, shelter workers, physicians and others who interact with them see only the anger and rush to stereotypical judgments. "You see me as an angry black woman and it is killing me," Waller, who is African American, said. Her hope is that this dangerous stereotype can disappear so that African-American women feel safe and, when needed, can be saved.
---
Tech teaches civics.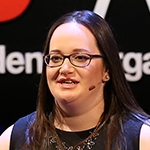 Madeline Dressner '13, M.A. '14, has a B.A. in Psychology from Derner and is now an elementary school teacher in Great Neck, New York. She spoke about Apps for a Cause, a project she created for her third-grade students while she was student teaching. She described how mobile technology empowered her young students to create change and support causes that were meaningful to them. She urged others to use technology to "create empathic energy." In her words, "Citizenship is a concept that has gone digital."
---
For further information, please contact:
Todd Wilson
Strategic Communications Director 
p – 516.237.8634
e – twilson@adelphi.edu