Nursing students will take advantage of state-of-the-art technology in the Nexus Building's sim labs and examination rooms.
A number of factors stand out as important in the formation of a nurse. Several nursing majors in the College of Nursing and Public Health, including transfer students Kimberly Korn, Sabrina Levy and Chrystal Teran, now seniors, were quick to cite the role that simulation labs played in their nursing development.
Nursing students lucky enough to start in Fall 2015 will be among the first to take advantage of state-of-the-art technology in the new Nexus Building and Welcome Center's sim labs and examination rooms— capabilities well beyond what's now available in Alumnae Hall. As College Dean Patrick Coonan, Ed.D., has said, Nexus will contain "an intensive care room, a delivery room and even a home-care lab set up like someone's house."
Korn cited the importance of the sim labs to nursing students' growth. "We learned how to provide nursing care to the SimMan, using IV piggy backs, wound dressings, Foley catheter care, trach care and much more."
Senior Cassandra Campo recalled her sim lab experience was "the first time I realized I was going to be working with real people [as a nurse]. Once out of the sim lab and on a clinical floor, I was very happy that I had practiced these techniques in the lab first before [doing so on] a living patient."
Levy, who pointed to the experience she gained throughout her clinical rotations in St. Francis Hospital as being the primary influence in her Adelphi education, called the sim labs "incredibly helpful." Why? "These labs give students the necessary hands-on nursing experience before getting into clinical rotations in the hospital," she explained. "These skills include head-to-toe assessments, medication administration and interactions with lifelike patients."
Teran agreed that healthcare is constantly evolving—"but more so these last few years." The College, she said, "supplements our knowledge with up-to-date, efficient tools used in the clinical areas, but it is the professors in particular who really help us prepare for the upcoming challenges," such as the shift to electronic medical records.
Noting that she began using sim labs in her third year in the Fundamentals of Nursing course, Teran said, "These labs were pivotal to my education because they are our practice patients. This is the place where we can experiment, ask questions and try our hand at the technical aspects of nursing."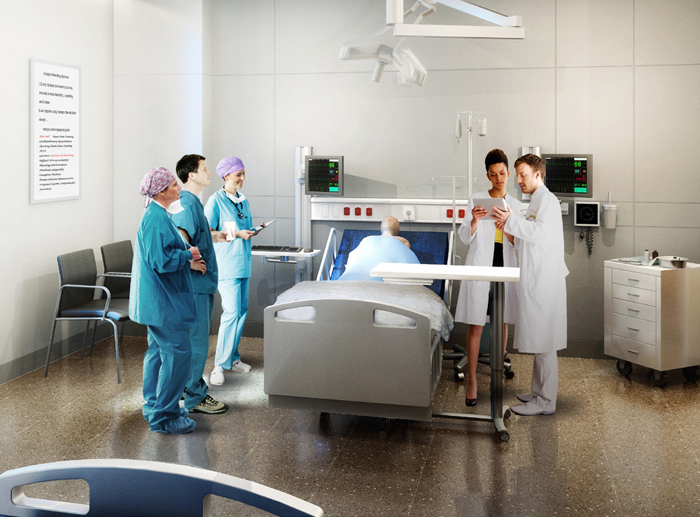 Eyeing graduation in May, she said, "I will be continuing my education to become either a nurse practitioner or nurse anesthesiologist." She is now considering Adelphi's College when she pursues an M.S., due to the advanced technology and sim labs that the new building will provide.
Samantha Avila '14, another transfer, considered the simulation labs in Alumnae Hall "very important for my nursing education because they allowed me to get more comfortable for assessments before I had to walk into a human being's room. They truly helped calm my nerves and anxiety."
Although she started using the sim labs during her assessment classes in junior year, she believes that it would be even more beneficial for students to be exposed to them sooner. "That would give them even more time to be comfortable with assessments on real patients."
Adelphi has prepared her well for the healthcare challenges she and other graduates will now face, Avila added. "I feel very lucky to have had the opportunity to be a part of Adelphi's dedicated education unit cohort at North Shore University Hospital. That experience opened my eyes to what a nurse truly does during a 12-hour shift."
Eileen Balzac, a junior who is not a transfer, said, "I have learned a lot this year about how healthcare is changing, especially in my Informatics class."
Although she has not yet used the Alumnae Hall sim labs, Balzac considers them "extremely valuable to my nursing education because they make learning about the clinical setting more realistic."
She and other nursing students have been told that the ultramodern Nexus Building sim labs will be more high-tech than those in Alumnae Hall. "I'm looking forward to all of the new rooms [Nexus] will offer," she said. "The more realistic settings will better prepare me for my career."