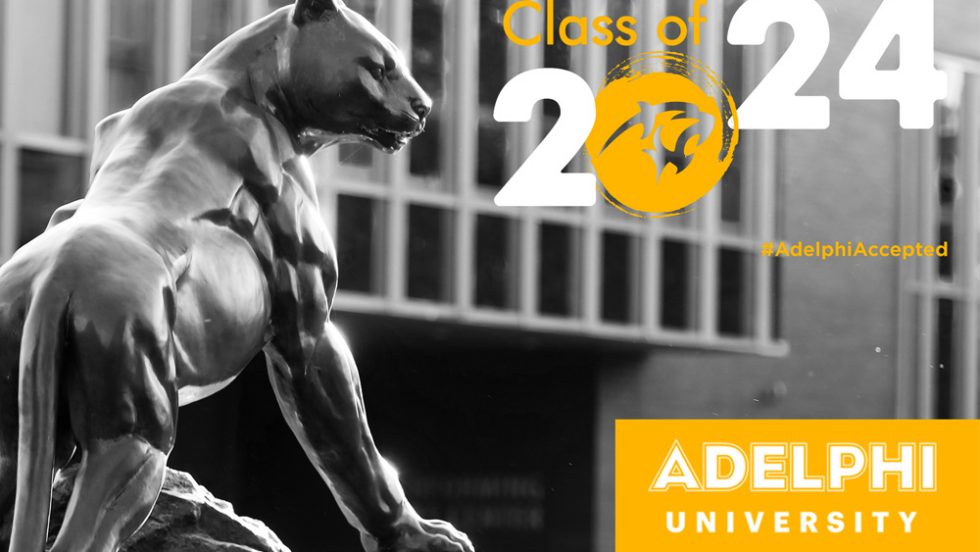 Through innovative thinking and extensive strategizing and planning, Adelphi University warmly welcomed incoming Panthers virtually on 2020 Accepted Student Day.
The move to a largely virtual world, sooner and more immersive than anyone imagined, has brought dynamic strategizing and programming to the fore. In the face of great tragedy and misfortune, innovative thinking has proven more essential than ever.
Case in point: 2020 Accepted Student Day. Under what were, to say the least, trying circumstances, Adelphi welcomed incoming Panthers with warmth, despite the distance, in a way the students—as reflected in their feedback—have been experiencing through our virtual campus tours and online admissions events and one-on-one meetings.
"Adelphi did an excellent job in producing a 'live' virtual Accepted Student Day," one student said in a follow-up survey conducted by the Office of University Admissions. "I have attended some others and Adelphi by far was the best! Appreciated the live introduction from President Riordan. The virtual tour from the students was excellent!"
"It's amazing how welcome the Adelphi community can make me feel, even when everything is online!" noted another.
Bringing the Excitement Online
According to University Admissions Associate Director of Events Nicole Levy, the University offered 45 different online opportunities, including video conferences with faculty and discussions about key programs and student life. In all, 765 new students and their parents and families participated, with hundreds taking part in virtual tours hosted by student tour guides.
The success was just a matter of building on what Adelphi already had, Levy said.
"We looked at what we currently had on our website," she said. "We just said, what do we like? What works? How could we make that into a landing page for an actual event? And then, from there, it all clicked in. We knew we needed a good website to be able to put a bunch of resources."
Projecting and maintaining a feeling of enthusiasm through mailings and online interactions was also an important part of making new students see that Adelphi faculty and staff are as excited about their impending college career as they are.
"Our acceptance letters didn't change, for example," said Director of Undergraduate Admissions Stephanie Espina. "As students are being accepted, they're still receiving an acceptance packet and a congratulatory letter. And yes, we have other communication that addresses the times and what we're doing to be flexible. But we want student admission decisions to be very excitable knowing that this is something that could be very life-changing for a student."
The global crisis has demanded a lot of extra work and extra planning, but it hasn't prevented Adelphi from continuing to provide transformative experiences. And as the Accepted Student Day surveys show, it hasn't prevented the University from continuing to make those efforts, either.
"I really enjoyed being able to talk one on one with students/professors from a specific area of study," another incoming student wrote. "That really helped me to learn more about that area/major and get a feel for what Adelphi is really like!"
---
For further information, please contact:
Todd Wilson
Strategic Communications Director 
p – 516.237.8634
e – twilson@adelphi.edu