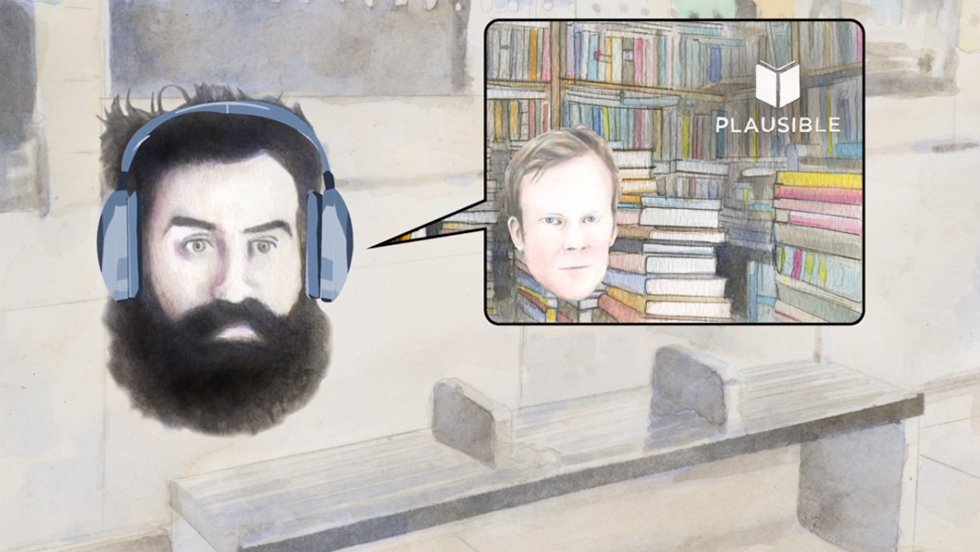 The Festival-Selected Short Film Imagines "When Your New Audiobook Subscription Is Some Guy Making Up Stories As He Goes Along"
When not serving as an assistant professor and teaching computer graphic application and graphic design, Adelphi's new graphic design program lead David Pierce is a designer, painter, filmmaker and animator based out of Brooklyn, New York. His latest work, the animated short film Plausible Audio, was selected by the SouthSide Film Institute.
The institute's annual festival is now in its 19th year, and Pierce's work was among the 61 independent films from around the world selected by the Pennsylvania-based nonprofit. The short film's description reads, "When your new audiobook subscription is some guy making up stories as he goes along," and its visual style follows that of Pierce's past animations.
The work is all hand drawn and painted. "I use Photoshop extensively to isolate forms and stitch backgrounds," he said. "The rest of the process is After Effects. I teach that software in my graphic design classes as it's an essential tool in the design industry."
The narration was provided by a good friend who recently passed away. "He would send me voiceovers, and I would animate them along with a few friends," Pierce recalled. "Our workflow was unorthodox, but it worked. The screeners for the festival told me that they never laughed harder at a screening meeting."
Pierce's work has previously been featured in WIRED magazine and on WNYC, the latter of which focused on those inspired by his close friend's military service in Iraq, who had sent Pierce photos he took while deployed.
Pierce spent this past July in Vietnam, "working with the Vietnam National Fine Arts Museum in developing their design strategy as the most important cultural institution in the country," he said.