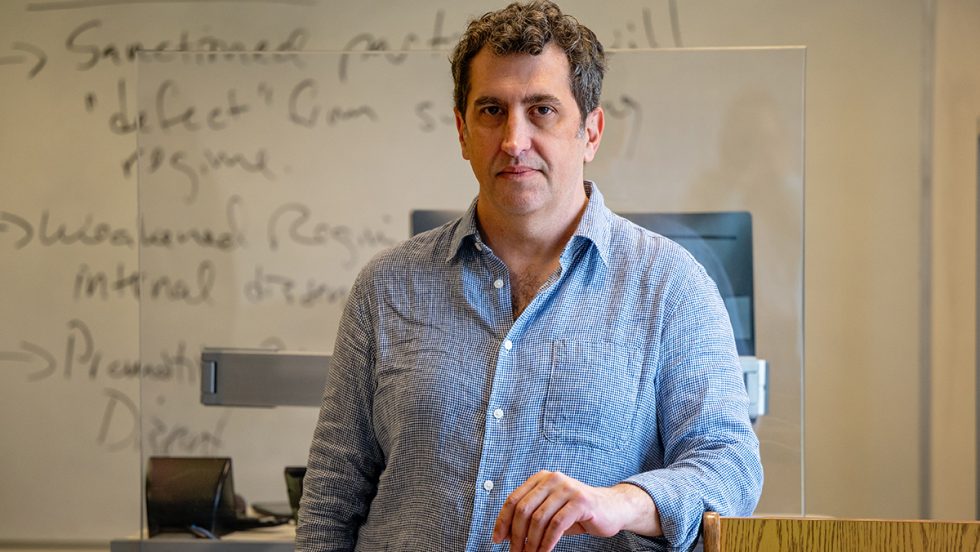 Philosophy may be seen as an area of academic speculation, but Shawn Kaplan, PhD, associate professor of philosophy and director of the Ethics and Public Policy program, researches how moral concerns affect current real-world issues.
Facial recognition technology is often discussed as the looming threat of a dystopian future, but according to Shawn Kaplan, PhD, associate professor of philosophy and director of the Ethics and Public Policy program, jurisdictions in the United States and around the world are already using facial recognition technology to collect data about everyday public activities. He argues that this emerging surveillance practice raises novel ethical questions that should be taken seriously.
"We have a changing surveillance landscape where our very broad video surveillance network is starting to be augmented by facial recognition technologies," Dr. Kaplan said.
How Video Surveillance Can Be Used
While people may be aware that they're often on camera when they're in public, many don't recognize the extent to which information can be gathered and used to produce detailed psychological profiles. It's not just that you were at the fruit stand, he suggested, but who you were with, what you picked up but didn't purchase, all of your emotional responses to stimulus in your environment, and how you paid. And that information can then be linked to your name and sold to advertisers, disinformation campaigns, potential employers or schools, insurance companies, and other data collectors. It can also be used to catalog all who publicly participate in political, religious and socially stigmatized activities, which he argues would undermine central interests of liberal democracies.
In his essay "To be a face in the crowd: Surveillance, facial recognition, and a right to obscurity," published in the anthology Everyday Life in the Culture of Surveillance, Dr. Kaplan poses what he calls "an alert about this shift in the surveillance landscape and a call for specific regulations for this emerging technology."
A Global Look at Surveillance Technology
"In China, facial recognition surveillance is a very active threat to individuals," he explained. The Chinese government "integrated this technology pervasively. Europe has in some ways tried to regulate this, however, it's still a situation where people are trying to get around the regulation in various ways. In the United States, it's a little bit more like the Wild West. We have no broad regulation over this technology."
He added, "It is an emerging threat. I think that's the best way to think about it. And that's why now's the best time to have this debate. There's very little you or I can do while walking around to protect ourselves from facial recognition surveillance. The main thing is not just being aware of it, but vocally demonstrating your objections."
Ethics and Public Policy Program
As director of Adelphi's new Ethics and Public Policy program, Dr. Kaplan's research focuses on real-world applications for philosophical studies.
Students in the program gain analytic skills, based in studies in philosophy, political science and economics, to investigate specific contemporary problems such as online and public surveillance with regard to ethical, economic and policy challenges. They graduate equipped for rewarding careers in growing sectors covering law, banking and finance, politics, journalism and broadcasting, industry, teaching, business management, and many other branches of public service and advocacy.
Or to put it more succinctly, as Dr. Kaplan says, "They get the tools with which they can be agents of change."