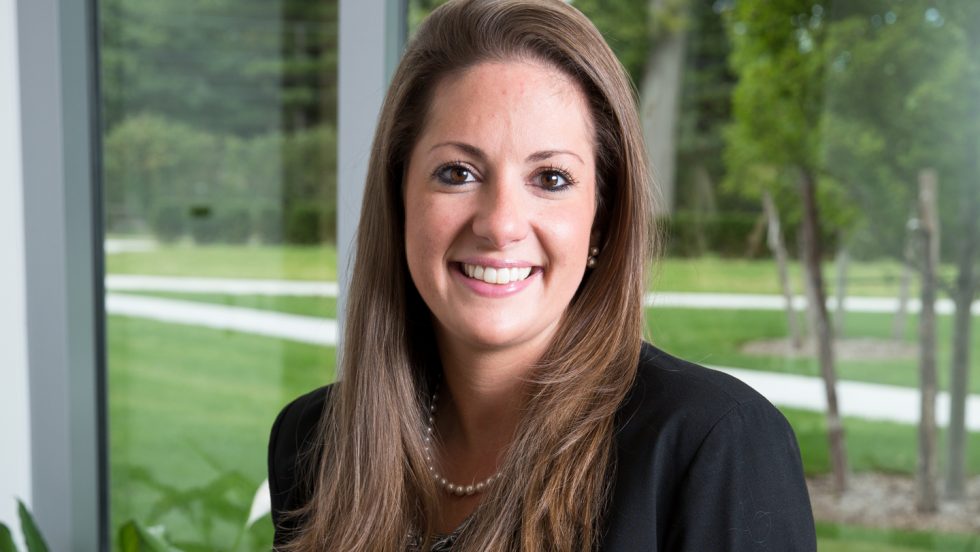 Kristen Capezza, MBA '12, vice president of enrollment management and University communications, has been named one of the Long Island Herald's Premier Business Women of Long Island. The annual award recognizes women for excellence in various fields.
Capezza started at Adelphi in 2009 as assistant director of admissions and advanced to positions of increasing responsibility over the next 10 years. When the University faced declining enrollment, her solution—the Personalized Enrollment Strategy—led to enrollment of Adelphi's largest, most diverse classes in the University's history as well as two national awards.
Capezza has spearheaded national communications efforts, connecting Adelphi with school counselors, principals and community college advisers nationwide. Her efforts have launched transfer and graduate partnerships with nearby schools, establishing streamlined paths for students to enroll in an Adelphi education. Her innovative approach has brought students from 42 states and 61 countries to Adelphi's thriving community.
In addition to her Adelphi responsibilities, she serves as treasurer of the Nassau Counselors' Association and is the former president of the New York State Association for College Admission Counseling.
As the parent of two young children, she enjoys setting an example of balancing motherhood with work. In her article, "3 keys to managing higher ed leadership—and family" in University Business, she noted, "Much like the team and partnership I've built at home, a culture of support allows for an environment where women in higher ed can be mothers and managers."
President Christine M. Riordan said, "Kristen is a great example of collaboration and innovation. At Adelphi, she's a respected leader, colleague and role model. I'm proud to congratulate Kristen on this well-deserved recognition by her peers and community."