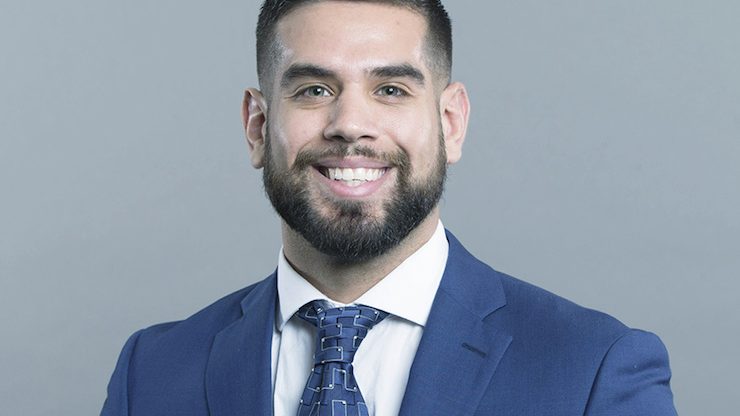 Gabriel Buitrago won a combat medal in Afghanistan. Now he's at Adelphi getting a master's degree in supply chain management.

Gabriel Buitrago fought in Afghanistan with the U.S. Marines and won a combat medal, but the experience that sticks with him is the first assignment of his military career. He worked in a warehouse on Okinawa that shipped parts for guns to bases all over the world.
"I was in charge of little pieces of metal, weapon parts like the trigger, the springs, buttstocks and barrels," said Buitrago, who entered the master of science program in supply chain management at Adelphi's Robert B. Willumstad School of Business in January 2018. "I was in charge of equipment that cost millions of dollars, and I really enjoyed it."
At 19, he had an important job with a huge responsibility on his shoulders. He went on to work as a special operations forces communicator and deployed to Afghanistan, where he served on the front lines. "It was a good time," he said dryly.
Buitrago (pronounced boo-tra-go) spent nine years in the Marines, leaving in 2015 to enter college. Receiving numerous credits for his experience in the military, he was able to earn bachelor's and master's degrees in criminal justice in just three years. By the time he graduated, though, he'd come to the realization that the most fulfilling days of his career had been those two years in the warehouse in the Pacific. "It was peaceful," he said. "Something about keeping tabs on all that equipment was right."
Now he's headed in that direction by getting his graduate degree at Adelphi.
It was a change for Buitrago, but it wasn't the first time he'd made a major pivot. A native of Mineola, New York, he was a high school rebel, seemingly the last person who would opt for the ultimate discipline of the Marines. But that's what he did, just because it wasn't what anyone expected. "I joined right out of high school, at 18," he said. "I was on a bus getting screamed at by a sergeant a month later."
Nobody's yelling at him these days, and Buitrago has found a home at Adelphi. He likes the small classes because he finds it easier to stay focused. "I zone out a lot," he said. "I learn better than I would at a bigger university." He likes the sense of community he's found at Adelphi. "Everybody knows each other, and you grow with them," he said. "They're tight-knit."
Buitrago said his professors know his name and are accessible. "They're in touch," he explained. "When I've been worried about an assignment or had questions, my profs have been easy to reach." While his teachers have been supportive, he also feels challenged to grow. "The workload is tough," Buitrago said. "Every class has had research and presentation. I'm learning new things."
He's working with Adelphi's Center for Career and Professional Development to find an internship. He's not sure what kind of company he wants to work for, but he knows he wants to be a supply chain specialist. "Once I get an internship, I plan to keep going there as soon as I graduate. I'm ready to get going on my career."
---
For further information, please contact:
Todd Wilson
Strategic Communications Director 
p – 516.237.8634
e – twilson@adelphi.edu