What's it like living in a world where people fear you because of your religion? More important, what can we do about it?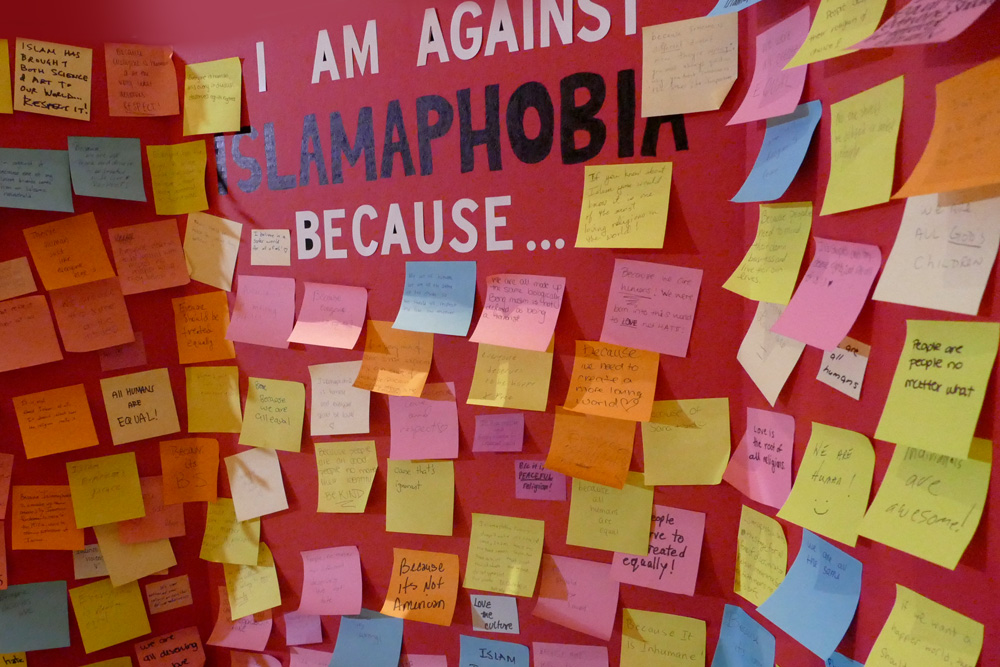 What's it like living in a world where people fear you because of your religion? More important, what can we do about it? The Muslim Student Association (MSA) believes having an open and informative conversation is the answer. On late March, almost 120 people filled the Thomas Dixon Lovely Ballroom in the Ruth S. Harley University Center for a community dinner and discussion about Islamophobia.
"We're so used to preaching to the choir that when you have a diverse group like tonight, you realize that it's special," said Omar Shareef, M.D., a psychiatry resident at Nassau University Medical Center and the second speaker at the event.
"United: A Conversation on Islamophobia" was sponsored by MSA in collaboration with the Interfaith Center, the Levermore Global Scholars Student Leadership Council, Global Medical Brigades, the Office of Diversity and Inclusion and the Newman Club. The event concluded Islamic Awareness Week, which is hosted annually by MSA to educate the community through fun and interesting events.
Near the stage was a bright red poster full of colorful Post-it notes. Written on them were bold statements against Islamophobia, such as "Everyone is human and deserves equal rights," "Love is the root of all religions" and "Everyone should be treated equally. I'm against Islamophobia." These notes came from members of the Adelphi community who earlier visited the Islam Awareness table.
"In today's media, Muslims are portrayed a certain way, so it is very important that Muslims go out and show what Islam is all about: peace and love for one another," said Zain Yusuf, a junior who is president of the MSA.
The first speaker of the night was Shakiel Humayun, an entrepreneur who founded multiple nonprofit organizations, including Hatebusters, a campaign that responds to anti-Islamic hate with love. He addressed misinterpretations of the Quran that people use to justify Islamophobia.
"When Paul Revere rode in Boston and said 'The British are coming!' there could be a number of interpretations if it's taken out of context," said Humayun. "He meant those specific British troops that were marching forth. Similarly, when the Quran says, 'Fight those who don't believe,'…it could be misinterpreted when taken out of context."
Humayun explained that this verse, in historical context, meant to fight a Roman group that was attacking the prophet Muhammad, not to fight all those who don't believe. He provided many examples in the Quran that encourage everyone to be peaceful, such as the incident when a pagan soldier tried to murder Muhammad in his sleep. Instead of responding with violence, Muhammad responded with prayer, forgave the soldier and let him go unharmed.
"[Muhammad] had the power to crush cities, but he did not, and that makes the greatest example of nonviolence," Humayun said. "He left a history behind of nonviolence that all of us could follow."
The second speaker, Dr. Shareef, began his speech with a story. The Friday after the recent terrorist attack in New Zealand, he went to do his usual prayer but things felt different. "It felt like something came down and hurt everyone." During the prayer, a friend told him how the terrorist attack made him feel. "He said he doesn't know if he'll ever walk into a mosque and ever come out."
As a psychiatrist, Dr. Shareef tends to look at Islamophobia as a medical term for someone with an excessive fear of something.
"Arachnophobia for example, it's a fear of spiders…if I just showed you a picture of a spider…all of a sudden it evokes this intense reaction," said Dr. Shareef. "When you take the word 'spider' and replace it with 'Islam,' you get people who look at Islam the same way—where it doesn't matter what type of Muslim. It doesn't even matter where Islam is or what manifestation Islam takes…it evokes this illogical intense fear of Islam."
Growing up, Dr. Shareef was bullied and given a racial slur as a nickname. When he wrote about being pushed into lockers and spat on in a middle school journal entry, it concerned the school. Despite the fact that he was the one being bullied, the principal pulled him out of class to meet with him and a police officer, who asked him if he wanted to harm others or had any weapons at home. "I was confused and realized that I couldn't show my frustrations like they could."
Dr. Shareef suggested that discussions like this are the first step to get rid of the hate he encountered. He encouraged everyone to talk to one another.
"You don't need to wait for something horrific to happen to have your humanity," said Dr. Shareef. "Islamophobia is a monster and that [monster] came back with New Zealand…but don't take weakness away from tonight, take strength."
Throughout Islam Awareness Week were events that displayed the significance of peace and love in Islam. At Hijab Awareness Day on Tuesday, MSA set up a table to give out free scarves and inform the community about why women wear the hijab. On Wednesday's Islamic Awareness Day, along with writing on Post-its, students played an Islamic Jeopardy! game. Thursday, students had MSA members write their names in Arabic calligraphy. They were also able to ask questions about Islam in a safe space; these questions were the ones displayed at the discussion dinner.
---
For further information, please contact:
Todd Wilson
Strategic Communications Director 
p – 516.237.8634
e – twilson@adelphi.edu