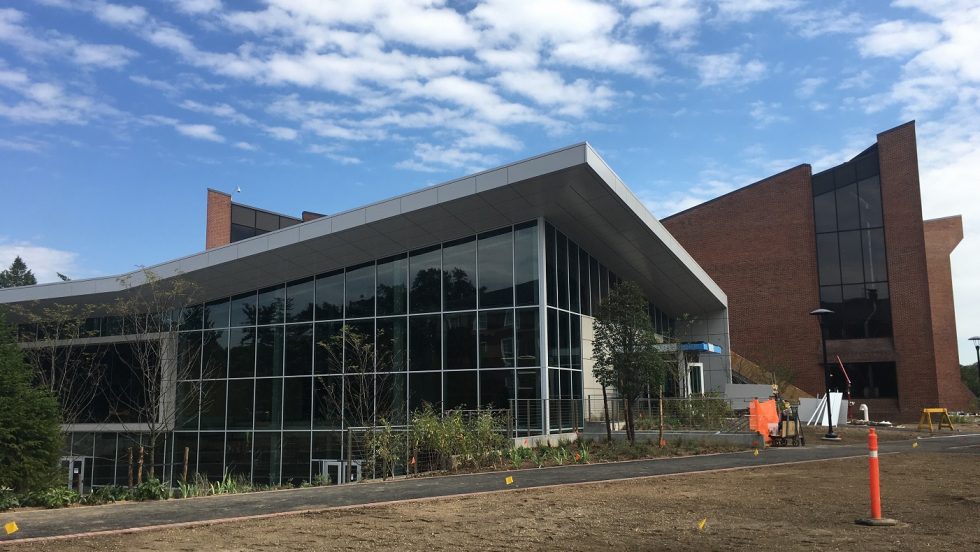 On Tuesday, September 22, we were notified by the Village of Garden City that a Temporary Certificate of Occupancy (TCO) was approved for the Ruth S. Harley University Center (the UC).
This monumental step signified that the majority of the work is complete and that the building meets or exceeds all Building Department, Health  Department and Fire Marshall Codes and all Life Safety and ADA requirements have been met.
Under the TCO, only select employees will be allowed in specific areas of the building, and furniture delivery and set-up may begin. It does not allow for public use or for students, guests or visitors to enter. Once the full Certificate of Occupancy (CO) is issued, we will begin moving staff into completed areas in preparation for a partial opening of the building.
On Monday, September 28, our Project Management and Facilities teams began accepting deliveries of furniture for the UC. The furniture was planned and ordered before the COVID pandemic started, so we are only able to move a portion of the furniture in to maintain social distancing requirements. The rest of the furniture will be held in storage until such time as we can safely install it. Delivery and placement of furniture is expected to take approximately two to three weeks.
Also during the week of September 28, our contractor, Whiting Turner, began removing the fencing and scrims from around the site, while workers complete landscaping outside of the building and "punch list" items inside – small tasks needed to achieve full completion of the work.
Barriers will remain on walkways in the area since the site is not ready for use, but we are excited to reveal the beautiful building that the UC has become. We ask that community members respect the detours and signs that indicate that the building and grounds are not yet open to the public and admire it from a safe distance at this time.
The trailers used as office space by Whiting Turner have been removed from Parking Lot 2, and the remaining storage boxes and dumpsters will be removed from that area by mid-October.
Due to the restrictions on gatherings imposed by the COVID-19 pandemic, we are not planning a major grand opening event at this time. Instead, we will plan a virtual event that will be live streamed via Facebook, as well as video tours of the building that will be accessible online.
When the building opens, you can expect to see:
A completely reimagined entrance and lobby with gorgeous terrazzo floors, ample soft seating and spacious, full-service Starbucks.
A bright, well-stocked Adelphi Bookstore and spirit shop.
Multiple sun-lit student lounges with Wi-Fi and printers, abundant seating and charging stations.
A beautiful Center for Student Involvement (CSI) suite that includes dedicated CSI conference rooms for student groups' use.
Gender-neutral single-person restrooms, as well as conventional women's and men's rooms with changing tables.
A comfortable, private lactation room.
A stunning recreation of the Thomas Dixon Lovely Ballroom with lobby lounge, outdoor patio, warming kitchen, AV control room, theater quality lighting and acoustics, and tastefully designed ADA-compliant stage.
The spacious, well-lit Interfaith Center with its carefully relocated original stained glass, offices, private meeting rooms, ablution room and restroom.
A spectacular outdoor amphitheater with extensive seating, a spacious patio, and beautiful landscaping that features native plants, consistent with our Garden City campus' status as an award-winning arboretum.
A vast, modern dining area that spans the entire expanded lower level to offer comprehensive dining choices and tremendous seating areas, which will open in Spring 2021.
We hope, with no unforeseen delays, to be able to open select parts of the UC to the Adelphi community by early November. Watch your email, social media (Facebook, Instagram, Twitter), and the UC Progress website for updates.
Sincerely,
The UC Progress Team