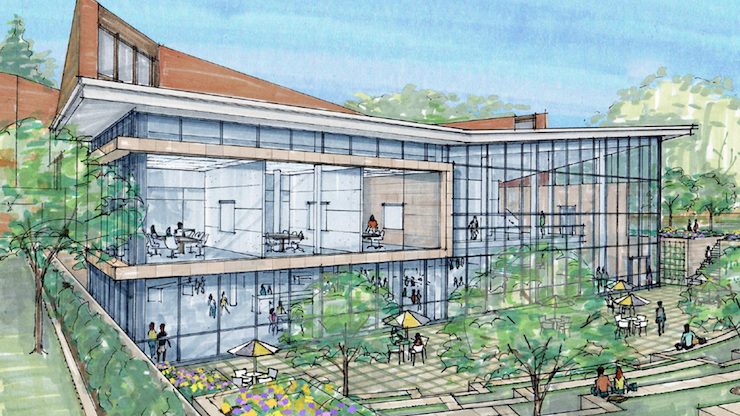 The transformation of the Ruth S. Harley University Center continues as our contractor puts final touches on some areas and continues building out others.
Dear Adelphi Community,
The transformation of the Ruth S. Harley University Center continues as our contractor, Whiting Turner, puts final touches on some areas, and continues building out others. From finishing walls, ceilings, beautiful terrazzo floors and handsome millwork, to painting and installing light switches, power outlets, water bottle filling stations, lighting, doors and so much more, the UC comes closer to completion every day. Perhaps most striking from the outside are the curtain walls of glass or the amphitheater taking shape on the west side.
Since Whiting Turner's return to full capacity on the project, in accordance with New York State guidelines for Reopening New York, progress has been steady and visible.
Prior to the onset of the COVID-19 pandemic, opening of the University Center was on track for August 15. Due to delays caused by the public health crisis and the governor's New York State Policy to Assure Uniform Safety for Everyone (PAUSE) Executive Order, however, the re-opening of the UC will be delayed, with some areas opening in the fall and dining services launching in time for the Spring 2020 semester. In light of this, to ensure uninterrupted dining services on campus we will be keeping the Panther's Den dining hall in place for the fall 2020 semester.
The following update will give you the details of our progress on this major project, and you can see photos that track the progress online as well.
Original Structure – Interior
On the third floor of the original structure, workers are installing millwork in the lounge and restrooms, applying final paint, and installing outlets, water fountain and bottle filling stations, plumbing fixtures, fire strobes and switches, as well as lighting, mirrors, carpet tiles, doors and hardware.
On the second floor, ceiling lights and diffusers have been installed, as well as millwork in restrooms and punch windows to bring light into conference rooms. Second floor corridors received high-performance fiberglass reinforced wall panels (FRP) that offer improved hygiene and durability, as well as shade pockets and new light fixtures. Contractors applied final paint and installed devices, outlets and switches, as well as carpet tiles and folding partitions in select conference rooms. In the Thomas Dixon Lovely Ballroom, work continued to close soffits, install millwork, finish the flooring and refinish the ballroom doors. Installation of the glass curtain wall system that faces Levermore is complete.
On the first floor, in-wall electric and exposed air conditioning ducts are complete, drop sprinklers have been installed and walls have been sheetrocked and taped. Partition walls inside the bookstore space have been constructed, and soffits, ductwork and sprinkler pipes have been installed. Also on the first floor, the full-service Starbucks is taking shape. Millwork, counters, lighting, trim work and back bar shelving have been installed, as well as the café's "Sit-Here Bar."
In the lower level, light fixtures, sheetrock soffits, and FRP high performance wall panels have been installed, as well as refrigerated walk-in boxes. Finishing touches are being made to the restrooms. The terrazzo flooring has been completed and polished, and kitchen equipment and kitchen millwork have been installed.
West Addition
In the UC's west addition, which faces Levermore Hall and will house the new dining area and meeting space, work continues to progress. West addition work includes:
Roofing installation at the dedicated outdoor air system enclosure.
Installation of sheetrock and tape, and painting of the first floor and lower level ceilings.
Installation of air conditioning ducts and vents, and overflow drains.
Work on south vestibule, which serves as a main entrance for the west addition.
East Addition
The east addition, which houses the bright and airy student lounge, continues to progress. Work in that area includes:
Sheetrocking, taping, and painting of all walls.
Installation of AV systems.
Creation of wall pockets for lockers.
Painting ceilings.
Infrastructure
Advances in infrastructure development of the UC include:
Installation of the new chiller and cooling tower (AC systems).
Work on the north elevator continued, including patching and coating existing shaft walls, installing the elevator cabin, and installing the shaft wall at elevator openings on each floor. Sprinkler piping was installed and firestopping – sealing the openings and spaces between joints in the fire-resistant structure – was completed.
Power was tested for the new Handi-Lift wheelchair lift which will be installed in the next week.
Food service lift was powered on and tested on the north end of the existing building.
Site Work/Grounds
East addition sidewalks have been poured, along Parking Lot 2.
Openings have been cut for the fire pump room door, and the fire department connection pipe was excavated, installed and backfilled. Forms were constructed and concrete poured for the fire pump room staircase.
Forms were put in place to allow pouring of concrete for the amphitheater, and its footings and walls were installed. The amphitheater promises to be a beautiful and unique new space on campus.
A new gas meter pad was installed.
Footings were installed at the west addition south vestibule.
It has been great to see the continued progress on this modern and beautiful building. Though most of our community is not on campus to see this progress in person, you can look in on construction any time via the real-time webcam, and we again invite you to view the photo gallery that chronicles the UC project from its beginnings to the present.
We will continue to bring you these regular updates on the progress of the UC Renovation and are always interested to hear your feedback, so please feel free to write to us at UCProgress@adelphi.edu.
Sincerely,
The UC Progress Team
---
For further information, please contact:
Todd Wilson
Strategic Communications Director 
p – 516.237.8634
e – twilson@adelphi.edu