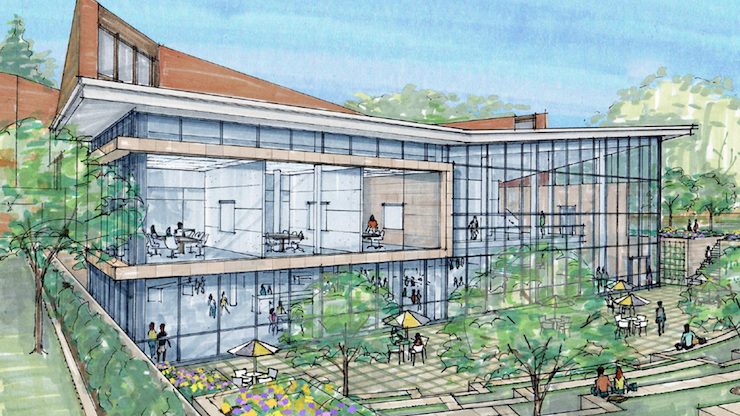 Dear Adelphi Community,
We are so pleased to welcome our students, faculty and staff back to campus for the Fall 2020 semester. While you will notice many changes on campus to help ensure our community's health and safety, one of the more exciting changes you'll see is the transformation of the Ruth S. Harley University Center (UC) since campus closed last March.
We are in the homestretch of work to complete this beautiful new building that will serve as a vibrant hub of student life on our Garden City campus. The UC's second and third floors, which will house abundant meeting and conference room space, are almost fully done, with only finishing touches taking place in some areas. The second floor's Thomas Dixon Lovely Ballroom is progressing well—an acoustical ceiling made from sustainable material is currently being installed and we are ready to install the flooring.
On the lower level, kitchen equipment, fixtures and trim are in place, and we are working through a final list of items that will be the future home of the UC's dining area. The dining area's serving stations are finished, as well as its décor featuring Adelphi's signature gold. The visually impressive staircase connecting the UC's lower level and first floor is almost complete.  Terrazzo stair treads have been installed, and the stair landing and handrails will be installed by the first week of September.
Areas still undergoing significant work are the UC's first floor and outdoor spaces. On the first floor, the full-service Starbucks is complete, and progress continues on the walls and flooring of the art gallery and Follet bookstore. The storefront glass of the bookstore was also recently installed.
You'll notice that outside the building, the UC's amphitheater is taking shape, and promises to be a popular new outdoor venue on campus. Electrical and plumbing work is complete and masonry work continues. Pavers will soon be installed, bringing this new space closer to completion.
As we announced in July, the full reopening of the UC will be pushed back due to delays caused by the COVID-19 pandemic and the governor's New York State Policy to Assure Uniform Safety for Everyone (PAUSE) executive order. While some areas will open this fall, the UC's dining area will launch in the Spring 2021 semester, and the temporary Panthers' Den dining hall will remain in place for the Fall 2020 semester.
While the UC is still behind protective fencing, Adelphi students, faculty and staff can see some of the impressive progress in person from paths on campus, as well as the live camera feed. We also have an online gallery of photos that track the progress.
We look forward to providing additional updates on the UC renovation as it nears completion, and invite you to continue sharing your questions or feedback at UCProgress@adelphi.edu.
Sincerely,
The UC Progress Team