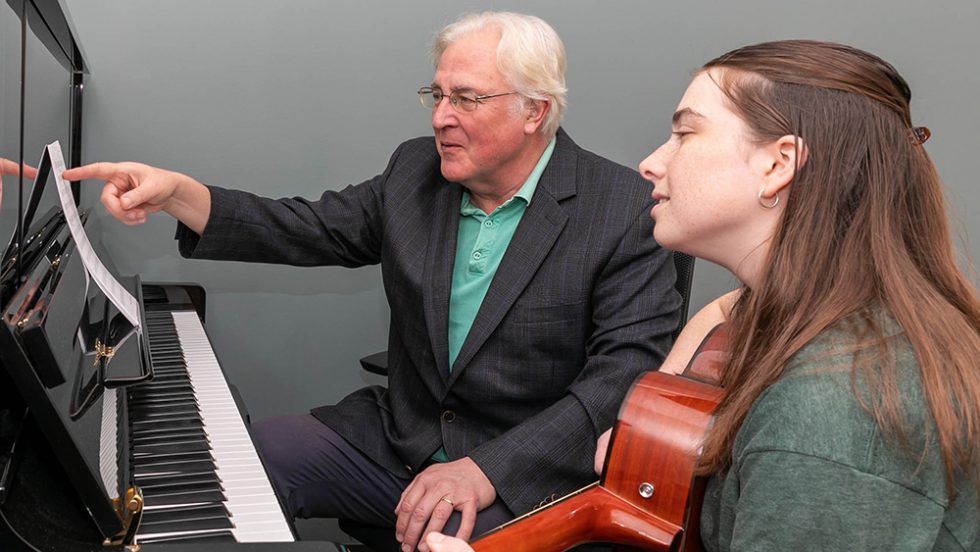 Music students Dori-Jo Gutierrez and Kevin Lubin turn Walt Whitman's poetry into song for the poet's 200th birthday celebration.
Walt Whitman's poetry and recent bicentennial provided the inspiration for two Adelphi music majors to write and perform compositions set to his work. Dori-Jo Gutierrez and Kevin Lubin won Outstanding Presentation for Music Composition in the Undergraduate Division at Research Day in April for their compositions, then performed them for the celebration of the poet at his birthplace in June.
The students volunteered to prepare their pieces after learning that the Walt Whitman Birthplace Association had reached out to Jonathan Ivanoff, associate director for internships in the Center for Career and Professional Development. He in turn contacted Sidney Marquez Boquiren, PhD, associate professor and chair of the Department of Music, Kellyann Monaghan, associate professor and chair of the Department of Art and Art History, and Maggie Lally '82, associate professor in the Department of Theatre, to see if students were interested in participating in the bicentennial celebration. Besides Gutierrez and Lubin, 15 other Adelphi students offered creative presentations of their poetry, painting, sculpture, dance, music, film and theatrical works.
But before that, Gutierrez and Lubin had to prepare their music for Research Day, a creative process that started with researching poems. For Gutierrez, a current senior majoring in music performance and minoring in history, a trip to Whitman's birthplace in Huntington Station, New York, where the original lilac bushes still bloom annually, led to her choice, "When Lilacs Last in the Dooryard Bloom'd."
"When I saw the title of the poem I was intrigued because I remembered those bushes from outside his house. And then I read more about it and it was about Abraham Lincoln passing away, and I just thought it was such a beautiful poem," she said.
Gutierrez, who hopes to pursue a career in performing and songwriting, said her interest in folk music from that era led her to incorporate musical practices from the period.
"I used chord progressions that were typical of folk music," she said. "Also, the piece that I ended up writing had a specific kind of key change called a chromatic mediant modulation that was common for the time period."
When Lubin, now a sophomore majoring in music performance with a concentration in composition, combed through Whitman's poems, he settled on "We Two, How Long We Were Fool'd." He said what appealed to him as a composer was the cyclical nature of the wording.
"A lot of Whitman's literary style is stream of consciousness, which makes it hard to set to music," said Lubin, who is studying with Dr. Boquiren. "But this poem would refer back to itself and had a very specific structure. I wrote what can be considered in the contemporary classical vein."
Gutierrez, who studies composition and songwriting with Paul Moravec, DMA, a University Professor and Pulitzer Prize-winning composer, said what surprised her in preparing for Research Day was how long it took to write the music.
"Some of the challenges I faced were that sometimes Whitman's lines get a little bit long for typical poetic forms, so we talked about how to adapt them faithfully while still making it sound like a good song," she said.
According to Dr. Moravec, who sponsored the students' Research Day project, both Gutierrez and Lubin were successful in what they set out to do. While he agreed that setting Whitman's poems to music can be challenging, Dr. Moravec—who has composed his own music to the poet's work—said the students were up to the task.
"For two very talented musicians like Kevin and Dori-Jo, it's not hard at all," he said. "They know what they're doing."
Dr. Boquiren added: "Both Dori-Jo and Kevin are amazingly talented young artists, and really involved with the department. They're just reliable and also brilliant artists. We fully support the work that they do, and we're very proud of their accomplishments."