Kristina Karouzakis, M.S. '18 & Kayla Franks, M.S. '18, feel prepared & focused as they begin clinical careers in speech-language pathology (SLP).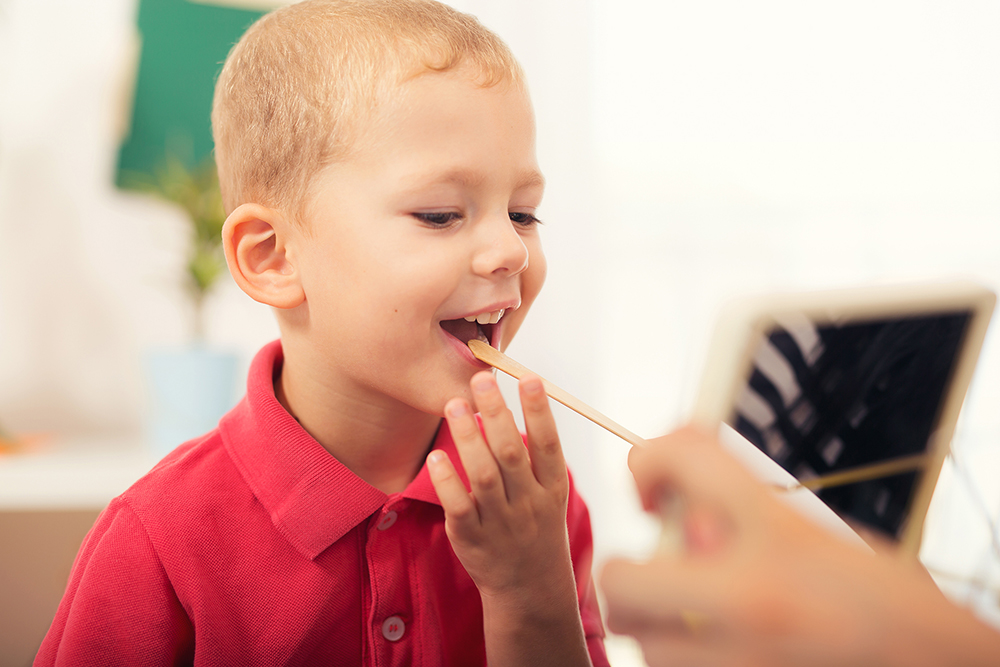 Armed with their master's degrees from Adelphi, Kristina Karouzakis, M.S. '18, and Kayla Franks, M.S. '18, feel well prepared and focused as they begin their clinical careers in speech-language pathology (SLP).
Karouzakis and Franks will each receive their Master of Science in Communication Disorders: Speech-Language Pathology in May 2018.
Karouzakis, who came to Adelphi with a B.S. in Communication Sciences and Disorders (CSD) from Molloy College in 2016, said that her clinical and research experiences with CSD faculty "improved my professionalism and should positively impact my future career." Franks said much the same.
For a research study at the 2018 Adelphi University Research Conference (AURC), Karouzakis presented on "Evidence and Usage of Oral Motor Exercises for Swallowing Therapy." This was a project conducted as an independent study focusing on advanced dysphagia with Ashwini M. Namasivayam-MacDonald, Ph.D.
Working with Steven Cox, Ph.D., Karouzakis also presented at the 2017 AURC on "Listener Perception of Electrolaryngeal Speech."
The CSD department offers an electroencephalography (EEG) elective research course and, although no elective courses are required to graduate, she said, "I wanted to explore studies of linguistic and cognitive processing with Melissa A. Randazzo, Ph.D."
Karouzakis continued working on the research she developed during the EEG course with Dr. Randazzo in the Neurocognition of Communication Disorders Lab. "In this lab, I was able to create scripts from scratch with a peer and run a pilot study on several volunteers," she noted. Karouzakis demonstrated dedication to her research and had the opportunity to share her neuroimaging study at research conferences.
Along with her peer collaborator, Angela Polloni, Karouzakis presented a pilot study of her EEG project, "The Relationship Between Audiovisual Integration and Phonemic Awareness in Dyslexia: An EEG Research Proposal," at Adelphi's Research Day in 2017. After collecting more data, Karouzakis and Polloni presented the findings of their EEG study with Dr. Randazzo at the American Speech-Language-Hearing Association (ASHA) Convention in Los Angeles in November 2017.
"In June," she said, "I plan on beginning my clinical fellowship as a speech-language pathologist. This position will afford me the opportunity to work in early intervention and with school-age children to improve articulation, language and feeding skills."
The CSD department at Adelphi University enabled her to "merge my love for science and language, so I can impact the communication and swallowing skills of individuals in any age group." She now anticipates "a rewarding career," one in which "I can facilitate positive change and improve the quality of life for individuals and their families."
Franks, who received her bachelor's degree in speech-language pathology from Brooklyn College in 2016, presented at the 2018 AURC on a study that "compared subjective versus objective measures of swallowing function in community-dwelling elders with neurological impairments to determine the accuracy of self-reports."
She explained, "Swallowing is something many people take for granted and don't think much about doing, so it was important for us to understand if populations known to be at risk for swallowing impairments were able to recognize any difficulties. We used an instrument called the Iowa Oral Performance Instrument (IOPI) to measure tongue pressures. Low pressures can be used as an indicator of swallowing difficulties. These pressures were compared to self-reports of swallowing function. Results showed that only 20 percent of participants were able to correctly self-report swallowing abilities. This indicates that we need to educate patients and their caregivers about the signs of swallowing impairments, so that they can better recognize them and seek treatment as early as possible.
"Working with Dr. Namasivayam-MacDonald [on that project] has been an incredible experience."
In April 2018, Franks also attended the New York State Speech-Language-Hearing Association (NYSSHLA) conference, but did not present there. Instead, she said, "I actually attended NYSSHLA as a volunteer. The CSD department chose me to attend as the 'student representative.' I was lucky enough to attend many sessions and explore others' research."
In addition, Franks this spring won the $1,000 Graduate Student Council Recognition Award for her essay "explaining how Adelphi University has assisted in reaching my goals, my achievements and leadership. I wrote about running the Transgender Voice Group at Manhattan Center with Dr. [Irene] Kling and my two clinical externships."
"Being immersed in research alone is contributing to my growth as a clinician," Franks said. "All of my clinical decisions have been influenced by evidence-based practice. I appreciated the research opportunities because they gave me the chance to inform the profession. They also deepen my understanding of why research is important and why clinicians need to seek out research to inform their practice."
Although she probably will pursue her Ph.D. at the Ruth S. Ammon School of Education at Adelphi, she said, "I'm going to spend the next year working in the field. I believe that will help narrow my focus and allow me to determine gaps in the SLP literature. I am interested in dysphagia research."
Franks' pursuits in the SLP field should not be too surprising, given that her mother and her brother are both SLP professionals. But she did detour into other interests for a while.
"My brother owns an agency called Kids First, in Riverdale, New York," Franks said, "and my mother is now retired, but worked in Brooklyn for 47 years with children through age 3. Growing up, this was the conversation at the dinner table.
"I took a detour on my way here," she said. "I spent the first two years of my bachelor's degree studying fashion, acting and broadcast journalism. I now plan to work as a medical speech-language pathologist, primarily focusing on the care of adults with voice and swallowing impairments."
Research will remain prominent in her pursuit of knowledge. Looking ahead, Franks said that she is already planning to present at two conferences in 2019—those of ASHA and NYSSLHA.
---
For further information, please contact:
Todd Wilson
Strategic Communications Director 
p – 516.237.8634
e – twilson@adelphi.edu