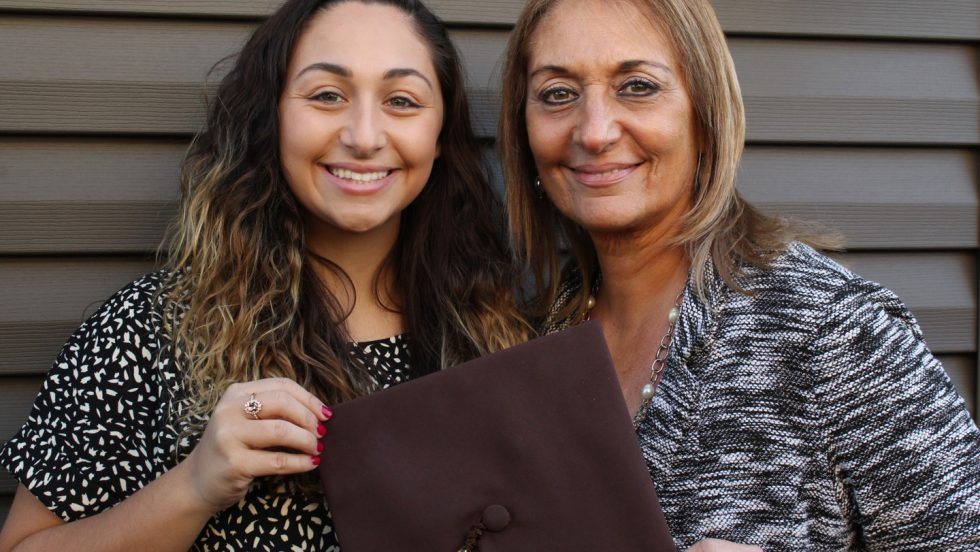 Geralyn (Geri) Caliendo '84, MS '20, and her daughter Gina Faiella '20 are celebrating two Adelphi University graduations. Caliendo, currently assistant director of case management for Northwell Health-Long Island Jewish Medical Center, was awarded a Master of Science in Nursing Education on December 17. Faiella, a biology major and public health minor, received her bachelor's degree in May.
"It has been a special journey to have experienced Adelphi life with Gina," said Caliendo. "We attended many on-campus activities together, like Relay for Life and Spirit Weekend, and we attended the Women's Leadership Conferences together. The memories I have made these past several years with her and the fact that we are both in the Class of 2020 is a special bond we both share."
Faiella said she is "incredibly happy and beyond proud" that she and her mother are graduating in the same year. "I realized how special this would be because my mother also attended Adelphi for her undergraduate degree. She was part of the reason why I chose Adelphi in the first place."
Growing Through Challenges
Faiella started her senior year on a high note. In the summer of 2019, she interned at the Feinstein Institutes for Medical Research, where she designed a research project in collaboration with the Research OutSmarts Endometriosis (ROSE) study. During the fall semester, she planned, organized and hosted a research-based talk at Adelphi titled "Let's Talk Women's Health."
"My mentors from the Feinstein Institutes spoke about their research in depth and I talked about my research project experience," she said. "Organizing this event helped me grow as a student and define my leadership skills."
Then the pandemic hit. Both mother and daughter had to adjust to classes going online. Faiella said she adapted to communicating online with professors and her fellow students and studying at home rather than in her residence hall.
She and her classmates proved to be resilient, "able to adapt quickly and move forward," she said. "I keep telling myself that if we can get through senior year and a pandemic, we can do just about anything."
Mother and daughter managed to end strong. Caliendo was inducted into the Sigma Theta Tau International Honor Society of Nursing, and Faiella made the dean's list.
Fittingly in this year of COVID-19, Faiella said she is now exploring where to pursue a master's degree in public health, with a concentration in epidemiology or molecular biology.
As for Caliendo, armed with a master's degree in nursing education, she said she hopes to use her education to "make a positive contribution to the profession both in my present role and, if given the opportunity, as an adjunct professor at Adelphi."