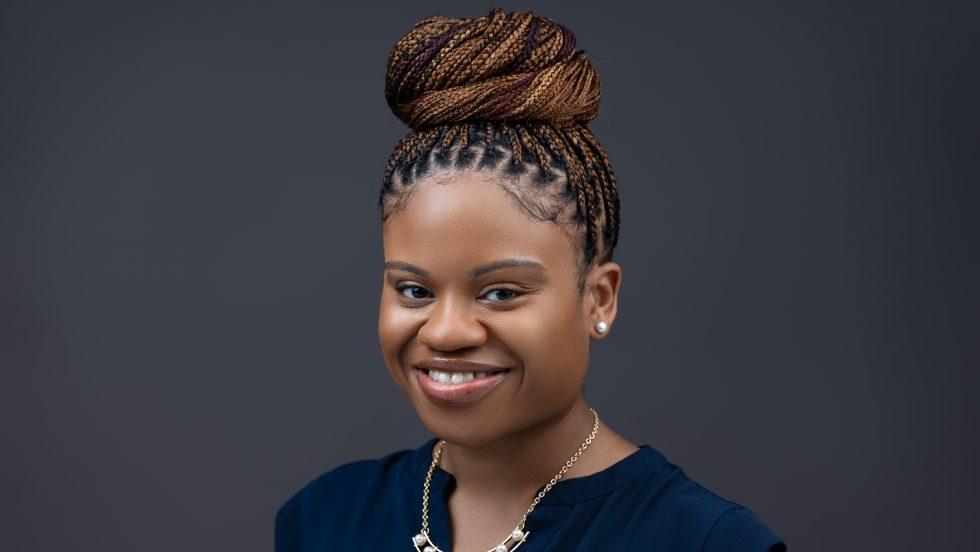 I am blessed to teach students from underserved communities that they too have promise in this world.
Member of Adelphi University's 10 Under 10
History (2014), College of Arts and Sciences
Scholar Teacher Education Program (2015), Ruth S. Ammon College of Education and Health Sciences
Middle School Educator, Bushwick, Brooklyn
Trevena Goulbourne cites three reasons she chose to pursue her education at Adelphi University: the ability to receive accelerated, high-quality preparation toward her goal of becoming a teacher; the opportunity for exposure to a global perspective she had not yet experienced; and the chance to explore and celebrate her own background and culture.
Goulbourne always knew she wanted to become a teacher, and Adelphi's accelerated teacher preparation program, which would allow her to earn both her bachelor's and master's degrees within five years, was a major selling point. She says this program allowed her to be immersed in highly effective pedagogical practices before graduation, with the guidance of professors who she calls amazingly dedicated. 
The second draw for Goulbourne was her acceptance into the Levermore Global Scholars (LGS) program, and the exposure to a wider world that was promised by the program. LGS taught her to look at the world from a global perspective, and inspired her interest in seeking equity for marginalized groups. 
Finally, Goulbourne had a special interest in Adelphi's African, Black and Caribbean Studies (ABCS) program. She selected ABCS as her minor, and reveled at being able to delve deep into her own history, focusing on the triumphs of those who came before her. "I learned to feel PROUD of my people—people of color who blazed the trails that I now proudly walk through," says Goulbourne.
Goulbourne's mentor during her years at Adelphi was Devin Thornburg, PhD, senior adjunct professor of education, who she says taught her that no dream she had was too big. "Dr. T," as she affectionately calls him, helped guide Goulbourne through each step of completing her four academic programs at Adelphi, offering trusted professional advice and establishing a connection with her as a student and educator. 
"Dr. T never stops pushing me and understands my passion for education for marginalized youth, probably because he shares this passion," says Goulbourne. "With his guidance I achieved mastery on the Educative Teacher Performance Assessment and had a great portfolio when interviewing for my first teaching position." 
Goulbourne also received inspiration from Marsha J. Tyson Darling, PhD, professor emerita and special assistant to the president for strategic initiatives, who, in addition to Dr. Thornburg, taught her to fearlessly challenge the status quo and continuously fight for what she believed to be morally and ethically right. "They taught me that equity is possible, and that moving from equality to equity takes passion and purpose, but it's possible," she says.
While at Adelphi, Goulbourne worked as an America Reads/America Counts tutor and a student worker at the Alice Brown Early Learning Center. As she continued her academic progress, she interned as a teacher for the Young Entrepreneurs Training Program in Freeport, teaching young children about economics and helping them to develop their own businesses. The following year she took an internship with the National Urban League as an event marketing intern, and through this position found others who were equally eager to make positive change in the world. Goulbourne says she gained valuable experience from this role that, despite being her only venture outside of the education realm, prepared her most to step into the classroom.
In 2015, Goulbourne began a full-time position as a sixth-grade social studies and English language arts teacher at Philippa Schuyler Middle School for the Gifted and Talented in Brooklyn, where she continues to teach today. She has served as co-adviser for the National Junior Honor Society, as a member of the Culturally Responsive Teaching Team and, for the second year in a row, is on the instructional leadership team working to restructure curricula to align with the district's changing vision that encourages students to play an integral role in their own school careers.
"As a teacher, I am blessed to teach students from underserved communities that they too have promise in this world," says Goulbourne. "I teach students that if there isn't a seat at the table, then they need to build their own. Every day I teach them the lessons that I had to learn myself—to love their own history, to love themselves and to discover how they can contribute to the world."