Adelphi's personalized approach to higher education is paying off with a record seven Best of Long Island Awards—including Best College or University and Best College President.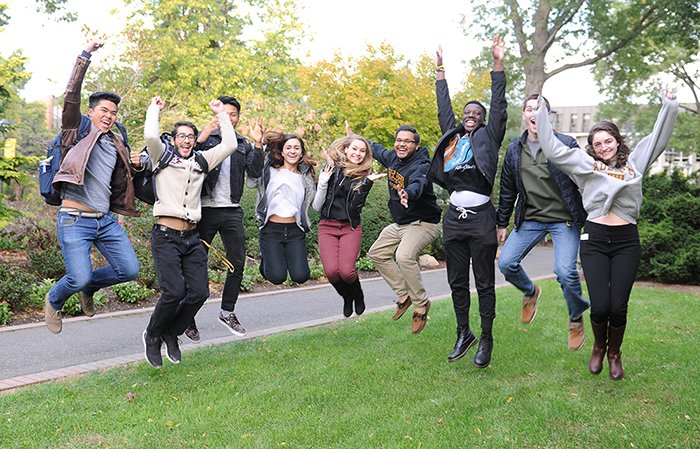 Adelphi University's personalized approach to higher education is paying off with a record seven Best of Long Island Awards—including Best College or University and Best College President—in the 12th annual Bethpage Best of Long Island competition. The popular contest drew more than 870,000 online votes from nearly 50,000 registered voters.
Adelphi's mission is to transform the lives of all our students. We create a rich academic environment—with small classes, caring faculty and engaging hands-on learning—in which students can define their success in the classroom, in careers and communities, and beyond. Being named the Best College or University on Long Island by thousands of voters is evidence that we are making a difference in students' lives and in our region.
Adelphi's wins are the latest in a string of recent successes. Our Class of 2020—this year's freshman class—is the largest and most diverse in our history, and indicators are strong for next year: early applications for Fall 2017 have set another record.
Adelphi also moved up significantly in the 2017 U.S. News & World Report Best Colleges rankings and has been named a Best Buy by the Fiske Guide to Colleges for 11 consecutive years.
Since joining Adelphi in 2015, President Christine M. Riordan has been championing new programs and approaches that have improved the Adelphi experience and raised the school's profile. She has collaborated with colleagues across the University on a comprehensive strategic planning process focusing on key priorities such as student success, academic excellence, and creating a diverse and inclusive climate. The plan has inspired innovative new undergraduate and graduate programs, expansions in career and academic support services for students, and a sharper focus on serving diverse students. 
The University's five additional Best of Long Island awards reflect our success in many areas. 
Best Concert Venue and Best Live Local Theater:
These awards went to Adelphi's Performing Arts Center (AUPAC), which is home to five venues, including our elegant 500-seat Concert Hall. AUPAC is an important part of Adelphi's commitment to creating powerful community connections and to fostering student success. AUPAC offers our students professional-quality performance spaces in which to learn and practice their disciplines. AUPAC also draws some of the best emerging and established artists from New York and around the world to Adelphi, and area residents are taking notice. In fact, AUPAC ticket sales were at an all-time high in the 2015–2016 season.
Best Publicist:
Kali Chan, director of media relations, won this award for raising Adelphi's profile in the United States and abroad. In her 12 years at Adelphi, she has garnered tremendous year-over-year growth in national and international media coverage, with placements in The Wall Street Journal, The New York Times, USA Today, Newsday, the New York Post, CNN and National Public Radio, among others.

Best Public Garden:
Adelphi is a registered member of the American Public Gardens Association, and won this award for its impeccable grounds—home to more than 60 types of flora—which are organically maintained. Creating an inspiring environment in which students can thrive is an essential part of Adelphi's mission.
Best College Sports Coach:
Dominic Scala, Adelphi's head baseball coach since 2004 and a former New York Yankees bullpen coach, won this award. He has led the team to a number of successes, including four NCAA tournament appearances and the team's first Northeast-10 Conference title. An impressive 10 Adelphi baseball players have gone pro during Scala's time as head coach. We know that student success on the field leads to success in the classroom and beyond.
---
For further information, please contact:
Todd Wilson
Strategic Communications Director 
p – 516.237.8634
e – twilson@adelphi.edu