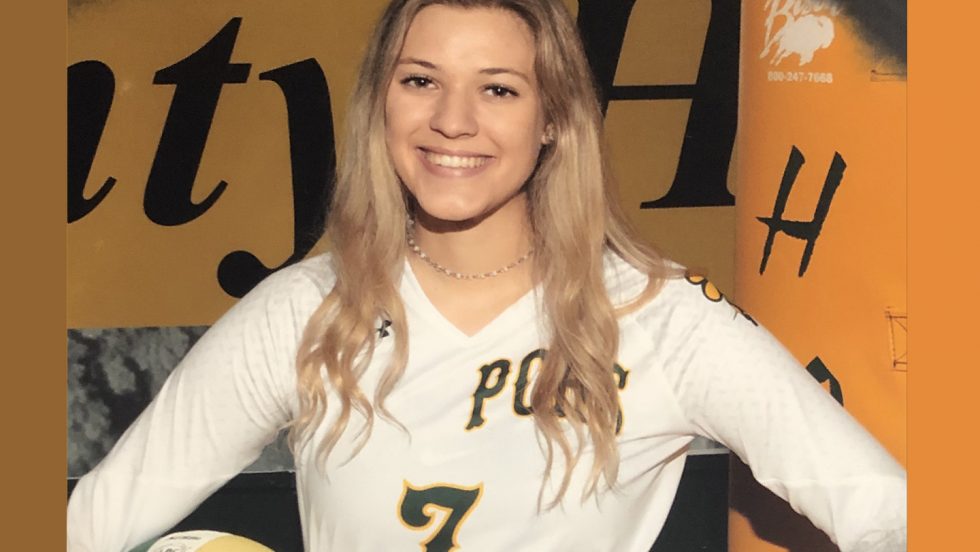 Samantha Meehan loves the wide-open spaces of her native Colorado, but the energy of New York has drawn her to Adelphi, where she'll play on the volleyball team and study chemistry on an academic scholarship.
Samantha Meehan grew up in the Rocky Mountains of Colorado, but she always knew she wanted to go to college in the East.
The big-city bug bit when she was 8 and her dad took her to see his family in Connecticut, Massachusetts and Maine. She loved the big skies and empty spaces of the West, but something about the energy of the more populated East spoke to her.
"I loved the crowds. I loved all the activity. There was so much to do," she said. "Where I grew up, there's not a lot going on."
Meehan kept her focus. A decade after that life-changing visit, the 18-year-old is moving to New York from her hometown of Pueblo, Colorado, to attend Adelphi. The high school volleyball star earned an athletic scholarship to the University. She'll be the outside hitter for the Panthers beginning this fall.
Meehan's talents don't end on the court. She also received an academic scholarship from Adelphi based on her high school GPA of 4.36 and college entrance exam scores.
"My parents always emphasized being a student athlete," she said. "They told me from a young age that I had to keep my grades up if I was going to play competitively."
No Volleyball Until 2021
Like every other college student in the country, Meehan is facing changes in her plans due to the coronavirus pandemic. Volleyball season has been delayed to Spring 2021. "We'll be lifting and doing some practicing, but there will be no games and no travel," she said.
She sees an upside to a fall with no volleyball. "I think it will be a lot easier to adjust to my classes with no game schedule," Meehan said.
She looked at other East Coast schools, including Pace University in New York City, but decided on Adelphi after a campus visit last year.
"I fell in love with Adelphi right away. I hung out with the volleyball team for two days and they were great," she said. "I liked the campus. It felt safe and welcoming. I knew immediately I belonged there."
Garden City goes at the right speed for a Colorado kid just in from the Mountain West.
"It's slower on Long Island, but it's a lot safer," Meehan said. "I'll be able to adjust to East Coast life better if I'm out on Long Island. Going from Pueblo to Manhattan would be overwhelming."
'Nature Fix' in the Wilds of Connecticut
Meehan plans to major in chemistry and become a pharmacist. There's a pharmacy school at the University of Colorado Denver, close to where she grew up, which—as of right now—she hopes to attend. But she would also consider staying in the East and going to a pharmacy school there. "A lot can happen in four years," she said. "I'm open to almost anything."
Meehan, who loves to hike, kayak and be outside, is going to have to adjust to city life. "It's going to be hard to get my nature fix in New York," she said. But her family owns a cabin in the woods of Connecticut, so she plans on going there when she needs to see trees and animals instead of streets and humans.
While she's a little sad to be leaving her parents, her sister and her cat in Colorado, she's ready to hit New York.
"I'm excited," Meehan said. "Playing college volleyball in the East has been my dream since I was a little girl."