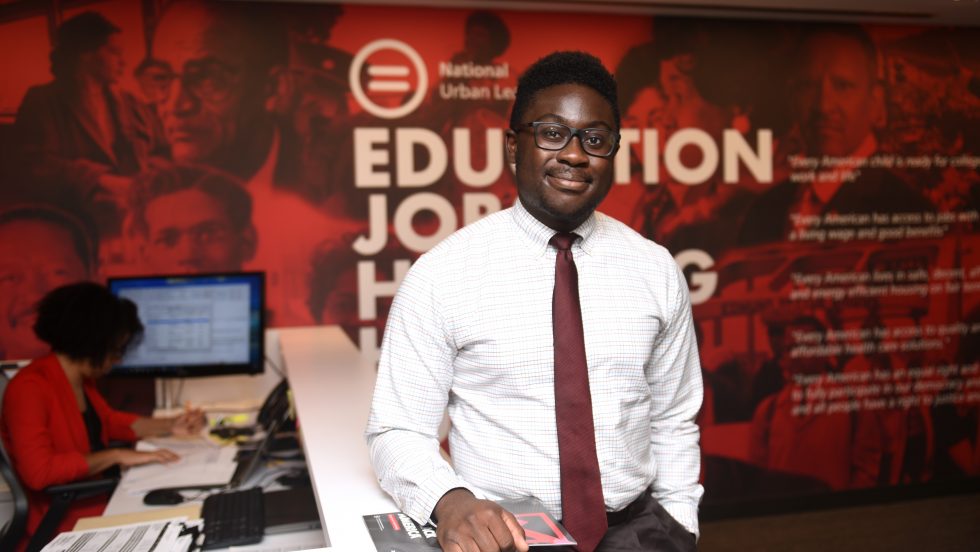 Adelphi students like Jaggar fellow Samuel Ajewole pick up valuable professional skills through the Jaggar Community Fellows and Leadership Certificate programs. Here are two students' stories.
When Alexa Annese first visited Adelphi as a prospective student, she marched into the University's Center for Career and Professional Development with one question.
"I asked them, at 17, what they were going to do to help me get a job," she said. "I wanted to know how I would use what I learn in the real world."
She was asking the right people at the right place. The Center for Career and Professional Development prepares students for life after college, everything from writing résumés and cover letters to landing an internship. But perhaps the crown jewel of their efforts is the Leadership Certificate Program, which offers a series of workshops that build awareness and help students develop the professional skills they'll need to succeed.
Ranging in topics from personal branding to the role of social justice in leadership, Leadership Certificate Program workshops are like TED Talks for college students. More than 40 are offered each year, all open to undergraduates in all majors as well as graduate students. Students must participate in six workshops to earn their certificate. More than 150 students did that last year. Many earn certificates in multiple years.
"The program teaches things students don't learn in the classroom," said Victoria Passarella, assistant director for career services at Adelphi. "It explores the nuances of leadership, of what it means to be influential in business and in the community. We're teaching students how to use their strengths and be a force for change."
A Focus on Networking, Team Building—and Etiquette
Annese is now a senior at Adelphi scheduled to graduate in May with a communications degree. The career center introduced her to a career counselor that first day she asked about her prospects, even before she had enrolled. That get-it-done attitude convinced her Adelphi was the place for her.
She completed the Leadership Certificate Program in her junior year, participating in six workshops, including ones on team building, career readiness and networking. Her favorite focused on dining etiquette, where students were served a full-course meal and taught the rules for European and American dining—rules that are important to know in today's global economy.
"We learned how to handle utensils and cups, how to put a napkin in your lap, how to walk in and how to sit down," she said. "I feel confident now going to a business meeting, and this gives me an edge. I called my grandpa and said 'I feel so classy now, like I'm a royal!'"
Annese—who also received a Jaggar Community Fellowship, which provided her with a paid summer internship at a nonprofit organization in New York—said that getting her Leadership Certificate will make her degree more valuable. "Through my experiences, I have the confidence and skills now to show an employer what I can do for them." Samuel Ajewole, above, also took advantage of the Jaggar Community Fellows Program—as an intern at the National Urban League.
A Program of Special Value for First-Generation Students
Lauren Mangiafreno, a grad student studying for her MBA after getting her bachelor's degree from the University in 2019, is one of Adelphi's graduate students who benefited from the Learning Certificate Program. A first-generation college student, she said the program was especially helpful for her.
"I am the first one in my family to go to college, so I needed help with professional development," she explained. "The Leadership Certificate Program taught me a lot, and so did the other programs at the center. The programs gave me the just the skills I need for a career—they helped me learn how to stand out as a person."
Mangiafreno said that the center's personal approach is its most valuable asset. "Everyone is so nice and so willing to help," she said. "I'm a really motivated person, and I want to succeed, and the people at the center—and in my department—gave me so much of their time. I wouldn't be where I am today if I hadn't reached out to the career center."
---
For further information, please contact:
Todd Wilson
Strategic Communications Director 
p – 516.237.8634
e – twilson@adelphi.edu