Devin Thornburg, Ph.D., Ammon School professor, visited schools in seven countries last fall, with seven more due this spring--to research practical, workable education models from which to learn and benefit.
Devin Thornburg, Ph.D., Ammon School professor, describes an epiphany he had in his approach to education. The flash of insight came to him in 2005, after a four-year break from teaching, and that it all had to do with trust. In addition to imparting information, he said, teachers need to be building positive relationships with students, their parents and the community—something more prevalent in other cultures than in our own.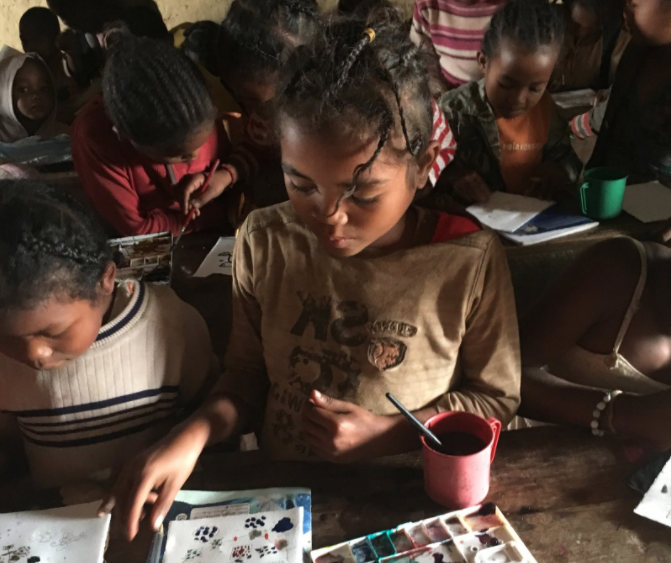 That matter of trust—besides inspiring his blog's title, Trust in Learning, in which he's been detailing his experiences abroad—has now become a focus for research as well, with a sabbatical and a contract with Rowman & Littlefield to publish a book this fall to help frame the endeavor.
Dr. Thornburg, who has been on faculty at Adelphi for close to 30 years, is in the midst of visiting schools in 15 countries, writing case studies of three schools in each country. What he has learned is that industrialized nations tend to focus on mastery of knowledge whereas schools in developing countries—such as Madagascar, one of the countries he's visited already—are more geared toward the school's place in the community.
The goal, he said, is to have practical and workable models from which both sides can learn and benefit, rather than criticizing the practices of either.
"I didn't want to go under any auspice except 'let me learn from you and let me be a spokesman for your views on schooling,'" he said of his international visits. "If we get into a critique, it doesn't lead to options, and I'm sick and tired of not having options. The untold story is that it's about people and not structures or practices. Ultimately to have more of a shared vision of what education can be, which we've lost," he said.
Last October, he visited Amsterdam; Bordeaux, France; Portugal; and Seville, Madrid and Cordoba, Spain. In November 2017, he went to Madagascar, where he enjoyed a vegetarian Thanksgiving.
After that, he added Argentina and Chile to his itinerary for December 2017.
In a December blog, Dr. Thornburg said that come spring, his travels will take him to seven more countries on two continents.
Some of his blog observations along the way included:
* In both Argentina and Chile, "the social and emotional needs of students are increasingly important in the curriculum and instruction in schools at all ages." He noted that Ammon School Interim Dean Anne Mungai joined him in Chile, participating in discussions with faculty from the University of Valaparaiso about support of diverse and special needs students.
* In Madagascar, where he celebrated "a vegetarian Thanksgiving feast," he said, "Education is still seen as a luxury more than a necessity for social growth, although university education is an aspiration for an increasing number in the country."
* "Spain is attempting to … innovate and embrace the widely diverse, international population of students in an inclusive model of schooling."
* In France, "there is a national mandate to increase technology used in the curriculum."
"I've broadened as I've gotten older," Dr. Thornburg added with a laugh. "I've learned that the answer may not be in my backyard. It turns out I'm not Dorothy."
---
For further information, please contact:
Todd Wilson
Strategic Communications Director 
p – 516.237.8634
e – twilson@adelphi.edu