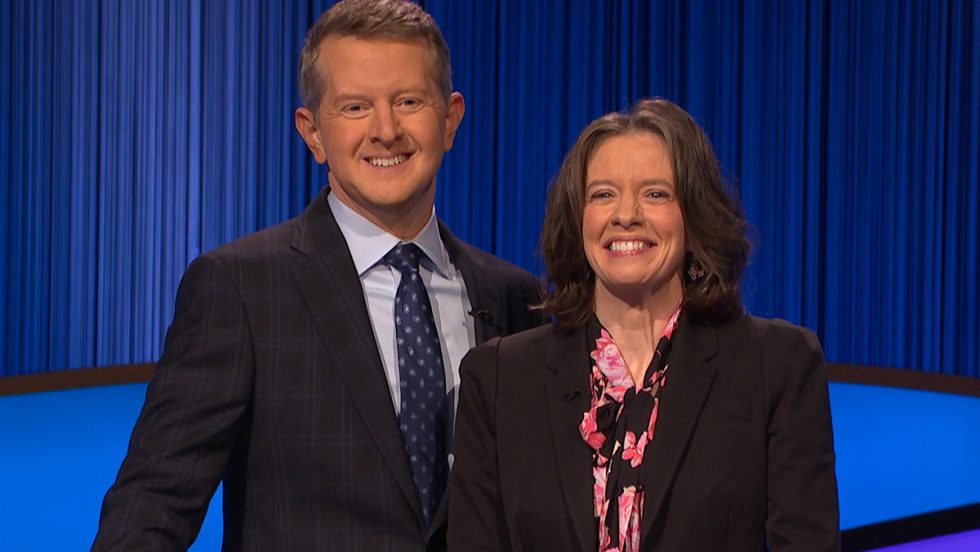 Faculty member Nicole Rudolph, PhD, gave an impressive showing on the beloved game show.
A longtime fan of the TV trivia show Jeopardy!, Nicole Rudolph, PhD, never thought she'd be a contestant, but in 2021, her son convinced her take the initial online test. In an episode that aired this year on March 27, she appeared—and won.
"It really was an honor, especially as I felt I was representing Adelphi in addition to my students and myself," said Dr. Rudolph, a faculty member in the Department of Languages, Literatures and Cultures and the Department of History and associate dean for student engagement in the Honors College. "I loved meeting host Ken Jennings—he does a wonderful job of interacting with contestants; he's been in their shoes and is empathetic."
Dr. Rudolph, who is also director of the Office of Prestigious Awards and Fellowships, admires Jeopardy!'s late host, Alex Trebek, as well. "I'm glad, though, that it was Ken hosting. Had I been on in the days of Alex Trebek, one of the things I would have feared was giving an incorrect answer and having Alex say, 'Oh no,'" she said with a laugh. "I don't mind being wrong in front of 3.5 million people, but I don't really want to have to bear the 'Oh no'!"
Honors College Pride
Adelphi students organized a watch party on campus in Waldo Hall to cheer Dr. Rudolph on. "Her constant support for students is greatly appreciated, so many of us wanted to return the favor," said senior Alexa Amato, a history and adolescent education major who is in the Honors College as well as a resident assistant in Waldo Hall. "The energy in the room was palpable, and every time she answered a question correctly the entire room would erupt in cheering for her. To see one of our own from the Honors College take on Jeopardy! was so special."
The Delphian, Adelphi's student newspaper, covered the news and the watch party in "Honors College Dean Rudolph Crushes It on Jeopardy!"
While it was a year between the time Dr. Rudolph took the first step and when she was invited to a follow-up online session, she was soon invited to go to Los Angeles to be on the show in October—notable in itself as only one-half of 1 percent of all applicants end up on the stage. She got COVID in September, however, so her appearance was delayed until early this year. The shows were recorded and then aired in March.
"It was so much fun watching other episodes being filmed before mine," she said. "I wasn't chosen the first day I was there, but that turned out to be a good thing as I had a migraine. I felt good the next day—it was a lucky headache."
As far as preparation, Dr. Rudolph said she didn't do a lot, mainly because she was busy with her work at Adelphi. "The thing I did study was state capitals, which I hadn't studied since the sixth grade. I didn't want to embarrass myself not knowing a capital."
Setting an Example: It's OK to Make a Mistake
While she's proud of having won a match, she also believes that being on the show was a good example for her students about speaking up and not worrying so much about maybe being wrong. In fact, she got her second Final Jeopardy response incorrect because she overthought it, she said. The clue was, "This public agency runs the USA's busiest bus terminal, opened in 1950 for commuters awed by its polished steel and stone."
"I thought about Port Authority, but then the wording about running it made me think there must be another aspect to it, so I said MTA," Dr. Rudolph said. "I guess the lesson is: Go with your gut. I tell my students that, on exams, you know what you know, and if you don't know, you can't worry about it. As a teacher, I see a trend in classes in that some students are reticent to speak up; they don't want to be wrong or judged for how they express themselves.
"I figured one of the great things to come out of this is that I will have gone on this national stage with millions watching, and I'll answer something wrong. I will definitely lose at some point and come home. I figured that if I can do that, students should feel emboldened and more comfortable in the more intimate, nurturing space of the classroom. Nothing bad happened to me just because I got a few answers wrong."
The Jeopardy! categories in each game make a big difference, she noted. For example, "Figures of Speech" played to her strengths; "Tough Tough-Guy TV," not so much.
Dr. Rudolph called the support from the Adelphi community "magnificent." Along with the watch party, she got multiple emails from retirees, current colleagues, alumni and even her high school drama teacher. "It was fantastic to reconnect with so many people."
In all, Dr. Rudolph is happy with the whole experience. "It was a lot of fun. I mainly went on for the adventure—and it was a spectacular adventure."