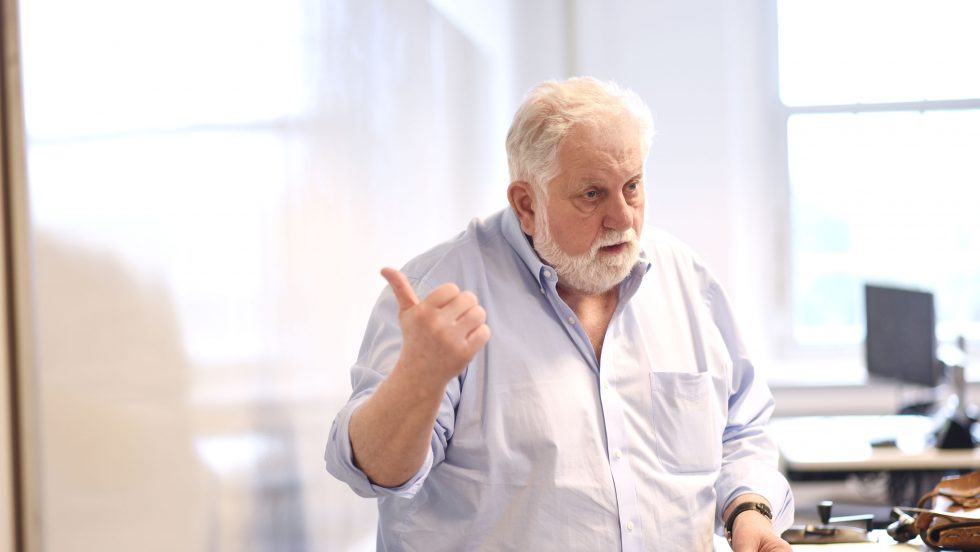 A perennially favorite professor—and 2019 Adelphi Legend—has license to be as "crazy, inventive and creative" as he wants to be.
His courses may have titles like Introduction to Sociology; Development of Sociological Thought; Italian American Experience; Cities, Towns and Suburbs; and Media Images of Italian Americans. But Salvatore (Sal) Primeggia '64, MA '66, PhD., spices them up by delving into the machinations of The Godfather, the sometimes off-color comedy of Lou Monte and lots in between.
Dr. Primeggia—who described himself in a 2010 newsletter article as "the last remaining from the Cave Period"—started teaching at Adelphi in Fall 1967, while pursuing his doctorate at The New School for Social Research. He went from adjunct to full time to professor by 1989.
He's stayed on because of his love for teaching "what I thought were exciting, challenging and sometimes earth-moving ideas," he said. "Adelphi is a place that emphasizes the classroom experience and appreciates anything that enhances the teacher-student interaction."
This approach has given him the permission and freedom to be as "crazy, inventive and creative as I want to be in the classroom," as he expressed in a 2014 Adelphi faculty profile.
Stand-Up Comedy in the Classroom
Dr. Primeggia is the proud son of Italian immigrants. In his Media Images course, the class views films like The Godfather and "compares the romanticized presentation to the reality of organized crime," he said, "and discusses stereotypes of Italian Americans and others from a historical and sociological perspective."
Dr. Primeggia challenges students to rethink previously held assumptions about the societies they're studying. The topics may be serious but the presentation sometimes borders on stand-up comedy.
To keep students engaged, "I try to be as energetic as possible," he said, "both physically and intellectually, and use humor to keep things moving." He may imitate celebrities past and present, from novelty singer Lou Monte and comedian Uncle Floyd Vivino to bandleader Louis Prima and comedian and talk show host Joy Behar.
Over the years, his energy, passion and devotion to his students have resulted in his being cited as a favorite professor by alumni from Alice Hoffman '73, '02 (Hon.), to Charlotte Champigny '18.
Regina A. Barr '87, MBA '92, noted he "spent so much quality time with his students." Rose (Agostinacchio) Zauk '81, MD, said her favorite course was Italian American Experience due to Dr. Primeggia, who "had so much passion for what he taught. He was truly inspiring," and Nancy Lobell '73 called him "the single best professor I have ever had."
"I try to give my all in each class session," he said. "I'm usually passionate about what I'm teaching and I would hope that this demonstrates to students that they should be as passionate about things that are important to them as well."