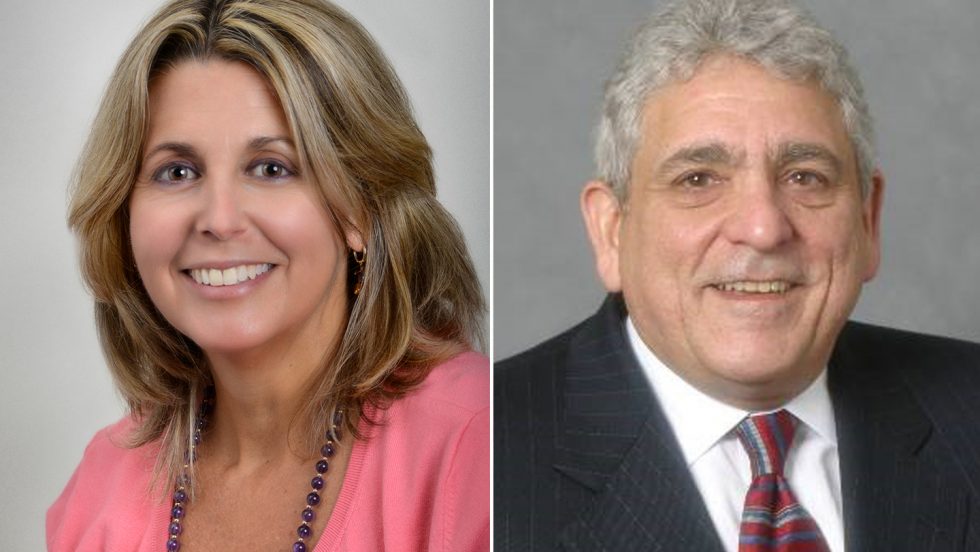 Willumstad School of Business (WSB) students might be surprised to learn that among those giving them a winning edge both academically and in the job market is an impressive team of highly accomplished professionals working behind the scenes as advocates, allies and partners.
As volunteer members of the Dean's Advisory Board, these alumni, industry leaders and Adelphi supporters bring invaluable experience to the business school, providing strategic vision, practical advice, networking opportunities and other resources to enhance the student experience.
"It's striking to me how dedicated and supportive these individuals are … truly passionate about ensuring that Adelphi and its students thrive," said MaryAnne Hyland, PhD, dean of the Willumstad School. "All are very successful businesspeople who share a commitment to giving back," whether it's because of a special connection with the school or a general desire to share their time, talent and treasure with future generations of business leaders.
The Dean's Advisory Board meets twice per semester, carrying out committee work and other endeavors throughout the year to ensure that Adelphi's business students "are equipped with 21st century skills," Dr. Hyland said. "The members are so creative and engaged, bringing a breadth of experience that informs and advances WSB's academic and extracurricular enrichment programs," she said. "They are very involved in a variety of activities, including participating on panels, providing experiential learning opportunities, serving as judges and mentors for the Business Plan Competition, fundraising and collaborating with faculty on special projects." Additionally, board members work with the Willumstad Leadership Scholars and provide one-to-one mentorship to students in the graduate program.
Goals Aligned With Student, Industry Needs
Guided by its own recently developed business plan, the advisory board is structured around the work of committees aligned with specific goals that support student success and enhance Adelphi's reputation as a leader in business higher education. The board members also work to secure funding for these initiatives.
The Immediate Needs Committee helps connect students to scholarships, technology, internships and employment to enable them to finance and continue their educations.
The Student Success and Preparedness Committee focuses on graduating career-ready students through industry certifications, internships for credit and mentoring and shadow programs.
The External Relations Committee works with alumni to increase engagement and support for the University, as well as interaction with students.
The Nominating Committee ensures the board's sustainability through the cultivation and recruitment of new members.
Advisory Board Chair: Expanding Academic and Financial Resources
One of the strengths of the advisory board is that it is comprised of professionals from small to large firms in both the business and nonprofit sectors. Currently serving as chair of the board is Richard Salute '71, retired managing partner of CohnReznick's Long Island office, who previously worked at Arthur Andersen.
Salute became chair of the advisory board in 2021, after serving as a member for more than a decade. He "is honored to work alongside other Adelphi alumni and other very talented people who are driven by success and the ability to effect change." He taught accounting in the graduate school for some years and, through personal experience, understands how important it is for students to have support and mentorship. After serving stateside as a medic in the Army during the Vietnam War, Salute worked full time throughout his college education and needed guidance on reaching career goals. "I understand what students go through when they don't have money," he said, and the advisory board is working with Jana Ryan, Adelphi's director of advancement, on initiatives to raise funds to support students.
Salute looks back fondly on his Adelphi education and credits faculty with identifying what would become his life's work. "I developed relationships with my professors, and they recognized I had strong accounting skills," he said. "I never even had accounting on my radar as a profession." He went on to graduate with an accounting degree, take a job with a small firm and be recruited by one of the "Big 5″ global accounting firms, eventually becoming a senior partner.
He considers his experience, and his understanding of the myriad prospects available at small and midsized companies, to be an advantage when working with Adelphi business students. "There are extraordinary opportunities for our graduates at businesses throughout our region," he said. "Students shouldn't be fixated on landing a job with one of the Big 10—you can build a rewarding career and a wonderful life at a smaller company … and there are far more opportunities to do so."
Committed to Giving Back
Advisory board member Deborah Viola '84, PhD, vice president of the Office of Research and Grants Administration for Westchester Medical Center (WMC) Health Network, re-engaged with the University 35 years after graduating. A first-generation college student on her father's side, she attended Adelphi on a full-tuition scholarship. Taking the train to campus from Floral Park and working while attending school, she maintained outstanding grades as a double major in management and computer science and was selected to deliver the graduation address.
"Having access to the welcoming, small campus feel of Adelphi and its outstanding faculty was critically important to my success," Dr. Viola said. She remembers fondly the personal attention she received, recounting that her father was starting his own business at the time and a communications professor worked with her to refine some of the written materials he needed to launch the company. "I have lectured at Adelphi and worked with a student intern at WMC Health, so I know that the students still receive this type of attention," she said. "Having taught and chaired programs myself, I also know how critically important these attributes are."
Dr. Viola, who also serves on Adelphi's President's Advisory Council and is a member of the Women's Giving Circle, has particular interest in ensuring that students have access to real-world experiences outside of the classroom. She works with her colleagues to bring outside speakers to the business school, enhance internship and shadowing opportunities, and expand connections between industry professionals and students. She also is focused on raising funds to support initiatives, including scholarships and paid internships, and is counting on other alumni who are in a position to do so to also support the institution that "was so foundational to their success," she said.
"Our degree is highly regarded and the school so well respected," said Dr. Viola. If you're from the Long Island area, there's no need to go elsewhere to find a small, accessible campus, extraordinarily helpful faculty and remarkable opportunities. "
Critical to the Willumstad School's Success
While the Dean's Advisory Board is concerned with the entire business school, there are three other advisory boards that each focus on a specific area: the Accounting Advisory Board, the Elizabeth and Allen Don Center for Innovative Technology and Decision Sciences Advisory Board and the Student Advisory Board.
"I am extremely grateful to all of the board members" Dean Hyland said. "These are highly successful individuals with careers, families and other commitments. The fact that they choose to give back to the University in such a meaningful way is a testament to their generosity and the impact Adelphi has had on their lives."