Adelphi alum MaryEllen Hacket '10 paints the landscapes she protects as a national park ranger and residential artist.
Matches, a headlamp, sunglasses, sunscreen, Chapstick, snacks— these are standard items one would find in a park ranger's backpack. But MaryEllen Hackett '10 carries a few unexpected items: a small kit of watercolors and gouache paint.
After graduating from Adelphi, Hackett began working in national parks, serving seasonally as a park ranger and, in the off seasons, as a resident artist. Her work took her to locales ranging from Fire Island National Seashore to Yellowstone, Yosemite and Joshua Tree National Park.
In 2016 she was named a National Park Service Centennial Artist Ambassador through the Weir Farm National Historic Site in Connecticut, one of more than 70 volunteer ambassadors promoting art in the parks and enhancing community engagement. That summer, while working at Hawai'i Volcanoes National Park as a seasonal ranger, she received a callback to work her first full-time, permanent position as a park ranger at Sequoia and Kings Canyon National Park in California. She picked up her car from Florida, drove cross-country, moved into her new home almost 7,000 feet above sea level in the Sierra Nevadas and began working a few days later.
Both ambassador and park ranger roles go hand in hand as she documents the very environment she is in charge of protecting. Being a ranger requires her to wear many hats, from firefighting to medical emergency services. Still, she makes time to paint off hours at least once a week.
---
Painting Long Island
Kellyann Monaghan, Adelphi associate professor and chair of the Art and Art History Department, recalls recognizing Hackett's love for landscape painting.
For her senior thesis, Hackett submitted paintings of Fire Island, where she grew up, and Jones Beach State Park. Instead of typical sunny beach scenes, her work depicts the off-season. "She would do [painting assignments] from inside her  car in the wintertime," said Monaghan, who was impressed early on by Hackett's work ethic and compares her to Tom Thompson, an influential 20th-century Canadian landscape artist.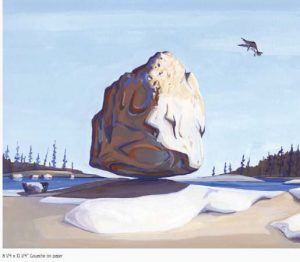 As a senior, Hackett ran the student Art League and received support from the art department to graduate a month early in order to take a job at Glen Canyon National Recreation Area in Utah. 
"She had the rare combination of talent and self-discipline," Monaghan said. "I'm very proud and even a little envious! She carved a unique niche for herself." 
Today, it isn't so much the lack of phone reception and high-speed internet or taking a two-hour drive down to the nearby city of Fresno to shop that poses a real challenge for the Fire Island native. Having lived in 10 states, she's grappled with the effects that various climates have had on her medium. In her current location, she will have to deal with the low humidity drying her paint quickly, which makes it less malleable after application.
---
Paying It Forward 
When she's not looking for fires to put out, Hackett showcases her art on her website, hereandfarther.com, and her Instagram account, @hereandfarther. She also keeps in touch with colleagues from the art world and aims to recruit potential candidates for the park agency or a residency program.
"My art professors taught me to be generous and share opportunities, because more times than not, someone will help me down the road too," she said. Both Monaghan and Hackett acknowledge the difficulty of being a contemporary artist while making a suitable living.
But Hackett appears to be succeeding. "There's not one equation that fits, but she found one that works for her," said Monaghan. 
---
For further information, please contact:
Todd Wilson
Strategic Communications Director 
p – 516.237.8634
e – twilson@adelphi.edu