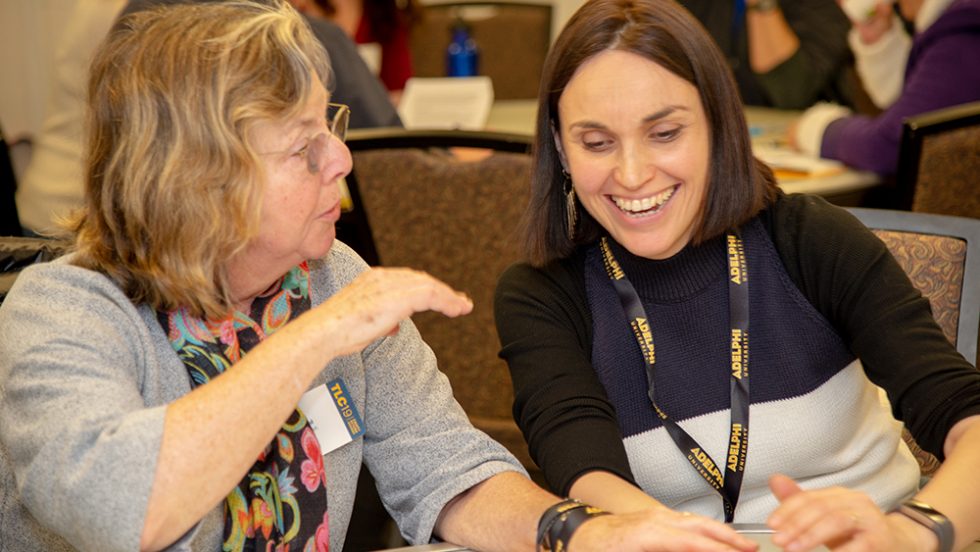 Science, technology, engineering and math are difficult topics to master for some students, but a new approach to teaching the subjects is proven to enhance learning, encourage persistence and improve graduation rates.
Many students find topics in the disciplines of science, technology, engineering and math (STEM) challenging to master.
Now, as the population of college students has become more diverse, the need to teach in ways that enhance the learning process, encourage persistence and improve graduation rates among STEM undergraduate students—particularly those who are the first in their families to attend college or are from underrepresented groups—is taking on increased importance.
Adelphi professor of biology Lawrence Hobbie, Ph.D., and Eugenia Villa-Cuesta, Ph.D., and Jonna Coombs, Ph.D., associate professors in the College of Arts and Sciences, addressed that challenge in a workshop they presented at the Teaching and Learning Conference 2019: Equity Beyond Access, held on campus on January 30.
The session was a condensed version of a four-day workshop offered by the Mobile Summer Institute (MoSI), an organization based at Yale University's Poorvu Center for Teaching and Learning that focuses on issues of education reform unique to colleges and universities. MoSI workshops promote an innovative approach that is proven to increase learning and student retention rates.
"Not every student learns in the same way, and the method of teaching science in the form of lectures does not ensure that undergraduates will retain what they are being taught," Dr. Villa-Cuesta said. "It's important to promote more active learning—conversations between students and educators, or among students themselves—to make sure that students are learning."
"There's a lot of evidence that shows that active learning is particularly effective with first-year students," Dr. Coombs added. "Learning by doing is more in line with how these students developed the skills that they have."
The key principle taught in the workshop is known as "backward design," an approach that moves away from the traditional textbook-centric model. Backward design asks educators to start with the learning goals, then work backward to design learning experiences that will help students achieve them.
"On the most fundamental level, I compare this approach to teaching children to tie their shoes—you don't do that with a lecture," Dr. Villa-Cuesta said. "You tell them how it should be done, then you have them do it as you observe them, and you help them throughout the process until they master that skill."
Backward design was not intended to replace classroom lectures. Rather, it is an alternative for professors to consider adopting methods to further engage today's college students and help them achieve their educational goals.
"We tell educators that they don't have to abandon their previous way of teaching," Dr. Hobbie said. "Try to incorporate one new method per semester and do assessments with your students—questions and answers, group projects—to determine what works best."
Faculty members from Adelphi and other local colleges and universities who attended the session worked together at various tables to complete a backward design exercise as the presenters sought feedback and answered questions.
"The responses were positive, including from some professors who prefer the Socratic method of teaching in their classrooms," Dr. Coombs said. "The educators agreed with the concept of linking the subject matter to real-life examples to help students understand and learn the material."
Adelphi hosted a MoSI workshop in August 2018 and will host another in May. Adelphi assistant professor of biology Carolyn Bauer, Ph.D., who took the August 2018 workshop, said her teaching and student learning have benefited.
"The way I learned biology as an undergraduate—in a lecture hall with 300 students—is very different from how I teach my students," Dr. Bauer said. "I find there's more student engagement and better retention when students learn this way. I find it particularly helpful in teaching students who don't have the strongest pre-college background."
Added Dr. Villa-Cuesta, "The goals over time are to give a more diverse group of students the knowledge they need to have successful careers in STEM and to produce a more diverse group of science educators."
—Editor's note: For years, the College of Education and Health Sciences has also been on the forefront of training future teachers on how to engage K–12 students in math and science. Associate professors Mary Jean McCarthy, Tracy Hogan, Ph.D., and Emily Kang, Ph.D., and Cindy Maguire, associate professor in the College of Arts and Sciences, have been particularly active, even incorporating STEM with the arts.