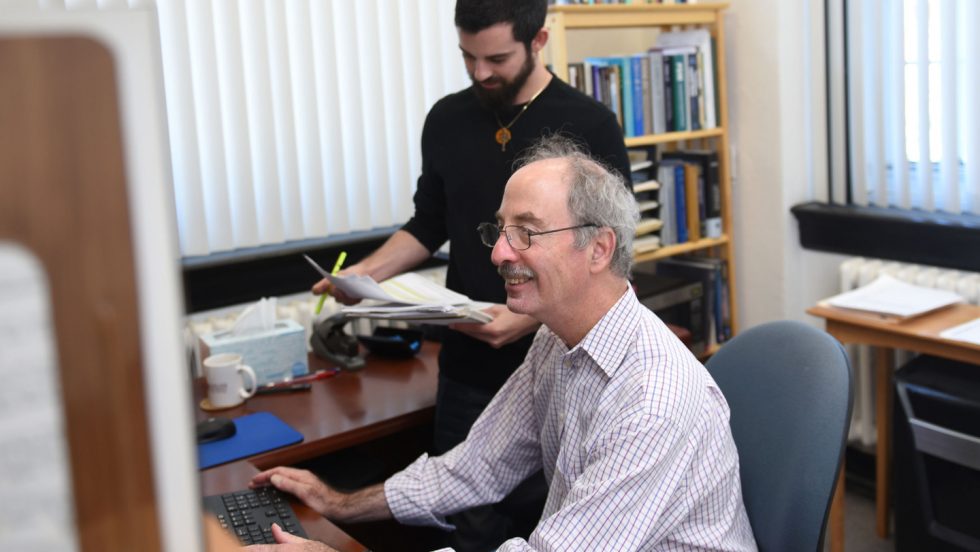 In addition to teaching, Derner faculty members engage in scholarship and research. Here are recent highlights of their work.
Book chapters
Dana Boccio, PhD, associate professor of psychology, recently published a chapter in the updated eighth edition of Ethics and Law for School Psychologists with a colleague, Susan Jacob, PhD, professor emerita at Central Michigan University. The chapter explores school psychologists' involvement in advocacy at the individual and systems level and discusses the obstacles that may impede successful advocacy efforts, as well as strategies to overcome these barriers.
University Professor Robert Bornstein, PhD, along with Adam Natoli, PhD '20, published a chapter on interpersonal dependency and dependent personality disorder in Primer on Personality Disorders: Multi-Theoretical Viewpoints by Robert E. Feinstein, MD. The chapter is part of an ongoing collaboration between Drs. Bornstein and Natoli.
Freudian Thought for the Contemporary Clinician: A Primer on Psychoanalytic Theory, by professor of psychology Robert Mendelsohn, PhD,uses clear language, modern contexts and key psychoanalytic concepts to show how Sigmund Freud's thinking and legacy is directly relevant to today's therapists. Much of the work for this book is based on the course that Dr. Mendelsohn teaches to first-year candidates in Adelphi's clinical psychology PhD program, Theory and Practice I: Freudian Legacy.
Journal Articles
Dean Jacques Barber, PhD, has written an article with Nili Solomonov, MS '15, PhD '18, arguing that the personalization of therapy requires addressing the mechanisms of change, that is, understanding which patients benefit from change in specific mechanisms of change within a treatment approach and across different psychotherapies. Their article, "Unpacking the heterogeneity in treatment effects as a path to personalized psychotherapies: Are we there yet?" will be published in an upcoming issue of Clinical Psychology: Science and Practice.
In recognition of her intersectional research on minoritized religious and sexual identities, assistant professor of psychology Chana Etengoff, PhD, was invited to guest edit the Journal of Homosexuality's special issue on the LGBTQ+ Muslim Experience. In collaboration with a colleague from CUNY, Dr. Etengoff discusses the significance of intersectional models of LGBTQ+ research in her 2021 article "Incorporating Transformative Intersectional Psychology (TIP) into Our Understanding of LGBTQ Muslims' Lived Experiences, Challenges, and Growth."
Dominic Fareri, PhD, associate professor of psychology, was first author in a team of eight researchers of the article, published in the journal NeuroImage, "Age-related differences in ventral striatal and default mode network function during reciprocated trust" on changes in neural representations of others involving trust in older adults. The article had implications for increased risk of financial exploitation and abuse in the elderly.
Katherine L. Fiori, PhD, professor of psychology and chair of the undergraduate department, published Rethinking Social Relationships in Adulthood: The Differential Investment of Resources Model, a theoretical piece on the development of social ties in adulthood with two colleagues in Personality and Social Psychology Review, the number- three-rated journal in the field of psychology.
Bernard Gorman, PhD, adjunct faculty member in psychology, along with colleagues from Sapienza University of Rome, published an article for Psychology Hub titled "Interpersonal guilt, impostor phenomenon, depression, and anxiety," which examines imposter syndrome, also known as imposter phenomenon, and demonstrates the importance of guilt in relation to major expressions of anxiety that clinicians might encounter.
Karolina Lempert, PhD, assistant professor of psychology, joined colleagues from multiple universities to measure economic preferences in the Netherlands, India, Brazil, South Africa and the United States published an article in the journal Neuropsychology, "Cross-national harmonization of neurocognitive assessment across five sites in a global study". While preferences were generally similar across sites, participants in India tended to be relatively more risk averse, and those in the Netherlands tended to be relatively more patient for future rewards. This work shows the importance of harmonizing measures for use in different countries in order to better assess potential cultural differences in cognition and decision-making.
Assistant professor of psychology Christina Marini, PhD, co-authored an article, "Military couples' experience in the aftermath of a cancelled deployment," exploring the psychological impact of National Guard couples preparing for overseas deployment, only to have it cancelled. While some were relieved, others were greatly disappointed. The article sheds light on the need to help military families cope with the uncertainty surrounding deployment and to support them as they navigate the potentially stressful post-cancellation period.
Michael Moore, PhD, associate professor of psychology, recently published an article, "Association between decentering and reductions in relapse/recurrence in mindfulness-based cognitive therapy for depression in adults: A randomized controlled trial," in the Journal of Consulting and Clinical Psychology, that looked at relapse prevention in patients being treated for major depressive disorder with Mindfulness Based Cognitive Therapy (MBCT). The paper suggested that interventions, including MBCT and relaxation therapy, that promote the ability to observe one's thoughts and feelings as temporary events in the mind, rather than reflections of the self, also known as decentering, lower the risk of relapse.
J. Christopher Muran, PhD, associate dean and professor of psychology, published with colleagues, including Catherine Eubanks, PhD, professor of psychology, "Renegotiating tasks or goals as rupture repair: A task analysis in cognitive-behavioral therapy for personality disorder" in Psychotherapy Research. It is the latest empirical study based on 33 years of his work. In addition, he published "The alliance construct in psychotherapies: from evolution to revolution in theory and research" in World Psychiatry, on the therapeutic license, which he has studied throughout his career.
Michael O'Loughlin, PhD, professor of education and psychology, has a chapter in press in Culture & Psychosis on intergenerational trauma and the Great Hunger in Ireland. His work, which explores how catastrophic events that occur in one generation continue to haunt subsequent ones when not adequately processed, is part of an upcoming book he is working on.