The people who planned Adelphi's first inaugural Spirit Weekend had a mission in mind: Create 37 events over three days and include something for everybody.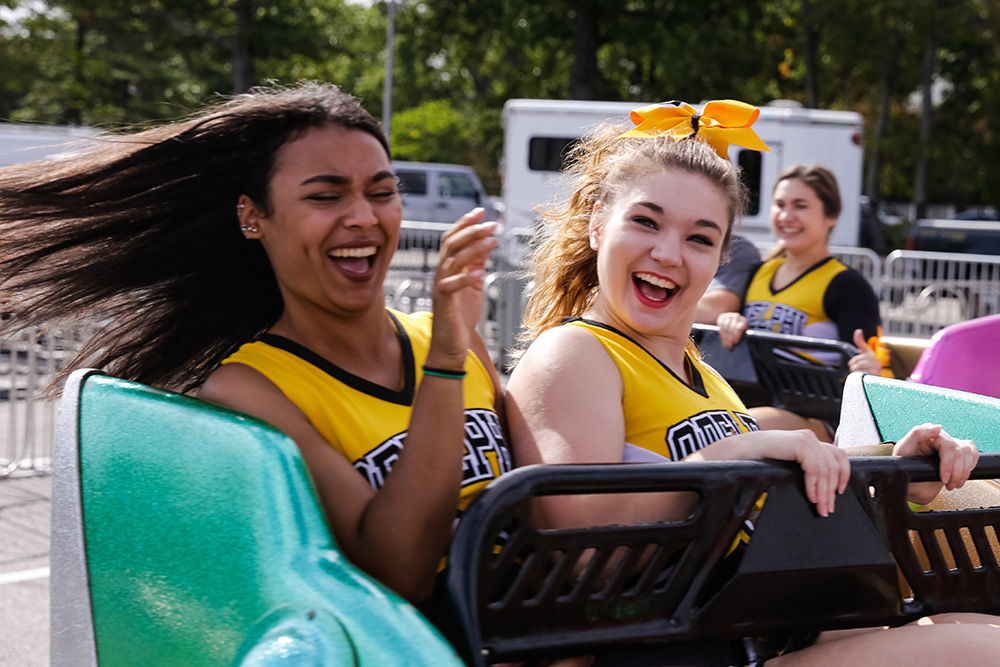 The people who planned Adelphi's inaugural Spirit Weekend had a mission in mind: Create and schedule 37 events over three days, and include everyone from toddlers to octogenarians, multiple reunions, a 5K run, alumni athletic games, trips to Broadway, a carnival, a glittering evening event, a scholarly nursing retrospective, some important celebrities, a casino night, a petting zoo and a lunch with President Christine M. Riordan—in short, something for everybody. And have it all happen without a hitch.
For 25 planners at Adelphi, it seemed like pulling off a miracle. Meeting weekly at one point to bounce ideas around and pound out a schedule, they represented 11 different groups at Adelphi: Admissions, the Performing Arts Center, the Center for Student Involvement, Special Events, External Relations, Auxiliary Services, Alumni Relations, Athletics, Communications and Marketing, Public Safety and Transportation, and Dining Services.
"It was all hands on deck," recounted Executive Director of Alumni Engagement and Annual Funds Jodie Sperico. They met regularly for months to discuss how to engage every single constituency, including faculty, staff, parents and other family members, friends, alumni, students and the community at large.
"We came up with the theme 'All together for the first time ever,' because it was literally true," said Sperico. "There had always been scattered events here and there, but the goal was to gather everyone on campus at the same time to display our Panther Pride."
Her favorite event? Meeting the young alumni at our "10 under 10" young alumni recognition reception. "These graduates from the past 10 years are fantastic ambassadors for the Adelphi experience. We got to see the work they are doing around the globe; bettering their communities, serving as leaders on boards—this is the power of the Adelphi education." From disability rights advocate Emily Ladau '13 to Priyam Talreja '09, a former psychological adviser to Save the Children, to Tonille Simone Watkis '14, Miss Black America and a celebrity advocate for The Heart Truth campaign, each of these 10 alumni is making a difference and putting their Adelphi education to work.
Special reunions included the 50th class reunion for the Class of 1967, honored with a nostalgic speech by Adelphi's Chairman of the Board of Trustees Chair Ronald B. Lee '67; the 75th anniversary of the nursing program at the College of Nursing and Public Health, with a special event for the 35th anniversary of the Ph.D. in Nursing program; the Multicultural Alumni Chapter 14th annual meeting; and a reunion of a much more informal kind—Back to the Ratt with Professor Sal Primeggia '64, M.A. '66, Ph.D.
Although Adelphi is now a dry campus, that wasn't so in the past. So the Spirit Weekend Committee recreated a favorite watering hole of the '70s, '80s and '90s—the Rathskeller. According to Sperico, "Our Back to the Ratt event was meaningful to so many—this was where our students decades ago relaxed after finals, made lifelong friends, even met their spouses."
Although it rained at the start of the Panthers for a Cause 5K Race and Petite Panther Prowl on Saturday, the day cleared for the carnival, which brought more than a thousand people to enjoy the rides, witness the coronation of the Adelphi King and Queen, and take pictures with the newly named University mascot, Paws.
On Saturday night, three Adelphi legends were recognized: Richard Garner, Ph.D., founding dean of the Adelphi Honors College; Carmen de Lavallade '03 (Hon.), actress, dancer, choreographer and former chair of Adelphi's Department of Dance; and Nicholas Petron, M.A. '70, Adelphi Department of Theatre professor and chair.
The Legends Dinner key note speaker, acclaimed star of stage and screen, Laura Linney, talked about her summers at Adelphi as a child, where she got a very early taste of the theater that become her passion.
Planning is already underway for next year: October 12 to October 14 are booked for Adelphi Spirit Weekend 2018.
Sperico's hope for next year? Providing even more opportunities to connect—more reunions and more gatherings—to welcome everyone home.
And there's one more wish: "No rain on the morning of the 5K."
» View all our Spirit Weekend photo galleries
---
For further information, please contact:
Todd Wilson
Strategic Communications Director 
p – 516.237.8634
e – twilson@adelphi.edu