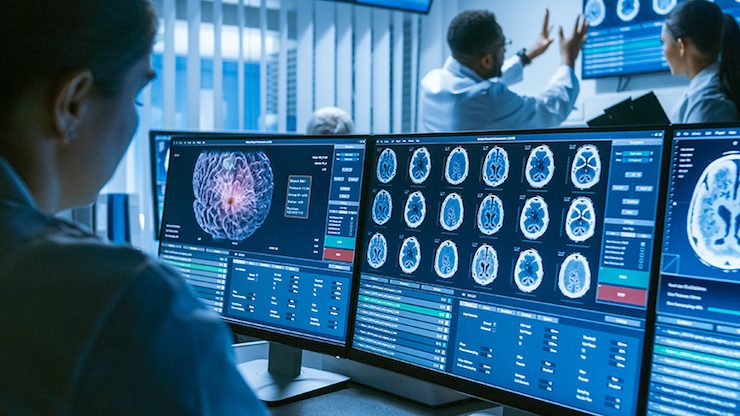 A. Hasan Sapci, MD, evaluated and documented the relationship between training methods and the confidence necessary to use new technologies among undergraduate nursing students in a recent study.
Providing health informatics and nursing students with the skills they need for the 21st century.
That Fitbit on your wrist is just the beginning of what researchers are calling a revolution in healthcare. It's part of a vast array of wearable devices, smart home systems and other digital tools that allow healthcare providers to monitor patients as they go about their daily lives.
But while the technology exists, today's medical professionals don't always receive the training they need to use it. This "digital skills gap" extends to the next generation—including nursing students at many institutions—who don't have access to novel informatics tools.
"Most health informatics training programs focus on electronic health record training, but place little emphasis on telemedicine and remote patient monitoring skills," noted A. Hasan Sapci, MD, assistant professor of health informatics at Adelphi's College of Nursing and Public Health.
Dr. Sapci evaluated and documented the relationship between training methods and the confidence necessary to use new technologies among undergraduate nursing students in a recent study published in the August 22, 2018, issue of the Journal of Telemedicine and Telecare. His conclusions point the way forward in terms of reducing the skills gap in mobile technologies.
More than 200 nursing students participated in the study, which evaluated their confidence level with various types of remote monitoring devices before and after being given six exercises designed to hone their skills.
The results, said Dr. Sapci, were "extremely encouraging." Most participants reported that the training changed their attitudes toward remote patient monitoring, and more than 90 percent stated they would like to have similar training approaches in their future learning.
Current research into telemedicine is particularly important because the population in the United States age 65 and over is expected to soar to more than 83 million by 2050. This will cause a profound shift in how the healthcare industry addresses diseases associated with aging as well as how it provides care to this fast-growing segment of the population.
A member of several committees related to healthcare technology at the U.S. Department of Health and Human Services, Dr. Sapci has been programming clinical informatics applications and teaching clinicians how to use them for more than a decade. He has been working on the training program used for the remote monitoring devices study since 2009.
Dr. Sapci has also established two cutting-edge laboratories at Adelphi, meeting the need for more practical training around mobile technologies. The Smart Home for Home Healthcare Lab gives students hands-on experience with the types of applications that are used to monitor patients in their own homes, ranging from sensors that detect movement in a chair or bed to robotic telepresence systems that allow caregivers to have virtual face-to-face conversations with their patients.
[pullquote direction="right"]"[Adelphi is an] ideal place to train tomorrow's health informaticians and clinicians."[/pullquote]
Students in the Smart Home for Home Healthcare Lab can easily transfer information they gather to the Health Informatics Training and R&D Lab, which simulates an academic medical center. Students there learn how to process and store information gathered from patients. Its wide range of equipment—imagine a glove that a patient can slip on to evaluate their heart, or a digital camera system that can perform eye exams—means that students can develop strategies of their own.
Together, the labs provide a "unique environment where we can help students create innovative projects," explained Dr. Sapci. It's why Adelphi has a "national competitive advantage" in the growing field of telemedicine, he said, and why it's the "ideal place to train tomorrow's health informaticians and clinicians."
---
For further information, please contact:
Todd Wilson
Strategic Communications Director 
p – 516.237.8634
e – twilson@adelphi.edu