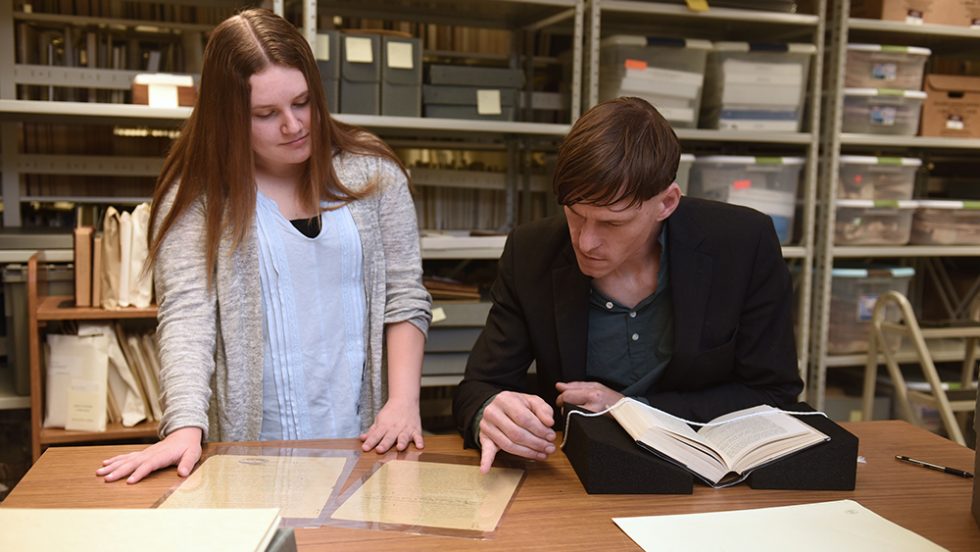 A yellowed sheet of paper, untouched in Adelphi Library archives for almost 80 years, was the starting point for history major Nicole Quirke's award-winning research on soldiers who fought in the Spanish Civil War.
The yellowed sheet of paper sat untouched by human hands for nearly 80 years.
Nicole Quirke lifted it out of a box of documents and held it up to the light to read the faded typewritten words.
Quirke, a history major now in her junior year, was helping to digitize a collection of papers donated to Adelphi by Sandor Voros, a veteran of the Spanish Civil War. But this one had caught her eye. She scanned the text and realized it was an undated obituary about four Irishmen who died nearly a century ago on battlefields in Spain.
"I was intrigued by what was missing in the information," Quirke said. "[The document] didn't give much information about their lives—it just glorified their deaths. I felt like there had to be more about them out there, telling who they were. It was sitting there waiting on someone to find the story."
The Spanish Civil War raged from 1936 to 1939 between the elected, left-leaning government and a nationalist insurgency led by the Spanish military and supported by Nazi Germany and Fascist Italy. The Nationalists won and ruled Spain for nearly 40 years, until 1975.
Quirke spent an entire semester looking for the rest of the story about the four foreign men who died in that war. She presented her research at Adelphi's Research Day in Spring 2019, winning an undergraduate Outstanding History Presentation award as well as an International Leadership Coordinating Committee Award.
The tattered document she found wasn't just a straightforward obituary reporting the soldiers' deaths. It was a vintage bit of propaganda intended to recruit people from across Europe and the United States to join the Communist International Brigades that fought on the Republican side, which supported the government.
"The 'Four Irishmen' document is part of a complex propaganda and publicity endeavor that the International Brigades thought was essential to guarantee ongoing assistance for the fight in Spain against what they believed was the danger of Fascism," Quirke said.
She discovered the obituary was very similar in wording to a passage in a Communist propaganda book published in the late 1930s about the International Brigades that glorified battlefield deaths.
Quirke dug up more information on three of the four Irishmen, including when they arrived in Spain, what units they served in, when and where they were born, and when and where they died.
She also uncovered the political and religious beliefs that may have affected their decision to fight in Spain. One was a member of the Communist Party. Another had been in the Irish Republican Army.
The project gave Quirke the experience of researching original source documents, digging deep into a topic, and then presenting her findings in an academic setting—skills and experience invaluable to a history major. Quirke plans to get a master's degree and teach high school history, but she doesn't rule out working as an archivist at some point. "It was such an interesting opportunity to give a voice to a document that's not been read for decades," Quirke said.
Edward Reno, PhD, associate professor and chair of Adelphi's history department, played a critical role in the project, which was made possible by a teaching fellowship he received from Adelphi's Faculty Center for Professional Excellence. The fellowship gave him the time he needed to develop a digital archiving course and to supervise research by Quirke and fellow students Christopher Horton and Jessica D'Onofrio. It also provided a stipend he used to purchase needed software as well as books related to the Spanish Civil War and the International Brigades.
The project also could not have been possible without the collaboration of Brian Jay MacDonald, PhD, assistant professor, and David Ranzan, associate professor, who oversee University Archives and Special Collections. Both faculty members spent many hours preparing materials and meeting with the students to discuss their finds.
Dr. Reno said that his three students produced outstanding work, making discoveries in the archives that helped one another's research. The students also received a special treat when they presented their research at the end of the semester, as the presentation was attended via video conference by the two surviving children of Sandor Voros.
"I was able to track them down when I started working on the project," Dr. Reno said. "They knew about their father's history, but they were blown away by how students are still benefiting from the materials he donated to Adelphi back in the 1970s. It was a remarkable moment of connection between the past, present and future, enabled by the tremendous work that Nicole, Chris and Jessica did.
"Adelphi Libraries have resources of great historical significance," he added, "which is something that should be known more widely in the scholarly community."
---
For further information, please contact:
Todd Wilson
Strategic Communications Director 
p – 516.237.8634
e – twilson@adelphi.edu