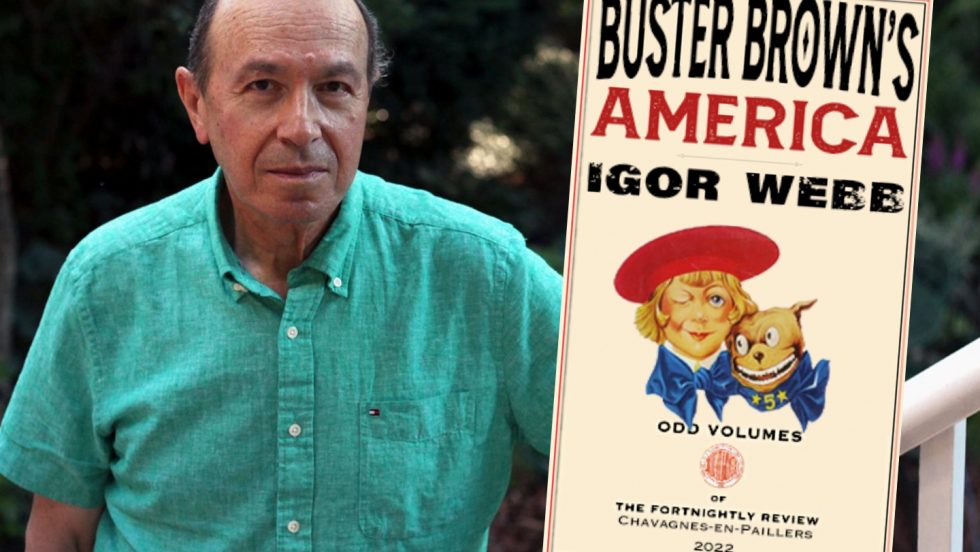 "How do we experience being alive?"
That's the question Igor Webb, PhD, professor in Adelphi University's Department of English, explores in his latest book, Buster Brown's America: Recollections, Reveries, Reflections—and incorporating This Old Writer: A Journal of a Plague Year.
"In everyday life, we don't experience being alive in the same way," said Dr. Webb. "It's not reflective. It's not ordered. It doesn't give us a window. Great literature shapes the world. We know these people we read about better than we know anybody else, because we never get into anybody's mind—we might not even get into our own. If an unexamined life is not worth living, how do you examine it? How do we see our experience?"
A collection of essays
Dr. Webb's book, a collection of essays published in April by Odd Volumes, is arranged in three sections, beginning with observations about what it meant to become an American boy—Dr. Webb lived in Slovakia until age 11, when he moved to New York City—and Horatio Hornblower, the Brontë sisters and James Bond.
"It's about reading, and books that make readers readers," Dr. Webb said. "Hornblower taught me to be a boy, and along the way made me a reader."
The second section is essays about his friends: the author Philip Roth, the poet Robert Hass and the poet Louise Glück.
Writing about the pandemic
The third section incorporates the series This Old Writer: A Journal of a Plague Year. These are reflections on the pandemic through the filter of several literary works and the idea of living with the aid of literature, which Dr. Webb called "a curious feature of human life," as opposed to writing about literature through an academic specialty lens.
The pandemic and the Russia-Ukraine war have brought a new perspective to our collective consciousness, he said.
"Everybody knows we're going to die. But the pandemic and the Ukraine war suddenly make it possible, actually possible, and therefore we recast our experience and our sense of our experience to look at what's more fundamental than what we are accustomed to. We don't want to have a pandemic, obviously, or war. Nevertheless, this is one of their functions."
Previous work
Dr. Webb's previous work includes articles about war literature and two books on the 19th-century English novel. At Adelphi he teaches literature and translation, which he loves, he said.
"The classroom is one of the few places where our culture sanctions an exchange of ideas, where everybody is trying to think about them in a serious and disciplined way," he said. "That can be fabulous. You're very lucky if you can land a job at the university."