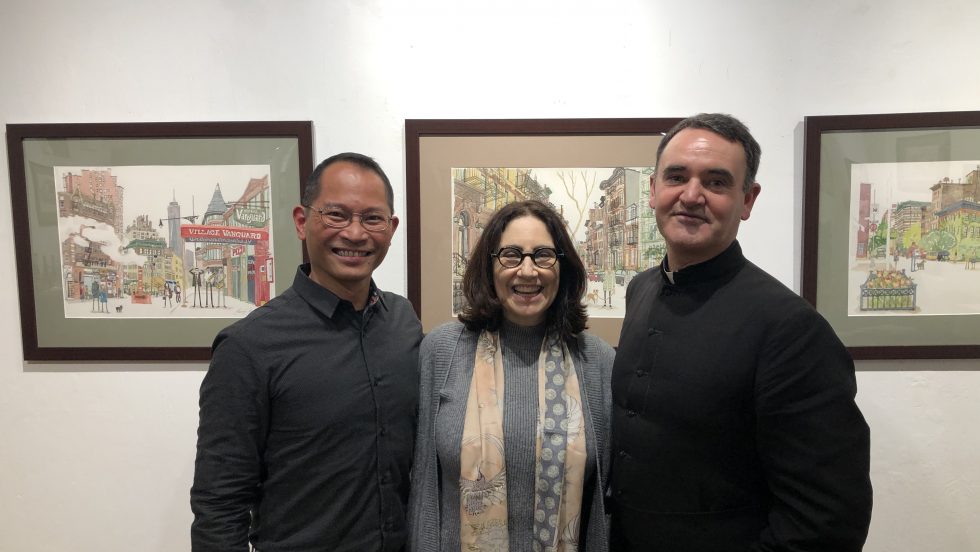 The College of Arts and Sciences is a diverse intellectual community—"from A (Anthropology) to T (Theatre)," as I sometimes quip. Our intellectual richness is a major strength, as our faculty's teaching and research guide our students' learning, expand the boundaries of knowledge and creativity of our human experience and support Adelphi University's educational missions.
To foster a supportive environment for scholarship and creative works and facilitate cross-disciplinary collaboration, the dean's office has since Fall 2019 sponsored a series of salons featuring our own faculty presenting work-in-progress or recently completed work. The speakers give brief talks on their work aimed at nonexperts, followed by Q&A. During the pandemic, this intellectual connection has also promoted social bonding. A retrospect shows the breadth and diversity of our faculty speakers and their research.
Vincent Wang, PhD
Dean, College of Arts and Sciences
Paul Moravec, University professor, Department of Music, "Sanctuary Road:" The Pulitzer Prize laureate discussed his large-scale oratorio detailing enslaved people's efforts to escape servitude in the Southern states by fleeing to free states and Canada during the first half of the nineteenth century.
Anagnostis P. Agelarakis, PhD, Department of History, "Archaeology, Forensics and Archaeogenetics in the History of Farming and Migrations from West Asia to Europe: Discoveries from the Neolithic Burial Ground of Aposelemis in Crete-Greece." The professor shed new cross-interdisciplinary insights on the early Cretans and their lives eight thousand years ago.
Michael D'Emic, PhD, associate professor, Department of Biology, "Breathing Life Into Dinosaurs," breathed new insights into dinosaurs—formerly symbols of extinction but now understood to have been one of the most successful evolutionary groups ever to walk the Earth—by discussing groundbreaking new discoveries and techniques in the study of fossils.
Joshua Hiller, PhD, assistant professor, Department of Mathematics and Computer Science, "Armitage and Doll carcinogenesis with graphs and random walks," presented a "simple and beautiful" early example of mathematical biology and modeling with wide implications based on joint work with Adelphi undergraduates.
Michael LaCombe, PhD, associate professor, Department of History, "Making Property on Seventeenth-Century Long Island: Robert Williams, Lusum, and the Problem of the Commons," gave a thought-provoking talk debunking early (conventional) notions of history and property by examining a 17th-century Long Island man named Robert Williams and Lusum, the peculiar place he made and called home.
Judith Baumel, professor, Department of English, and Sidney Boquiren, PhD, associate professor and chair of the Department of Music, "To Speak of Joy and Sing of It." The poet and the composer gave an insider look at how artists create and collaborate, drawing on their joint project, a song cycle, Tre Passeggiate (Three Strolls), based in the earliest Greek lyrics and addressing the pleasures and concerns of contemporary life.
Jacqueline Olvera, PhD, associate professor, Department of Sociology, "Symbols of Social Suffering," presented her new multimethod research, including geographic information system (GIS), on social suffering in a modern city, Trenton, New Jersey.
Hannah Allen, assistant professor, Department of Art and Art History, "Photographer's Field Notes: Thoughts on the U.S. Southern Border," shared her discovery, after the 2016 U.S. presidential election, of the "porous" U.S. southern border with Mexico on Google Earth and her physical trips there.