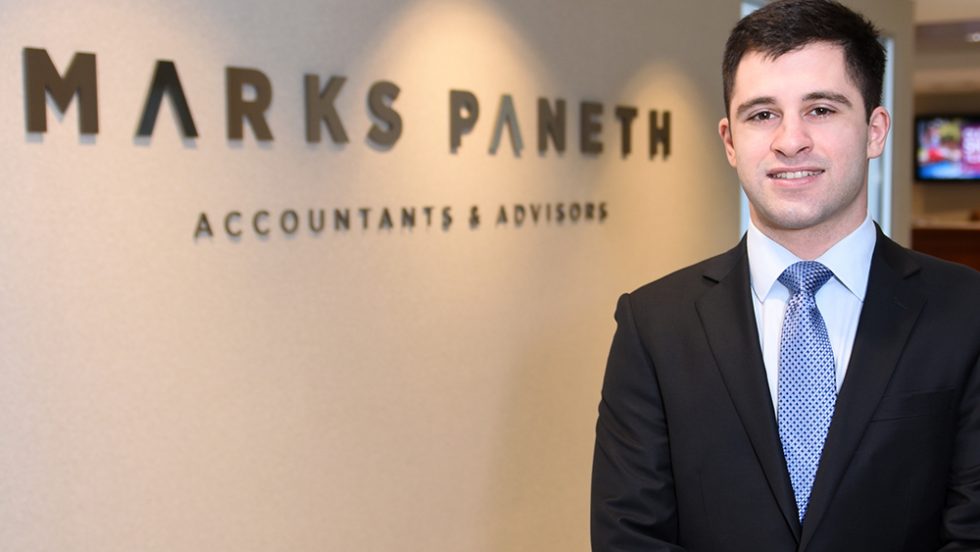 Business student Joseph Lucito is working in his fourth internship now, at the accounting firm Marks Paneth LLP. He'll start there as a full-time employee in the fall.
Many students have their lives changed by a great internship. But what happens when you have a bunch of great ones?
Just ask Joseph Lucito, who got his bachelor's degree in business administration last spring and will earn his MBA in May. He's working in his fourth internship now, at the accounting firm Marks Paneth LLP. He'll start there as a full-time employee in the fall.
"My internships have been more valuable than I even thought they'd be," he said. "I went in trying to gain experience and build my résumé, but I've ended up learning so much more about employers—what they're looking for and how they expect you to perform, ask questions, work with others and act. It's been eye-opening, and it's the reason I was able to land a great job and get started on my career."
Lucito started on his internship odyssey at the accounting and advisory firm Marcum LLP. It's a position he got through a Mock Interview Night at Adelphi's Center for Career and Professional Development.
"Some students feel that they have good interview skills, so they don't need to do mock interviews," he explained. "I went anyway, and I got really lucky—my interviewer was actually a recruiter at Marcum. Things went so well that I was offered an internship."
Lucito had a great experience at Marcum, which helped him improve his understanding of the interrelationships of financial statements. As soon as that internship ended, he moved into an externship at KPMG. It was another position he got through Adelphi, this time through Handshake, the career center's online job board.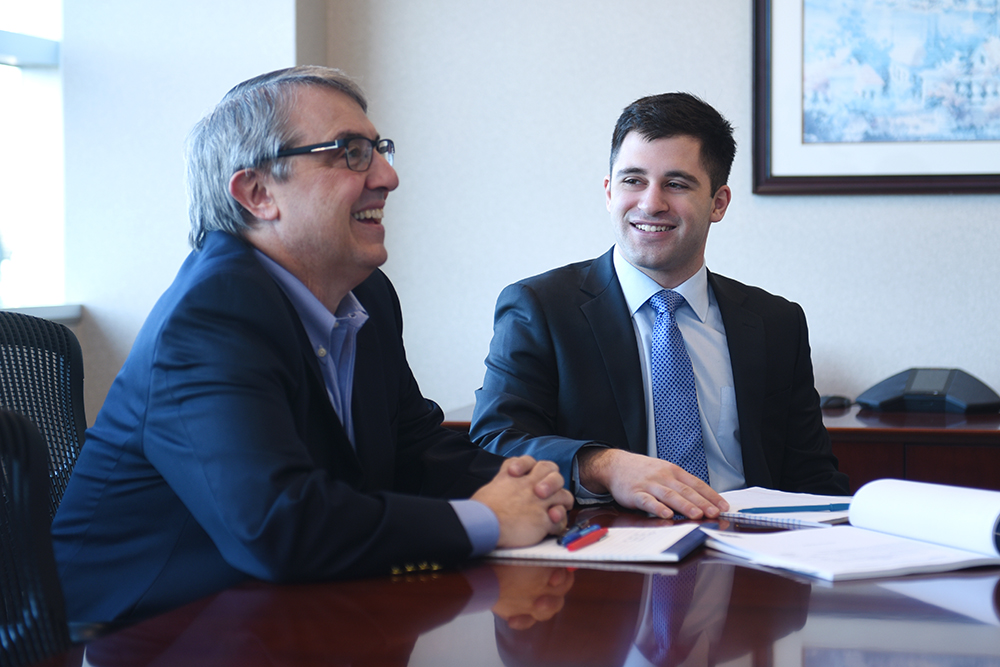 He took yet another path to an internship the next year, landing a position at Marks Paneth through his participation in the undergraduate Accounting Society. That summer, he was an intern in wealth management at Merrill Lynch, getting the job with the help of Neil Halloran, Robert B. Willumstad School of Business director of internships. He then returned to Marks Paneth in the fall, moving into his current assignment in the firm's audit department.
Lucito has found other ways to build business experience at Adelphi. He's a member of the University's Finance Society as well as the Beta Alpha Psi and Beta Gamma Sigma honor societies for business students, and he's served on the executive board of his fraternities. He is also a member of Students Today, Alumni Tomorrow (S.T.A.T.), a group chosen to represent the student body at the President's Gala, the Benefactors Reception and other events attended by business leaders.
In addition to his current internship, Lucito is also the graduate assistant to Neil Halloran in the Willumstad School's internship office.
"We do lots of exciting stuff," he said. "We do analytics on internships and advise students on things they can do to qualify for different internships, like taking an online class on Excel if that skill is required. We also make presentations at companies like Merrill Lynch, telling them what students learn at Adelphi and persuading them to take internship candidates from the University."
It's a role Lucito—as a bona fide expert on what it takes to land rewarding internships and a great job offer—is perfect for.