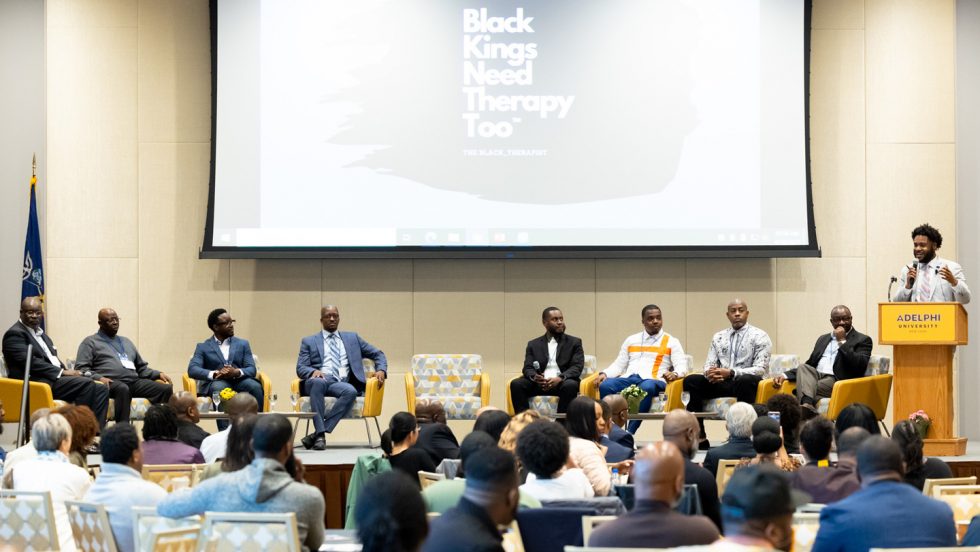 Challenges to mental health—such as depression, trauma, anxiety or substance abuse—are among the many issues that might affect us all, but for Black men there are the added burdens: racial discrimination, being unfairly profiled, fear of mistreatment by law enforcement or being treated as tokens in their careers of choice while trying to be strong for their communities.
In an effort to begin a dialogue for action to assist Black men as they navigate vulnerability and strength on a path toward wellness, the Adelphi University School of Social Work, in collaboration with Arron Muller, MSW '12, chief operating officer and therapist at Life Matters Psychological Services, Valley Stream, New York, hosted "BreaKing the Ice: Black Men's Mental Health and Wellness Conference" at the Ruth S. Harley University Center on April 30.
The groundbreaking first-time conference was the brainchild of Muller and Schanica Pickens, assistant dean of student affairs and director of the Master of Social Work program. They created it to remove the stigma and focus on the importance of Black men seeking support for mental health and wellness. Muller also served as one of eight panelists for the morning session of the 9:00 a.m. to 4:00 p.m. conference.
Pickens said Black men's mental health and wellness "is a huge social issue, and with the pandemic placing communities of color in crisis, it's even more important." She added, "Look at the number of Black professional men committing suicide. They have the financial stability but often not a path toward mental health. There is a need to demystify the stigma of weakness—the idea that if a person accesses mental health assistance, it means they're weak."
In his conference keynote speech, Damyn Kelly '83, PhD '20, JD, president and chief executive officer of Lutheran Social Services of New York, said, "Mental health should not be a burden or challenge for anyone, and especially not Black males. Why is it that Black men aren't supposed to cry? We recognize how racial discrimination affects Black men's mental health, but how does society's concept of masculinity affect their mental health?"
Dr. Kelly added, "When feelings of social isolation are not recognized, it can lead to increased mental health problems. Imagine how a young Black man feels, processing the images on a loop of George Floyd being murdered on TV."
Noting that Black men are often not apt to discuss their true feelings, Dr. Kelly asked, "Is our silence killing us?" He mentioned steps to help. "We must eliminate the stigma of seeking mental health support, reduce toxic masculinity, improve how we treat members of the LGBTQ+ community and create community-based sources of mental health treatment."
Pickens further stated, "For Black men, there's that message that they must be a 'strong Black man' for their families and their communities. If we can begin to plant the seed that it's okay to not be okay, and show there are resources that are there, it normalizes seeking help."
Muller could not agree more. "This year I trademarked a term that I've been using since 2016 in my couples therapy, 'Black Kings Need Therapy Too.' I could see from the body language during couples therapy that Black men needed their own therapy—but often we don't seek it out. We are the least likely to go and get help."
Muller, who is also a licensing instructor with the Adelphi University School of Social Work , said when Pickens mentioned she wanted to plan a Black men's wellness panel, "I thought it was great, because that's something I've wanted to do since 2019. So, we worked together and I'm feeling amazing with how it was received."
Conference Participants
According to Pickens, approximately 150 people—including local New York residents and some who had traveled from Philadelphia, Michigan, the Washington, D.C. area and Bermuda—attended in person and earned six social work continuing education credits. An additional 80 people attended virtually. Attendees listened to the candid group of morning panelists and participated in breakout afternoon sessions focusing on advocacy and activism for Black men's mental health.
Alain Berrouet, director of intergovernmental affairs for the New York City Department of Education and moderator, said, "This conference is about Black men helping other Black men."
In addition to Muller, the conference panel included community leaders, alumni and therapists.
Marcel Crooks, MSW '18, speaker and philanthropist
Silas W. Kelly, MSW '14, CEO and founder of

Kelson Communications Inc.

Ohiro Oni-Eseleh, MSW '93, PhD '21, assistant dean for program development and community engagement and director of the Hudson Valley Center at the Adelphi University School of Social Work
Warren K. Graham, PhD candidate, Adelphi School of Social Work and clinical assistant professor at Stony Brook University
A. Brian Leander, PhD, and director of training and organizational development at Adelphi
Jason Philips, LCSW, licensed therapist, confidence coach and college professor
Paul B. Williams, owner of Hearts in Mind Counseling Services LLC, licensed clinical social worker, author and consultant
Panelists discussed their own coping skills and resources for securing mental health wellness and freely shared personal experiences, including the effects of growing up in foster care; being grateful for the women who raised them if there was no relationship with their own fathers; observations of the sometimes-toxic results when church communities don't accept members of the LGBTQIA+ community; imposter syndrome; and being made to feel like tokens as Black men in their chosen professions.
Local politicians in attendance included Carrie Solages, Nassau District 3 legislator; Jumaane Williams, New York City public advocate, and Leroy Comrie, New York State senator, 14th Senatorial District of Queens.
Pickens is motivated by the response to the conference and committed to holding another one next year. "It was transformative. We created a breakthrough space where each of the panelists was able to be vulnerable. My goal is to maintain the momentum, perhaps even organize some quarterly smaller meetings where individuals can continue to engage in critical conversations."
Both Pickens and Muller were interviewed on NY1 about the conference during the station's Monday Mental Wellness segment on May 2.