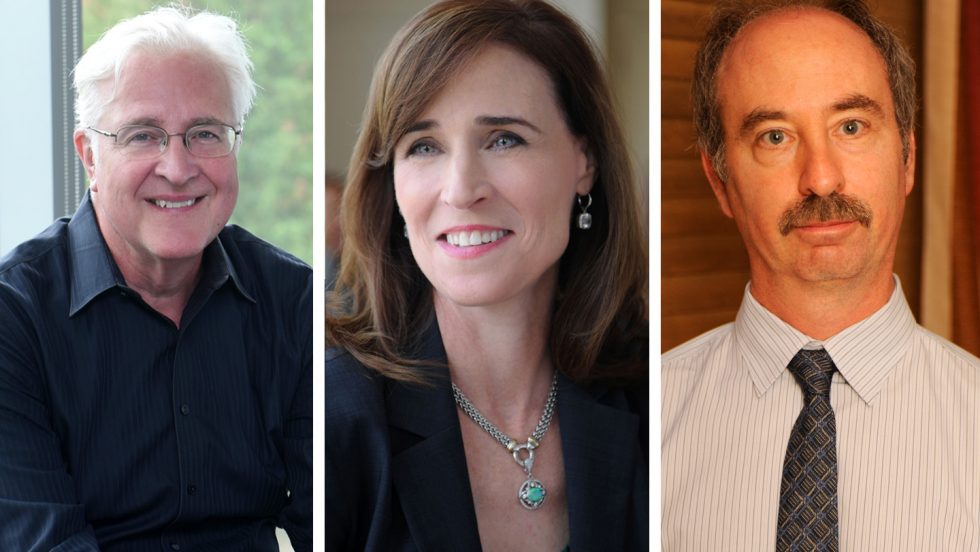 When Provost and Executive Vice President Steve Everett, DMA, talks about the wealth of talent among Adelphi's faculty, one name that emerges immediately is Pulitzer Prize-winning classical composer and University Professor Paul Moravec, DMA.
"We are so fortunate that Paul Moravec, winner of one of the most prestigious prizes in our nation, has made his home at Adelphi," Dr. Everett said. Dr. Moravec was named University Professor in 2004, the same year he won a Pulitzer Prize for his chamber work Tempest Fantasy. Soon after the award was announced, Dr. Everett, who is also a composer, conducted Tempest Fantasy in Atlanta. He met Dr. Moravec there for the first time—in the process gaining his first introduction to Adelphi University.
A decade later, the honor of University Professor went to Christine M. Riordan, PhD, Adelphi's president and an internationally recognized expert in leadership development, career success, and diversity and inclusion. In 2020, Robert Bornstein, PhD, professor in the Gordon F. Derner School of Psychology, joined this small but illustrious group.
Only five Adelphi faculty members in total can hold the title—a tenured rank above professor—at any given time. University Professors must be distinguished in their field and have national or international prominence. According to associate professor and music department chair Sidney Boquiren, PhD, who chairs the Faculty Committee on Retention, Tenure and Promotion, which approved the appointment of psychology professor Dr. Bornstein to University Professor, "Even people who are not familiar with their discipline would recognize the worth of [a University Professor's] work."
Like Dr. Moravec, Dr. Bornstein has helped elevate the stature of his department by attracting students keen on studying with him. And Dr. Riordan, who is widely published in the academic and business press, has helped transform Adelphi into a nationally recognized leader in the area of personalized education.