Adelphi used to be in the "best-kept secret" category. Today, we're a U.S. News & World Report Best College in the nation—and a "best" in four other important areas.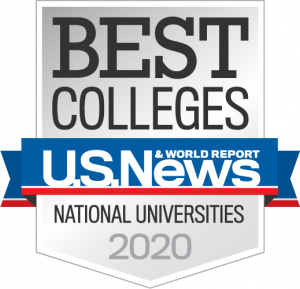 It wasn't too long ago that Adelphi University's reputation extended little beyond Long Island and the New York City area. That's changing, quickly. Now, the University is attracting attention around the country, thanks in great part to high rankings by U.S. News & World Report and other top publications.
"We are becoming known as a modern metropolitan university," said Christine M. Riordan, PhD, Adelphi's president, "especially because of our world-class academic experience, our focus on student success, and our commitment to diversity and inclusion."
Adelphi's rankings reflect those strengths, nowhere more than in U.S. News & World Report, which considers us a "best" college in five different categories.
The U.S. News Best Colleges list is based on academic quality. The strength of our more than 60 undergraduate and 65 master's and doctoral programs, along with our commitment to research, are behind our selection as a Best College.
Adelphi's commitment to student success is reflected in our inclusion on the U.S. News list of schools offering the Best First-Year Experiences. We work hard to help new students adjust to the academic and social demands of college; it's the focus of summer Orientation and the high-impact First-Year Seminars we offer.
U.S. News also places Adelphi on its list of Best Value Schools, which is based on academic quality and net cost of attendance for a student receiving the average level of need-based financial aid.
As a Yellow Ribbon school, Adelphi provides exceptional value for veterans of America's armed forces by helping them pay for their degrees. That's why U.S. News ranks the University a Best College for Veterans.
The fifth "best" from U.S. News is one that holds special significance for Adelphi. As a school that enrolls and graduates large proportions of students awarded need-based Pell Grants, Adelphi is considered one of the nation's Top Performers on Social Mobility.
"Being a top performer in social mobility means that Adelphi students get the value they are seeking from their college education—opportunity and career success once they leave us," Dr. Riordan said. "We serve an incredibly diverse community, and our mission is to provide opportunity for students of every background, and to ultimately transform lives."
High Marks From Other Top Publications
The University can be found high in the rankings of other publications too.
Adelphi is a Top U.S. College according to Wall Street Journal/Times Higher Education, which bases its rankings on student success and learning, considering students' engagement with their studies, their interaction with their teachers and their satisfaction with their experience.
Forbes magazine put us on its list of America's Top Colleges based on our students' career success and low debt upon graduation. And Money magazine weighed affordability and earnings of alumni in citing us as a Best College for Your Money.
Honored for a Commitment to Diversity and Inclusion
Outside of the college rankings, Adelphi's commitment to diversity and inclusion has led to a number of national awards in the past two years. INSIGHT Into Diversity magazine has honored us with its prestigious HEED Award in both of those years; the award is given only to the top 2 percent of colleges and universities that show the strongest commitment to diversity and inclusion. INSIGHT Into Diversity also bestowed an Inspiring Programs in STEM Award to Adelphi in those years, for innovative programs that help members of underrepresented groups entering the science, technology, engineering and math fields.
Adelphi's many programs promoting diversity also include our mentoring programs for students of color, veterans and LGBTQ+ students, which received a highly sought-after Eduventures Innovation Award in 2019. The University's support of LGBTQ+ students has also led to a Premier Campus designation by the Campus Pride Index and a Gold Medallion by LGBT SportSafe for our athletic department's commitment to inclusion. College Choice considers Adelphi one of America's 50 Best Disability Friendly Colleges and Universities.
"I am proud of the recognition we are receiving," Dr. Riordan said. "It reflects the dedication and contributions of every member of our University family. And it means that our students can confidently build meaningful college and professional careers with their Adelphi degree."
---
For further information, please contact:
Todd Wilson
Strategic Communications Director 
p – 516.237.8634
e – twilson@adelphi.edu