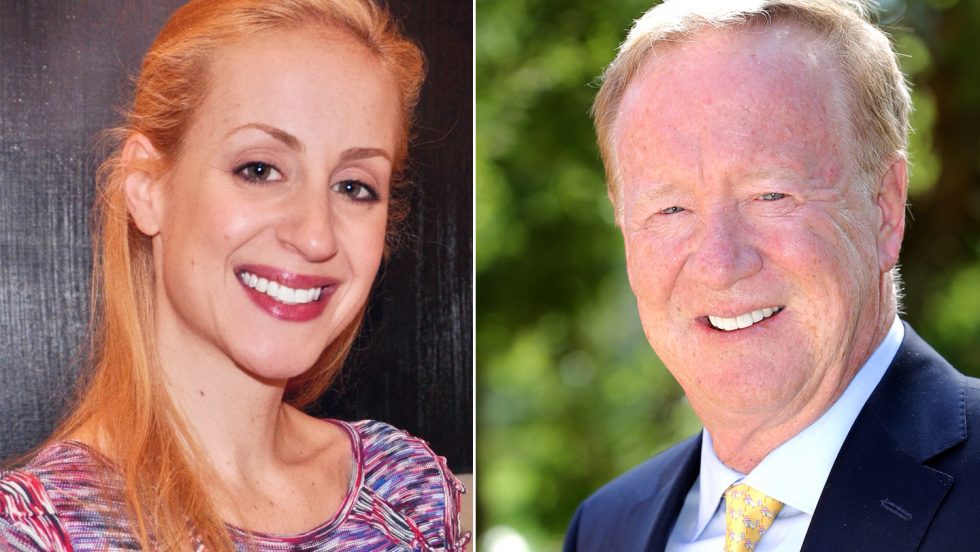 There's no single key to surviving and prospering during difficult times. At Adelphi, thriving during a year that challenged all institutions of higher education has been attained through the hard work of maintaining enrollment, through innovative thinking to create new opportunities for remote learning and, to be certain, through the backing of generous donors and benefactors. Two such patrons who showed phenomenal support of the University in the last year are board of trustees member Dennis McDonagh '78 and former trustee Lindsey Kupferman Levine, MA '02, PhD '06. In 2020, these trustees donated $250,000, respectively, to the University, for a total of $500,000.
A Homecoming Gift
With his family, McDonagh—a retired senior managing director and chief financial officer of Blackstone Real Estate Group—created an Immediate Impact Scholarship, which has already provided urgently needed aid to undergraduates in unexpected financial difficulty due to the pandemic.
The gift represents the latest step in his return to his alma mater.
"After not being engaged with Adelphi, I was contacted in 2013 and asked to join the President's Advisory Council," he said. "Serving on that council and learning all the exciting things the University and its leadership had been doing made me want to get involved."
McDonagh joined the board of trustees in 2016 and has championed a number of initiatives on campus, including creating the McDonagh Family Lacrosse Scholarship and the Panther Fueling Station, and funding the Baseball Clubhouse. The new McDonagh Immediate Impact Scholarship fund benefits rising seniors who find themselves in an unexpected and vulnerable financial situation during the global pandemic.
"When the pandemic first began, I saw many students' financial situations change overnight," he said. "I wanted to help students immediately, so they wouldn't have to worry about money. This way, they could focus on what was important: completing their courses, obtaining a diploma and moving toward a career. This Immediate Impact [Scholarship] fund provided financial resources for 76 students. As the pandemic—and needs—continue, it is my hope that it serves as inspiration for others in our community to do their part in contributing funds for our students, whatever the dollar amount.
"COVID-19 has significantly impacted so many lives," he added. "Despite all of the damage—to health, the economy—today's students are learning the valuable skills of resilience and determination. And their Adelphi education is preparing them for this new reality they will be entering into. But financially, they are struggling. That's why I created [the] Immediate Impact Scholarship to help seniors who are struggling financially get to graduation. From there, with their Adelphi diploma, they will be ready to make real change in the world."
Generosity Spurred By Tragedy
Former trustee Dr. Levine and her family have endowed a scholarship for students going into the mental health professions, with preference given to graduate students. Now a faculty member at Columbia University College of Physicians and Surgeons and the New York State Psychiatric Institute, it was another mass tragedy that shaped Dr. Levine's career choices and led to the development of the scholarship.
"I was an extern; my externship was at the psychoanalytic institute in the city and they were offering courses about the intergenerational transmission of trauma in children of Holocaust survivors," she recalled. "I was taking that course when 9/11 happened. I was just surrounded by trauma in what I was learning, experiencing and observing firsthand—I saw the [twin] towers fall from my apartment in the city. At the same time I was thinking a lot about creativity and decided I wanted to look at trauma, or PTSD [post-traumatic stress disorder], and creativity. I ended up doing my dissertation on creativity and PTSD in survivors of the 9/11 attacks.
"There's really nothing more important in education than making sure that students who don't have the means are given the means," she continued, explaining the importance she places on mental health. "To be able to give back to a place that nurtured me and to give it specifically to students who have that interest of wanting to help people—there's just nothing more important than that."
With their extraordinary generosity, McDonagh and Dr. Levine are offering generous support to Panthers in need today, and seeing it into the future.