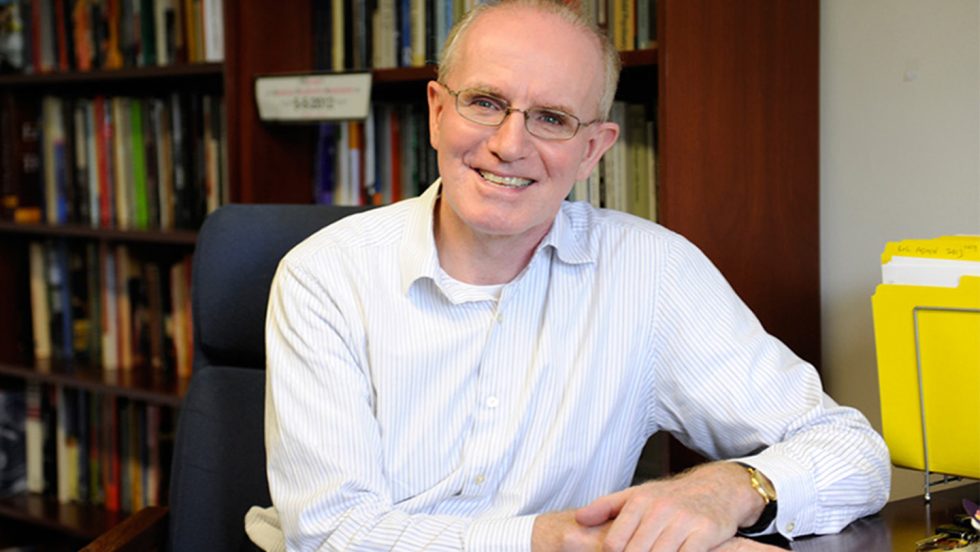 Immigrants seeking asylum in the United States face daunting odds. An overwhelming majority are returned to their country of origin, their petitions for asylum denied.
But for asylum seekers matched with pro bono services—legal representation and forensic medical and psychological clinics—the odds change dramatically. With support, more than 90 percent succeed in their applications.
The difference comes down to the work of volunteers like Michael O'Loughlin, PhD, a practicing clinical psychologist and a professor in both the Ruth S. Ammon School of Education and the Gordon F. Derner School of Psychology. He first began volunteering with one such service provider, HealthRight International, in 2006, conducting forensic psychological evaluations of asylum seekers. "A colleague at Adelphi referred me, and I signed up for training myself," Dr. O'Loughlin said. "I really found the work valuable and I've been doing it ever since."
"Basically, the essential work is this," he explained. "I am a psychologist, I have to take the psychological knowledge and turn it into legal fact. You're breaking it down so that an attorney and a judge who know nothing about psychology can read it and say, 'Oh, this makes a case.'"
To do this, Dr. O'Loughlin and clinicians like him start with in-depth interviews, eliciting detailed life histories, beginning with the first instance of the persecution that led the asylum seeker to flee their country. They then ask for specific examples of distress that might support a clinical diagnosis, most often post-traumatic stress disorder. They also make careful clinical observations — body language and physical responses to the interview — documenting everything to verify whether or not it aligns with the story being told. The clinician then turns the interview into a detailed affidavit, their sworn testimony as an expert witness.
Training the Next Generation of Clinicians
"For many years I did typically half a dozen a year, so I've done 70 or so evaluations," Dr. O'Loughlin said. "After a few years I graduated to being a trainer." Soon enough, he approached HealthRight with another idea. What if he worked with the organization to train not just licensed clinicians but also doctoral students? Just as many law schools have legal immigration clinics, the Derner School could have a psychological immigration clinic.
"At first HealthRight said, we don't think we can get students to do this," Dr. O'Loughlin said. "The courts want licensed professionals. And I said, talk to your attorneys, let's see what we can do. They came back and said, let's give it a try."
That was how the Adelphi Asylum Project came into being in 2017. Since then, doctoral students at Adelphi have conducted more than 80 evaluations for asylum seekers.
Through a grant to support services for immigrants on Long Island, the William E. & Maude S. Pritchard Charitable Trust generously provides a financial gift for each interview doctoral students conduct—a nominal amount, but one that is meaningful for many students.
As with everything, the work has been affected by the pandemic. "Everything switched to Zoom," Dr. O'Loughlin said. "So we not only have to train people on Zoom, we have to train people through Zoom to work on Zoom." But he and his colleagues managed the switch, leading HealthRight's first entirely virtual training last November, hosted by Adelphi. The training, supported by the Pritchard Charitable Trust, resulted in 27 new clinicians, including Adelphi doctoral students, joining the volunteer network.
Several years ago Dr. O'Loughlin added another dimension to the work, partnering with Adelphi's Spanish department to train undergraduates earning their certificates in interpretation and translation to serve as interpreters for the evaluation interviews.
Rich Personal Meaning for Students
The personal rewards are the greatest draw for doctoral students as well. "I believe it's important to give back and support others through the immigration process, which is, more often than not, unforgiving and retraumatizing," said Mariam Khalil Rahman, a fourth-year clinical psychology PhD student at Derner. She completed her HealthRight training in October 2019 and began interviewing asylum seekers in the spring of 2020. "In every evaluation I have completed, the client has moved mountains beyond mountains to be given a chance for a safer and brighter future."
The work has been especially meaningful for her, she said, because her father is a political refugee from Bangladesh. "The decision to grant my father asylum has had a major impact on our family and I wouldn't be where I am without it."
For Dr. O'Loughlin, the work with his students has been deeply rewarding, and his interest in migration has become part of his academic work, with two related publications in just the past year. But above all, it's about the individuals he helps. "Many of the people, if returned to their countries, are attacked and killed by the forces that drove them out in the first place," he said. "That's really the essence of the work. It's about saving lives."