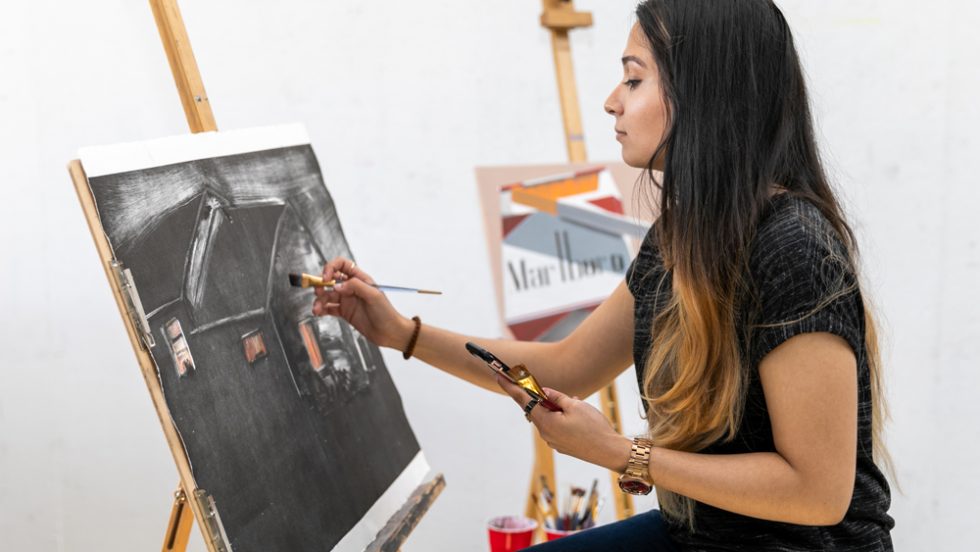 Ruth Militrano '19 won't let her past define her future.
"What is a home? It may look perfect on the outside, but inside it's a different story. I decided to tell my story because I hadn't told anyone at Adelphi. I kept it all in."
This is Ruth Ann Militrano's story.
She and her fraternal twin sister, Nadine, were raised by their mother and stepfather. But behind closed doors, her stepfather was an alcoholic and physically and emotionally abusive.
"He'd search under our beds in the middle of the night," she said, "or drive us to an isolated place and hit us for doing something wrong we apparently did." Beyond the physical abuse, he was controlling and manipulative, handling finances and controlling whom his wife and stepdaughters associated with.
When Militrano was 15, her mother got a restraining order against her stepfather. But when he begged her to take him back and she agreed, the sisters decided enough was enough. They left home and haven't seen their mother since.
The solution was to enter the foster care system under the guardianship of their uncle. Although he lived in a one-bedroom apartment, "we made it work," said Militrano. The three remain close, and Militrano considers him to be the father figure in her life.
After high school, Militrano accepted a scholarship to study art at Adelphi. For her first two years, she didn't talk about her past or let it influence her work. Then Jen Maloney, associate professor of art and art history, asked her class to create a series around a theme, and Militrano decided it was time to tell her story.
She does it through acrylic on canvas, "messing with mediums," Militrano described. A crushed beer can represents her stepfather's alcoholism and rage. Other works are about isolation: "There are no figures in them," she pointed out.
Militrano was on the Dean's List and won Outstanding Presentation for art in the 2019 Research Conference. She also held five jobs, one of which was working in the Bridges to Adelphi program as an art learning strategist. She enjoyed the experience so much that she decided to stay at Adelphi to obtain an M.A. in General Psychology. "Adelphi's like my home," she said.
"I want people to know that youth in the foster care system can have a good future if they get the support they need," she said. "And for foster kids to know the past doesn't have to define you—it's just part of your story."