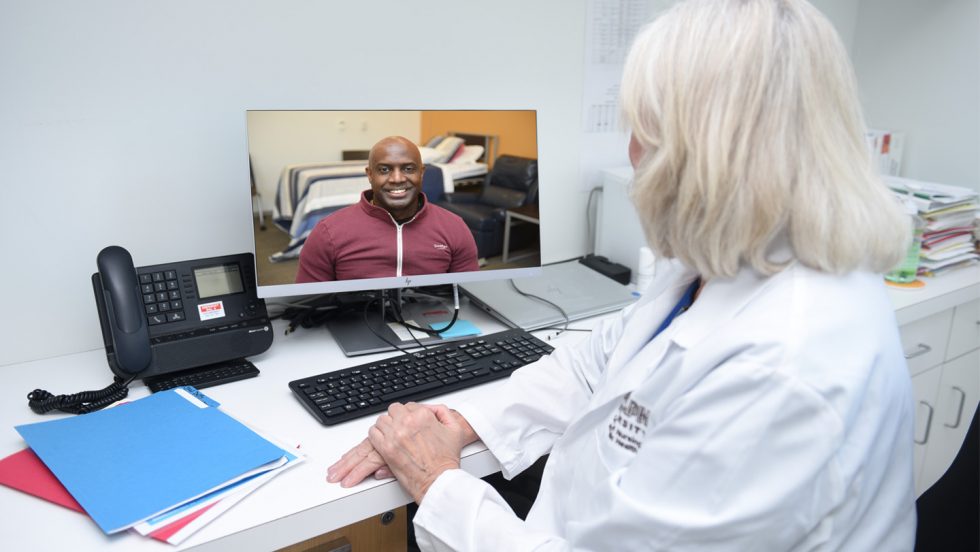 A patient presenting with possible viral meningitis symptoms complained about a headache as graduate nurse practitioner students asked questions, took vital signs and got her medical history.
The students and the "patient," a lab staff member, were meeting virtually in the simulation health assessment lab to learn the new telehealth component of their curriculum, developed in response to the COVID-19 pandemic.
Dory Roedel Ferraro, DNP, director of the Adult Gerontology Primary Care Nurse Practitioner program at CNPH, said the initial idea to integrate telehealth into the curriculum was prompted by the unprecedented challenge to provide clinical experiences for nurse practitioner students whose clinical rotations were suddenly halted due to the pandemic. She determined that, for students to continue their experiential learning, she needed to identify community providers faced with delivering care remotely to their patients and then recruit them as preceptors for CNPH students. That also meant a rapid development of telehealth guidelines and requirements.
Dr. Ferraro said, "The students were providing the same level of care they would have had they been seeing patients face-to-face in a physical office: evaluating, taking medical histories, performing limited physical assessments, formulating a diagnosis and implementing a treatment plan." As a result, all but one student graduated on time in May 2020.
Understanding that telehealth services are now here to stay, Dr. Ferraro decided to incorporate telehealth into the CNPH curriculum to ensure that Adelphi's nurse practitioner students are prepared to provide this remote care going forward. Last summer, she attended webinars and conferences to develop and implement a multimodal approach to telehealth education with a training module that all students now must complete before they can progress to their first clinical course. The topics in the didactic training include regulatory guidelines, e-prescribing, telehealth etiquette, techniques for conducting physical exams and billing codes.
This training has been fully integrated into the advanced physical assessment course and became a permanent part of the curriculum in the Fall 2020 semester,Dr. Ferraro said. It's being utilized by nurse practitioner students in both the Adult Gerontology Primary Care and Psychiatric-Mental Health NP specialties. Many will also have the opportunity for formal telehealth experiences with actual patients during their clinical rotations, so they will be well-versed in telehealth technology and capabilities, she added.
In class, that translates to writing a script and recruiting a staff member for students to interview via Zoom in a simulated telehealth visit, said Clinical Assistant Professor Marie Cox'02, MS '04, DNP, chair, Department of Graduate Nursing Studies at CNPH."The students find it to be much more engaging because they actually have to ask the patient quite a few assessment questions. [We] introduced this telehealth into our lab mid-February and they're already much more adept at doing the evaluations."
"The past year has shown that telehealth is an efficient way to provide services,"said Dr. Ferraro, adding the pandemic"certainly" sped up implementation.