Associate professor Reem Khamis-Dakwar, Ph.D., helped develop a new assesment designed for educational professionals to evaluate young Arabic students' mastery of language- based skills.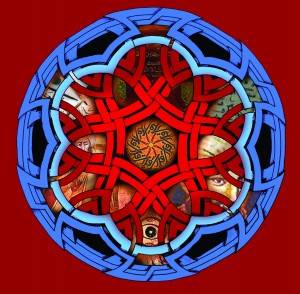 A new assessment called the Arabic Diglossic Knowledge and Awareness Test (ADAT) is the first instrument designed for educational professionals to evaluate young Arabic students' mastery of language-based skills found to predict success in reading, writing and spelling in situations where children are expected to read and write in a system that matches their oral spoken languages. It was developed by speech-language pathologist Reem Khamis-Dakwar, Ph.D., associate professor and chair of the Department of Communication Sciences and Disorders in the Ruth S. Ammon School of Education, in collaboration with Baha Makhoul, Ph.D., a learning specialist at Haifa University.
The test, which addresses a phenomenon called diglossia, was developed in response to Dr. KhamisDakwar's doctoral work and experiences growing up as a Palestinian Arab in Israel and working as a speechlanguage pathologist in Nazareth.
"Diglossia," she explained, "refers to the coexistence and use of two closely interrelated varieties of the same language for different situations. Typically, one variety is considered by the speech community to be of high value and is used for formal communication, reading and writing. The other is considered to have lower value by members of the speech community, even though it is used for daily communication and interactions."
Throughout the Arab Middle East, Modern Standard Arabic, the formal written language, is essentially consistent. It is, said Dr. Khamis-Dakwar, "the language that unites all Arabs and is used for novels, poetry and in prayers." But it is not the language used by most Arabs in day-to-day communication.
Vernacular or spoken Arabic is the common tongue, and it varies dramatically between countries and communities. This creates challenges not only for children—who must acquire two distinct forms of Arabic according to the norms of their social group—but also for educational professionals.
"Children growing up in an Arabic-speaking community must learn both a vernacular language for everyday life and a standard-language variety for writing and formal communication," Dr. Khamis-Dakwar said. "Although acquiring multiple languages is usually readily handled by children, this situation can pose challenges for professionals trying to identify those needing extra help."
The ADAT is unique because it tests children's understanding and processing of the relationships between the two language varieties in Arabic while referring to insights from studies on language and literacy success among African American English-speaking children who are expected to learn, read and write in standard English in the United States. The prototype test was developed specifically with Palestinian Arabs from the Galilee area, where it is currently being tested by Dr. Makhoul and her colleagues. 
Beyond developing the ADAT, Dr. Khamis-Dakwar and her colleagues are pursuing a number of studies as part of a broader investigation of the brain structures and adaptations that handle the language and learning processes associated with diglossia. By working with people learning Arabic as adults and those whose ability to communicate within a diglossic situation is impacted by stroke or stuttering, Dr. Khamis-Dakwar hopes to shed light on the brain's extraordinary capabilities. This is a focus of the research now taking place at Adelphi's Neurophysiology in Speech-Language Pathology Laboratory, which uses electroencephalography—a way to measure electrical currents generated by the brain as it is working.
Though she is upbeat about the utility of the ADAT, Dr. Khamis-Dakwar concedes its current limitations. In order to be used in other Arab nations, the test will need to be adapted for local dialects. Dr. Khamis-Dakwar, however, is quick to assert that diglossia is not a "problem."
"Diglossia is an interesting phenomenon that deserves our attention," she said. "It is incorrect to think of it as a problem. But we do know that the presence of not one monolithic tongue, but many regional dialects and two language varieties for different functions, creates challenges for educators and students alike. It is important to understand how the brain handles such challenges so that we can support learning more effectively. My dream is to initiate an international network of researchers exploring diglossia in many different cultures and through many different research modalities."
This article was published in the 2016 issue of Erudition magazine. 
---
For further information, please contact:
Todd Wilson
Strategic Communications Director 
p – 516.237.8634
e – twilson@adelphi.edu