Shoshanah Tarkow '06 is combining her love of poetry, immersive theater and technology to bring Walt Whitman's famous poetry to life at this year's Fall Arts Festival on Wednesday, October 2.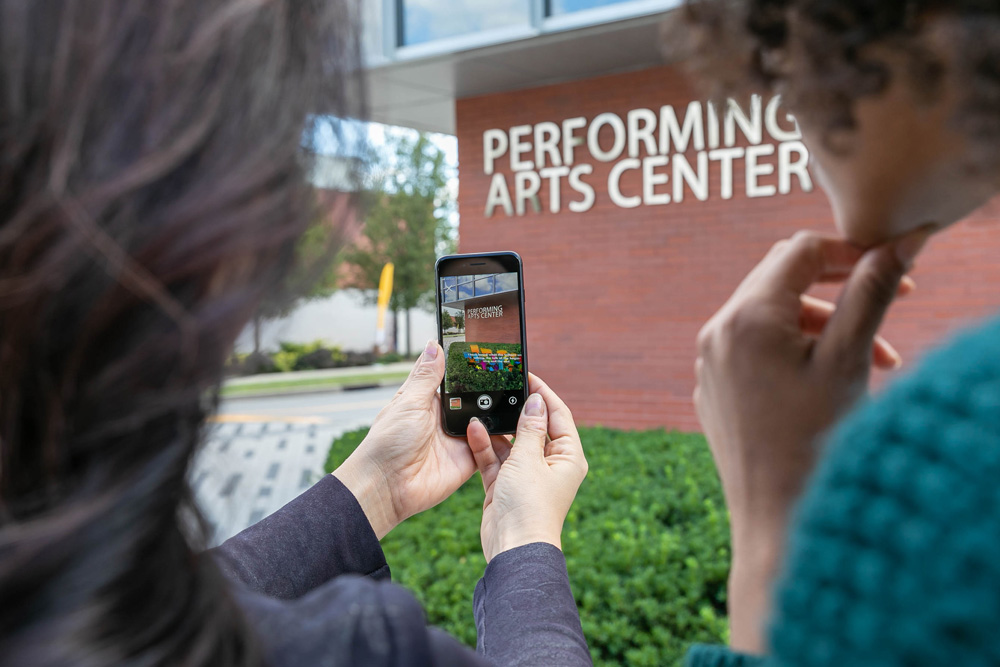 Shoshanah Tarkow '06 is combining her love of poetry, immersive theater and technology to bring Walt Whitman's famous poetry to life at this year's Fall Arts Festival on Wednesday, October 2 (with a rain date of October 16).
Earlier this year, KellyAnn Monaghan, associate professor and chair of the art department and chair of Adelphi's Fall Arts Festival, and Margaret Lally '82, associate professor of theater, reached out to Tarkow, a theater director and digital content creator, to create a unique digital poetry experience that the entire Adelphi community could enjoy. With the wild success of Pokémon GO in mind, Tarkow decided to take the famous works of Walt Whitman off the printed page and project them into the real world. The first iteration of the scavenger hunt, which she has titled OnWords, will debut at the festival, hosted on WallaMe, a free augmented reality (AR) mobile app for creating virtual graffiti.
"In OnWords, participants do more than read words on a page with their eyes; they are immersed in a piece of text, consuming it with multiple senses," said Tarkow.
To prepare for the digital scavenger hunt, Tarkow and a handful of Adelphi theater students went around campus hiding bits of Whitman text to be found on the day of the festival.
How it works
After downloading WallaMe onto their mobile device, players will search on campus for selections of poems from Whitman's Leaves of Grass. At each "discoverable wall," as Tarkow describes them (marked on campus in the real world by a green ribbon), words will leap off the screen and into the real world. The goal of the scavenger hunt is to gather lines and stanzas and eventually complete entire poems.
"It was important to me that the experience be educational, different and interesting…but most of all, it had to be fun!" said Tarkow.
To make the scavenger hunt even more interactive, some of the AR experiences will include searching for a surprise in a specific library book, discovering hidden audio recordings of Whitman's poems, and pop-up readings of Whitman's work by Adelphi theater students.
"Through this digital scavenger hunt, Shoshanah is making both theater and poetry more accessible to the broader Adelphi community," said Monaghan. "What an innovative way to celebrate the work of Walt Whitman on his bicentennial [about 20 miles] from his nearby birthplace."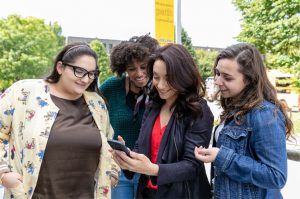 About Shoshanah Tarkow
After graduating from Adelphi in 2006 with a BFA in theater and a minor in dance, Tarkow pursued acting in New York and Los Angeles for several years before returning to school at New York University to earn her master's degree in performance studies. While at NYU, Tarkow discovered a passion for new media in theater and museums, exploring new methods of creating art and educational experiences.
The Fall Arts Festival won't be the first time Tarkow brings her creativity and immersive theater chops to Adelphi. This past spring, she directed the first immersive production staged at the Adelphi University Performing Arts Center, Words Like Fresh Skin, written by fellow alumna Megan Lohne '04. The pair have recently founded a theater company, Like Fresh Skin, which will utilize emerging technologies to create text-based, immersive theatrical experiences that champion untold feminist stories.
The future of OnWords
After the festival, Tarkow hopes to develop OnWords into a brand-new, free, augmented reality app for any educational or cultural institution to utilize.
"Using OnWords, professors and curators of any technical skill level will be able to create an augmented reality scavenger hunt for their students or audience," she said.
To secure funding for the development and launch of the app, Tarkow has applied for a variety of immersive tech-based grants. She is seeking funding, as well as technical support and mentorship, in order to take this concept to the next level.
"I have always loved words, language and typography; I hope that through the development of OnWords, I can share that love with others and devise a new way for people to engage with text across mediums," she said.
---
For further information, please contact:
Todd Wilson
Strategic Communications Director 
p – 516.237.8634
e – twilson@adelphi.edu