"I had terrific experiences with the nursing faculty; they were fabulous role-models. They taught us to be open-minded, future-oriented, and innovative; they prepared us so well."
Registered Nurse and Professor
Professional Career:
After receiving both her bachelor's and master's degrees in nursing from Adelphi, Susan Stevens was offered a job at Nassau Community College. Eager to give teaching a try, Dr. Stevens accepted the position. She taught med-surg, pediatric, and psychiatric nursing for three years, before moving to Buffalo, New York to join a psychiatric private practice as a clinical specialist for two years. After learning about her record of innovative work, the University of Buffalo requested that she teach in their graduate program. Although interested in the position, Dr. Stevens felt she could not leave her patients, so the University of Buffalo arranged for her to continue to work, one day a week, at the practice, and begin teaching full-time at the University.
Following five years in Buffalo, Dr. Stevens moved to Atlanta, Georgia. After one year teaching at Georgia State University, it became clear to her that in order to remain in academia, she would need a doctoral degree. Because she loved her educational experience at Adelphi so much, Dr. Stevens first inquired if her alma mater had a doctoral program; in the 1970s, Adelphi's program was not yet established. In 1977, Dr. Stevens began her doctoral studies at the University of Alabama at Birmingham, taking classes full time for three years. She began teaching graduate students at Emory University while finishing her dissertation.
After receiving her doctorate in nursing (D.S.N.), Dr. Stevens began working at the University of South Carolina, where she helped develop their doctoral program. She remained there for eight years, until she, her husband, and her son moved back to Atlanta. As professor at George Baptist College of Nursing in Atlanta, Dr. Stevens contributed to the school's conversion from a three-year nursing program to a four-year college. "It was interesting to be a part of the experience," Dr. Stevens recalls, "changing a hospital school into a school offering a baccalaureate degree, and eventually master's and doctoral degrees."
Throughout her nursing career, Dr. Stevens had immersed herself in research projects about nurses in World War II, in particular, how nurses were depicted, and how this image impacted the recruitment of nurses at a time when there was a national shortage. Dr. Stevens' research has been presented worldwide, and was published in Advances in Nursing Science and Image (the journal of Sigma Theta Tau), known today as the Journal of Nursing Scholarship.
Following her retirement from the George Baptist College of Nursing, Dr. Stevens became the President of Perimeter Adult Learning and Service, a non-profit learning organization for seniors. She has just recently stepped down from this position, but continues to develop programs for the organization.
Still living in Atlanta, Dr. Stevens and her husband enjoy ballroom dancing and traveling. She also loves to read, enjoys the theatre, ballet, and opera, and is a part of a ladies film group.
When and why did you first want to become a nurse?
At two years old, I had a tonsillectomy. I was kept at the hospital for five days, and at that time, there was no space set up for parents to stay overnight with their child. When I was brought home from the hospital, my mother felt so guilty about our separation that she kept playing nurse to try and comfort me. Because of this incident, I think I had it in my mind that I was going to be a nurse since I was two years old.
As I grew older, my younger sister was ill with pulmonary problems, and I cared for her. This probably clinched the deal that I would become a nurse. On top of that, the nurse at my high school was a role model to me. She was so bright; she even had her master's degree, which was quite advanced for that time. She encouraged me to choose a college program to pursue nursing.
I represented my high school in a poetry reading contest that ended up being held at Adelphi. I loved the University the minute I walked onto campus and then I found out Adelphi had a nursing program. I hoped and prayed that I would get in. I did, and I received scholarships, which enabled me to enroll.
Do you have favorite memories of your time at Adelphi and your residencies?
I loved the nursing program at Adelphi. Originally I thought I would be living in the Meadowbrook Hospital dorms, but 1962, the year I started at Adelphi, was the first year nursing students lived on campus. Living in the community housing provided by Adelphi gave me exposure to students from all different majors. It was a wonderful experience to be fully integrated. I feel I got the full college experience.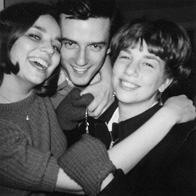 I had terrific experiences with the nursing faculty; they were fabulous role-models. They taught us to be open-minded, future-oriented, and innovative; they prepared us so well. I remember Eileen Jacobi, who was the Dean of Adelphi's School of Nursing and went on to become the President of the American Nurses Association.
I was at Adelphi during the time that it changed from a college to a university.  Each class did competing skits; the year the changeover happened, my group did a skit about Adelphi becoming a university.  I played Dean Harley!
I was a part of Adelphi's dramatic group, The Gold Mask, as an undergraduate and graduate student as well. I loved the experience of performing in plays; I got the opportunity to meet different people, work with wonderful theatre directors, and there were often professionals who were a part of the cast. My experience in theatre was helpful in my work as a psychiatric nurse because I used role playing when working with patients. It also helped me to be a better nurse educator. Teaching is really a performance art!
Another nursing student and I worked to develop a nursing honor society; we laid the groundwork for it at Adelphi. I was a charter member of the Honor Society of Nursing, Sigma Theta Tau. I still maintain my membership through Adelphi today.
I spent my junior year gaining clinical experience at Creedmoor Psychiatric Hospital. It was a challenging and wonderful experience, and opened the doors to what would later become my profession. I remember my last day, closing the door on my client, feeling as though I was abandoning him. I cried throughout my post-conference with my psychiatric nursing instructor. The next day I was called into the office; I feared this meeting was going to address how upset I had gotten the day before. Instead, my instructor asked if I would apply for the National Institution of Mental Health grant, which would pay for my senior year and a graduate program if I pursued psychiatric nursing. I thought about it; I loved psychiatry and I knew I could use it in so many ways in the future. I applied and was awarded the grant. This propelled my career forward. Adelphi University truly moved me to where I belonged.
What are some changes you have seen in nursing throughout the years?
When I worked in the Intensive Care Unit in 1966, nurses measured everything; we did it all ourselves, and it was boring work. Today there is equipment and machines to do that work. The role of nursing has changed in the ICU; it is now geared toward patient management and teaching. The tedious work has been replaced with more interesting work involving the patient. I would love to be an ICU nurse today!
For many years, the focus in psychiatric nursing was on how to communicate with the patient. While this is still critical, over the years there have been incredible gains made in our knowledge of biology, bio-chemistry, and neurophysiology regarding mental illness. The understanding of mental disorders has changed over time. The gains that have been made in psychiatric nursing are marvelous. New treatments are being developed and psychiatry is really moving forward. Today there is a better understanding that in order to be a well-rounded nurse, you need to be grounded in the sciences as well as in communication. There is nothing so fascinating as the human mind!
What advice would you give to today's nursing students?
Fear not, you are preparedto start. Keep learning. Change is inevitable. Find the next open door and walk through it!
---
For further information, please contact:
Todd Wilson
Strategic Communications Director 
p – 516.237.8634
e – twilson@adelphi.edu