Get a sneak peek of everything to look forward to for the Fall Semester.
Over the course of this summer, the IT Department will be making various technological updates around campus. We are always looking at ways to enhance your Adelphi experience, and these updates will help create some great technological improvements when you return for the fall semester. Right now, you can look through all of the upgrades that will be made and get a sneak peek of everything to look forward to the next time you're on campus.
Multimedia Upgrades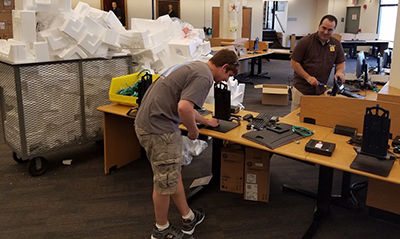 1. Technology upgrade for Journalism and Music labs. 
Blodgett 119 Journalism Lab
PAC 54 Music Lab
2. 13 more classrooms' technology to be upgraded (some will include new furniture and paint). This brings a total of over 15 classroom upgrades for this academic year.
Blodgett 104, 124, 201, 207 and 209, Social Work 128 and 306, Levermore 305, Earle Hall 101, 103 and 108, and Science 215 North and South
Software Upgrades
We'll be upgrading to the Windows 10 operating system on all compatible devices in classrooms and computer labs. Windows 10 looks radically different than previous iterations of Windows, but works even better, plus it's faster and more secure. 
As always, we'll be updating all software as needed with the most recent security patches to keep you safe, and we'll be working to install any new software requested by faculty. 
We are also working on acquiring additional Tableau academic licenses. With new licenses, we'll be able to teach the Tableau data platform in a classroom setting to better support faculty teaching and to make the most out of the data available to us. 
Computer Replacement Plan
We'll be replacing over 275 computers on campus so that you can work with the most recent technology.
Description and Locations

# of Computers

Upgrade computers in the FCPE Faculty Media Lab and Setup Computer in the Basement Studio used for the preparation of digital teaching material. (ALH 1)

6

Communications Lab upgrade computers, SAN and Network ports (BLH 119)

21

Upgrade computers in the Physics computer lab (BLH 8)

8

Upgrade computers in the Learning Resource Program computer lab (CHH 7)

10

Upgrade computers in the Hauppauge Computer Lab (HAP 107) 

25

Upgrade computers in the Hauppauge Library Student Computers (Hauppauge Library)

3

Upgrade computers in the Bloomberg Lab and work on a project to expand to 14 seats (HHE 119)

14

Upgrade computers in the HWC Observation Room (HWC 222)

8

Upgrade computers and sound interface in the Music Lab (PAC 54)

9

Upgrade computers and relocate Archeology Lab. Expand by 4 seats (BLH 102C)

8

Upgrade computers in the Speech and Hearing Computer Lab (HWC 201)

13

Upgrade computers in the Biology Lab (SCB 157)

5

Upgrade computers in the Environmental Studies Computer Lab (SCB 27) 

8

Upgrade computers in the Science Computer Lab (SCB 227) 

29

Upgrade computers in the Social Work Lab (SWB 329)

4

Pro Michael Moore's Research Lab (ALH 204)

4

Upgrade laptops in the IT Training room (RHA LL)

18

Biology Laptop Cart Upgrade (SCB 149)

18

Upgrade computers in computer lab (SWL 101)

32

Upgrade computers in the following classrooms and student spaces:

ALH 124, ALH 126, BLH 104, BLH 109, BLH 124, BLH 201, BLH 207, BLH 209, BLH 211, CHH 3, EDH LL GREEK SUITES, EHA 22, EHA 22, EHB 101, EHB 108, HG CLASSROOM 2, HG CLASSROOM 3, HG CLASSROOM 9, HHE 104, HHE 105, HHE 106, HHE 107, HHE 108, HHE 109, HHE 200, HHE 204, HHE 210, HHE 213, HHE 215, HHE 217, HHE B15, HRH 111, HWC 107, HWC 132, SCB 157, SWB 128, SWB 306, WDH 253,

38

Total

281