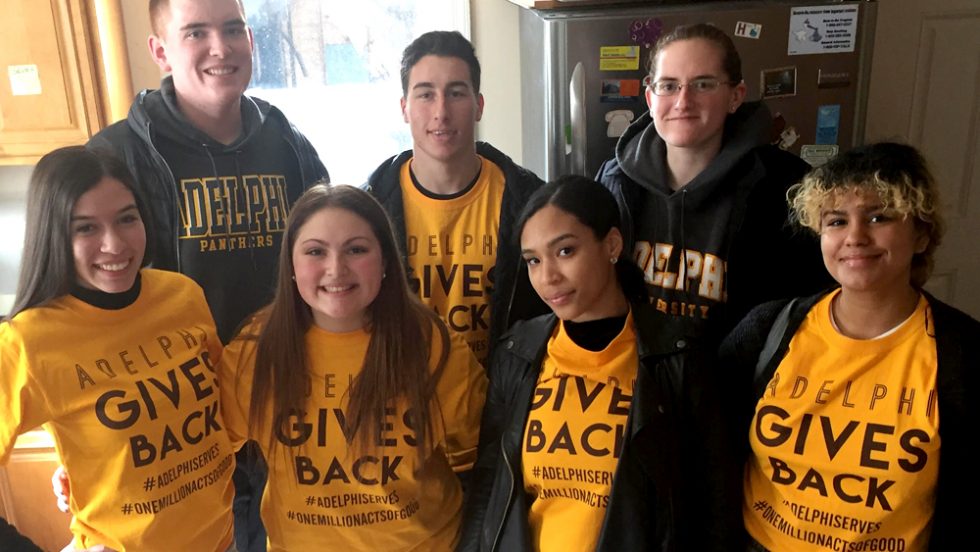 Students, faculty and staff all participated in a neighborhood-wide community service event on September 28, the Panther Day of Service.
Students, faculty and staff all participated in Panther Day of Service on September 28, an annual service event that helps benefit the local community. There were 54 students and three professional staff members who served at nine different off-campus community services sites in the local community, ending in a total of 180 hours of service, according to Jason Spradley, assistant director for the University's Center for Student Involvement (CSI).
The projects ranged from volunteering at senior centers playing games, singing and interacting with the senior citizens, and gardening and beautification of local elementary schools, Theodore Roosevelt Sanctuary and Audubon Center and Crossroads Farm.
"Students also helped with maintenance of historical artifacts at the African American Museum, worked with the children at Adelphi Early Learning Center, as well as worked with horses at HorseAbility and cleaned the stables for their annual haunted house," Spradley said. "Students were provided information about upcoming service events such as the on-campus fundraiser for the Special Olympics rUNDEAD in October, Dorot Meals on Wheels and Bingo with Seniors for Sunday Service in the City in November."
Jason Spradley and Arianna Livreri, another assistant director in CSI, organized this event in 2016 with the goal of giving back to the communities that surround Adelphi University. Their hope is to bring students, staff and faculty a sense of school camaraderie as they learn the true meaning of community service by completing projects in various locations.
When asked how this day and so many events are possible Livreri said, "For Panther Day of Service Jason and I reach out to existing partners and local sites asking if they need volunteers. As an Adelphi community, civic engagement is extremely important to us and we try and help out in any way."
A lot of effort is put into this day to make everything run smoothly and successfully. The events run throughout the day and the events are all unique in their own way. For instance, at the A. Holly Patterson Extended Care Facility in Uniondale, volunteers participated in bowling with the senior residents to help them get active and have some fun.
Hannah Mansi, a senior nursing major, attended the event. "I chose this location because of my love for older adults and how sad it makes me that they never get visitors," she said. "It means so much to me that for even a few hours I could go, spend time with them and make them smile."
Stories like this surfaced the entire day at various events, with the consensus that the volunteers benefited just as much as the people receiving aid.
Ashley Meers, who attended the Garden Care Center in Franklin Square, said, "As a nursing major, I picked to volunteer here because I know that some of these residents in long-term care don't have family or friends that visit them regularly. Doing something as small as getting them together and playing brain games with them put smiles on their faces. Seeing how happy this made them really showed me how small acts of kindness can really go a long way."
Livreri had the same outlook as the volunteers. "To me this day is important because not only are we helping the community, but it is an opportunity for students, staff and faculty to engage on a different level."
CSI plans to host this event again in March 2019.
(A version of this article originally ran in the October 29, 2018, issue of The Delphian.)