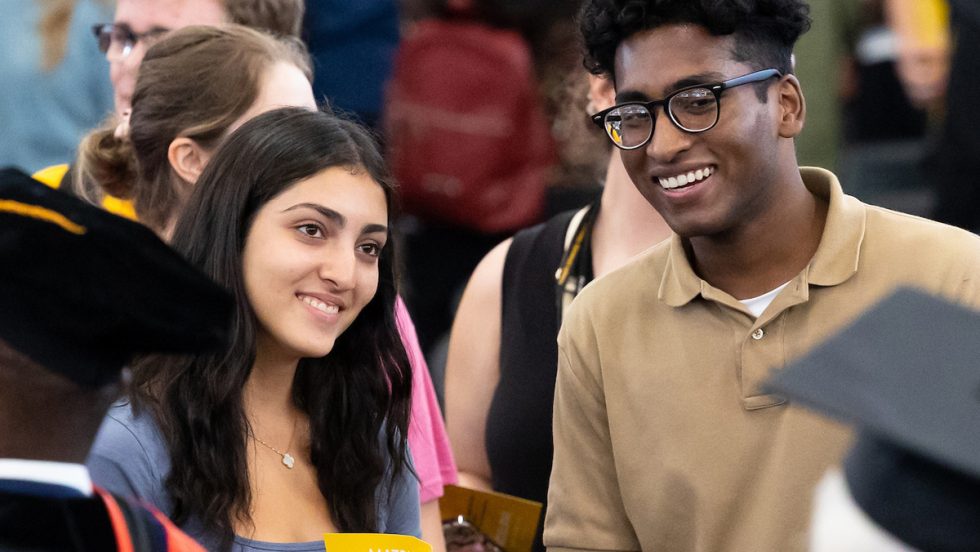 Students new to Adelphi will have expanded First-Year Seminar (FYS) options this fall, when a pilot program of interdisciplinary offerings launches. Designed to enhance opportunities for community building and provide a multifaceted approach to subject matter, each course follows a cohort model with classes led by two to four professors from different academic disciplines. Students will convene in groups both small (22) and large (88), to enjoy shared experiences such as field trips, lectures and reading assignments that will expand their knowledge while enabling them to develop a wide network of peers.
"We're thinking of this as a transformative experience for our students," said Salvatore Petrilli '05, EdD, associate dean for academic operations and general education. Professors from the humanities, social and physical sciences, mathematics and other academic areas will team up to explore a single topic from multiple lenses. "This is critical in today's ever-changing world," he said. "People need to be able to view and understand issues from different perspectives … This new initiative is a testament to Adelphi's commitment to prepare graduates to be informed, contributing members of a global society."
Dr. Petrilli said faculty in the College of Arts and Sciences who have led this initiative are energized by the collaborative and innovative nature of this interdisciplinary approach to teaching and learning. "We're going to be able to provide students who are interested in this opportunity a very enriching and rewarding experience," he said. The themes for fall currently are being finalized, but include a cohort called "Thinking Outside the Box While Exploring the Universe," co-led by a physics professor who will address building ideas and problem solving, while an English professor will explore the subject matter through science fiction.
Designed With Students in Mind
"This cohort model for FYS is really exciting," said Lauren Rosenblum, PhD, a senior lecturer in Adelphi's General Studies Learning Community who is involved in the pilot program. "It really leans into what students know and gets them curious about what they don't know yet. It also enables students to create connections with disciplines that at first might have seemed separate." The interdisciplinary nature of the new courses, she said, might be especially appealing to students who have not declared a major, as well as to those who are considering a double major or entertaining a minor. "It can open a door for every student," she said.
Dr. Rosenblum added that the University's FYS courses already incorporate extensive collaboration among faculty and a vast array of experiential opportunities, saying, "The new offerings will bring them to the next level," formalizing and facilitating "all the great things already happening" both in and out of the classroom.
"Whenever we decide to do something at Adelphi, it's always with the students in mind," Dr. Petrilli said. "This is an example of how faculty continue to innovate to provide the most enriching experience possible." About 80 percent of faculty currently teaching FYS courses, he said, have expressed interest in developing cohort-model courses "expanding opportunities more quickly than we anticipated. "Incoming first-year students will learn about all FYS options this spring, as they prepare to register for Fall 2023. All students—except for those enrolled in the General Studies Learning Community, Levermore Global Scholars and Honors College—are required to enroll in a 4-credit, First-Year Seminar.