Caitlyn Kelleher: Political Science major and Help Desk Assistant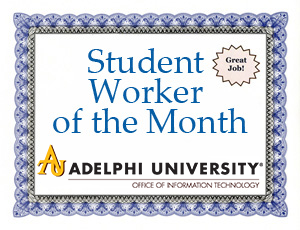 The staff of the Office of Information Technology would like to congratulate
Caitlyn Kelleher
Student Worker of the Month for May 2016
Caitlyn has been working in IT since the summer before her freshman year. She started as a Lab Consultant and moved up to a Help Desk Assistant within her first month. She has also expanded her duties to assist with the 3D studio. She is a Political Science major and expects to graduate in 2019.
Here are some of the comments we received from IT staff members and other student workers who nominated her:
"Caitlyn joined the Help Desk team in her freshman year the day after high school graduation following closely in the footsteps of her sister before her. Caitlyn quickly adapted to every position at the Help Desk and soon was helping train other new students. She currently is capable of staffing as a lab consultant, Help Desk assistant and most recently as a 3D Printing assistant too. Ms. Kelleher always has a bright smile that shines through the phone when assisting callers, a hallmark of a professional customer service person. She is constantly looking for ways to improve operations and is not afraid to speak up to share ideas.  In the past semester she has assisted with campus events like accepted students days and Help Desk workshops."

"
Caitlyn is well respected, as both a person and a professional, by her peers, staff and faculty she assists on campus. She has phenomenal customer services skills. She takes initiative to not just learn one position. She has excelled in all her positions, bringing a shining face to not just the Help Desk but also the 3D Studio."
"This student constantly goes above and beyond in her position to help out anyone in need, whether it be staff, student, or faculty. She will be the first to volunteer to go on jobs, preform call backs, or pick up anything that is needed. Caitlyn has even been stuck in the elevator in Hagedorn with a cart filled with boxes of paper multiple times, and just went back this week, without asking for help. We appreciate you Caitlyn!"
"What sets her apart is that she really CARES. Caitlyn is one of the PEOPLE that make the PLACE. She is very mature and highly responsible."
---
About IT's Employee of the Month Nominations
It is important to demonstrate our appreciation for the contributions of our student workers to their teams, to the Office of Information Technology, and to Adelphi University as a whole. At the end of each month, we will honor one student worker who has demonstrated commitment, leadership, and initiative in their position. The recipient will be presented with a certificate and gift, as well as a featured spot on our IT website.
All IT employees (including student workers) are encouraged to submit nominations for their choice for Student Worker of the Month. Your nominee should display qualities deserving of recognition.
Please submit all nominations through the Student Worker of the Month Nomination Form.