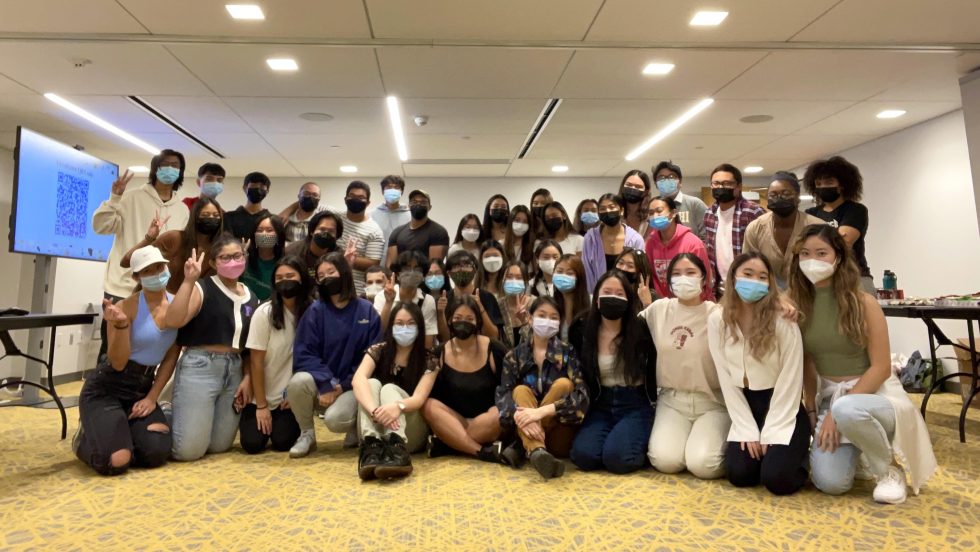 When Izabelle Pinzon, now a senior, came to Adelphi, she missed the diversity of her high school and having a place to meet, socialize and share East Asian cultures with other students.
Since Adelphi did not have such a club, she formed the Society of East Asian Students (SEAS). She serves as vice president of SEAS as well as president of the National Student Speech Language Hearing Association (NSSLHA).
We caught up with this busy student, who is finishing her major in communication sciences and disorders and minor in psychology and child and family studies, to learn about her vision for SEAS, how the club has grown and the exciting events coming up that the entire Adelphi community can look forward to attending.
What Was Your Vision for the Recent Event Held by the Society of East Asian Students?
We wanted to integrate two cultures that are similar, yet different. We also wanted to provide the opportunity for members to make new friends within the Adelphi community. We planned to hold a social mixer between our two clubs: the Society of East Asian Students (SEAS) and the Student Appreciation and Recognition of Adelphi Pinoys (SARAP). Our event included a question section, in which we introduced ourselves and answered questions related to Asian culture, as well as an activities section, where we played East Asian and Filipino childhood games. It was an amazing night full of laughter and festivities.
Why Do You Think it was So Well Attended?
The cultures from East Asia and the Philippines are very similar. Both of our clubs have similar mission statements, so our members came to the event with a unified goal in mind. We also made sure to constantly advertise our event to the Adelphi community. It also helped that we provided Asian snacks too! Overall, we had a considerable turnout and we are so grateful that everyone was able to interact with one another.
What Are Your Future Plans for the Society of East Asian Students?
The SEAS motto is to share, love and educate others about East Asian cultures. Our events are centered around this. Our previous events included a mid-autumn festival celebration, which is a traditional festival celebrated in East Asian countries, such as China, Taiwan, Vietnam and Macau. During our event, we provided Asian food and decorated lanterns. We also [hosted] a lobby table in the UC, where students and administrators learned more about our club.
Another event that we had was our Halloween movie screening, where we watched the award-winning Korean movie Parasite. In the upcoming weeks we have Craft Night, where we will be painting and making origami and friendship bracelets. We also intend to have a spicy ramen noodle challenge during one of our meetings. Next semester, we plan to have events such as a Chinese/Lunar New Year celebration and Korean Skincare Night. If anyone is interested in joining, please follow us on MyAULife and look at our Instagram @seas_au for updates. You can also learn about Asian cuisine by viewing our series of posts on Instagram called "Dish of the Day." In addition to our events, we have biweekly meetings on Wednesdays at 5:00 p.m. We hope to see you there!
As the Founder of the Organization, What Legacy Do You Wish to Leave For Your Peers?
When I was an undergraduate first-year coming into Adelphi, I immediately became aware that Adelphi was a predominantly white institution (PWI). I came from a high school that was diverse, and I missed having a strong Asian community where I could feel comfortable in my identity. Although I longed for this community, I soon learned that Adelphi lacked a club that filled this need. I founded SEAS with the goal for it to be a cultural and social club at Adelphi that celebrates cultures from countries in East Asia. I wanted it to be open to everyone of all backgrounds and ethnicities who had a passion or wanted to learn about Asian cultures, while making new friends.
I feel that we are on the pathway to achieving this goal. Although SEAS is still growing, we already have great attendance at all our events. Hearing the perspectives of different students showed me that there is a clear need for an East Asian cultural club where students can socialize and make new friends. I am so blessed that I was able to partake in the creation of a safe, inclusive space where East Asian cultures are celebrated, and I hope the Society of East Asian Students will continue to grow and thrive.