Studio art major Miguel Angel Puentes gained a new understanding of the power and potential of art by painting murals for patients battling serious illnesses.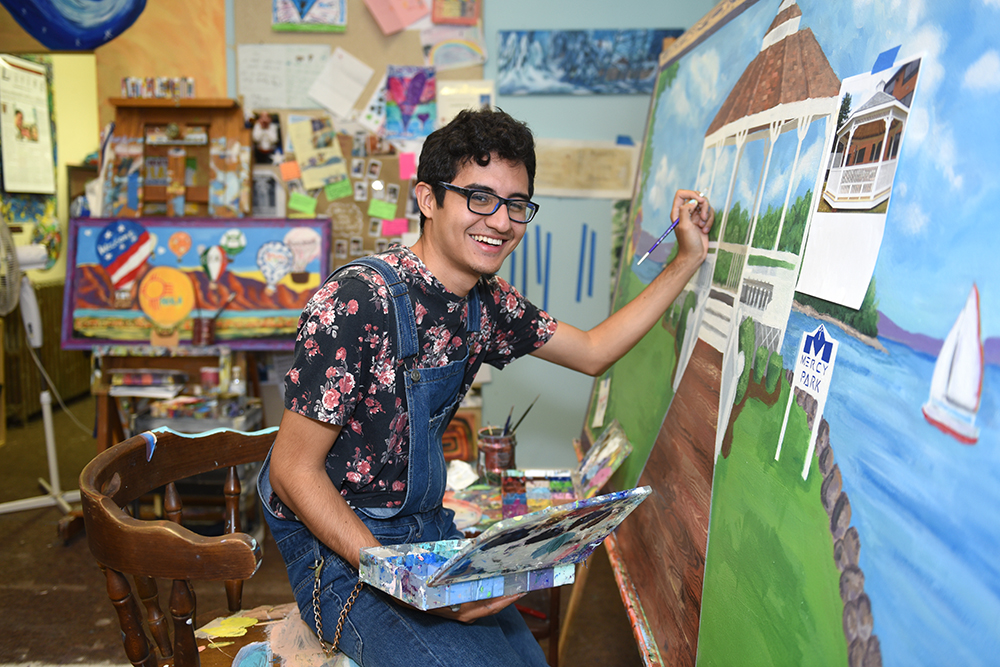 Miguel Angel Puentes, a senior majoring in studio art who expresses himself through bold, vibrant paintings, always thought he knew what it means to be an artist. But in creating a mural for a young girl battling serious illness, he gained an insight that changed his understanding of the nature and potential of art.
"I realized that art can be both powerful and transformative," the 21-year-old student says.
Puentes came to the project through Splashes of Hope, a Long Island-based nonprofit where he was interning as one of the 70 students chosen for Adelphi's prestigious Jaggar Community Fellowship Program. Splashes of Hope usually brightens sterile medical establishments with colorful works of art, but the Make-a-Wish Foundation approached the organization with a different request: Could it create a large-scale painting for a young girl named Jordan at her home?
Puentes was happy to take on the assignment, quickly learning that Jordan liked Nicki Minaj, Snapchat, unicorns, Applebee's, her sisters, and the protagonist of the kids' show Jessie. The painting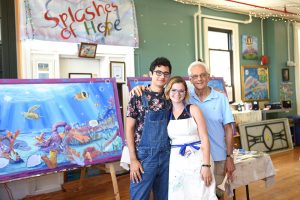 he created depicts all these favorites in happy, bright colors. Jordan's excited squeals on seeing the finished work blew him away.
"It was one of the happiest moments of my art-making career," he says.
Puentes is continuing his work for Splashes of Hope through Panthers with a Purpose, Adelphi's school-year experiential learning program supporting area nonprofits.
Experiential learning projects through Adelphi have helped place Puentes's strengths into focus.
"I see art is so much more intimate and impactful," he says. "It's something that I could make and share with this person and, for a while, free them from their illness."
Puentes also created an arresting mural for a hospital in Newark, New Jersey. The painting, which took him nearly a hundred hours of work, will be displayed in the hospital's HIV/AIDS unit and carries special resonance for him as a gay man. It portrays a summer day in a park and projects inclusivity and tolerance—values he deeply cherishes.
"Art like this frees the viewers from their restrictions in a clinical setting. It's like a little oasis they can escape into," he says.
For Puentes, the internships he has gotten through the Jaggar Community Fellows Program and Panthers with a Purpose are helping him on his way to a career as a professional artist.
"Adelphi provided the kind of connections I need," he says. "If I tried to get this work as a freelance artist, it would have been hard for the nonprofit to give me that sort of meaningful assignment right off the bat. Adelphi basically gave me the opportunity to show that I have the right skill sets."
---
For further information, please contact:
Todd Wilson
Strategic Communications Director 
p – 516.237.8634
e – twilson@adelphi.edu